Prueba de 48 participantes.
13 realizan el cross sin ninguna penalidad y 7 no lo finalizan.
Notas de prensa
After the dressage test and the cross-country course, the champions of international eventing had a final hurdle to jump this evening at the Domaine de Sers in the show jumping competition. Despite a few twists in the plot among the Top 10 during the event, British rider Laura Collet didn't put a foot wrong with London 52. Adding another flawless round after her brilliant cross-country ride yesterday, the horse-rider pair rode to victory in the only CCI5*-L competition this year. Close behind her, her fellow countrywoman Piggy March also rode a prefect show jumping round to finish second. In spite of a few time faults in the show jumping competition, Tim Price keeps his third place in the final ranking.French riders Maxime Livio and Alexis Goury, on Vitorio du Montet and Trompe l'oeil d'Emery respectively, rode two amazing clean rounds, after demonstrating their skills on the cross-country course yesterday, without a single penalty. Taking advantage of the twelve penalty points incurred by Rosalind Canter and the 9.2 points added to Mollie Summerland's score today, the two young French riders came in eighth and seventh in the final ranking.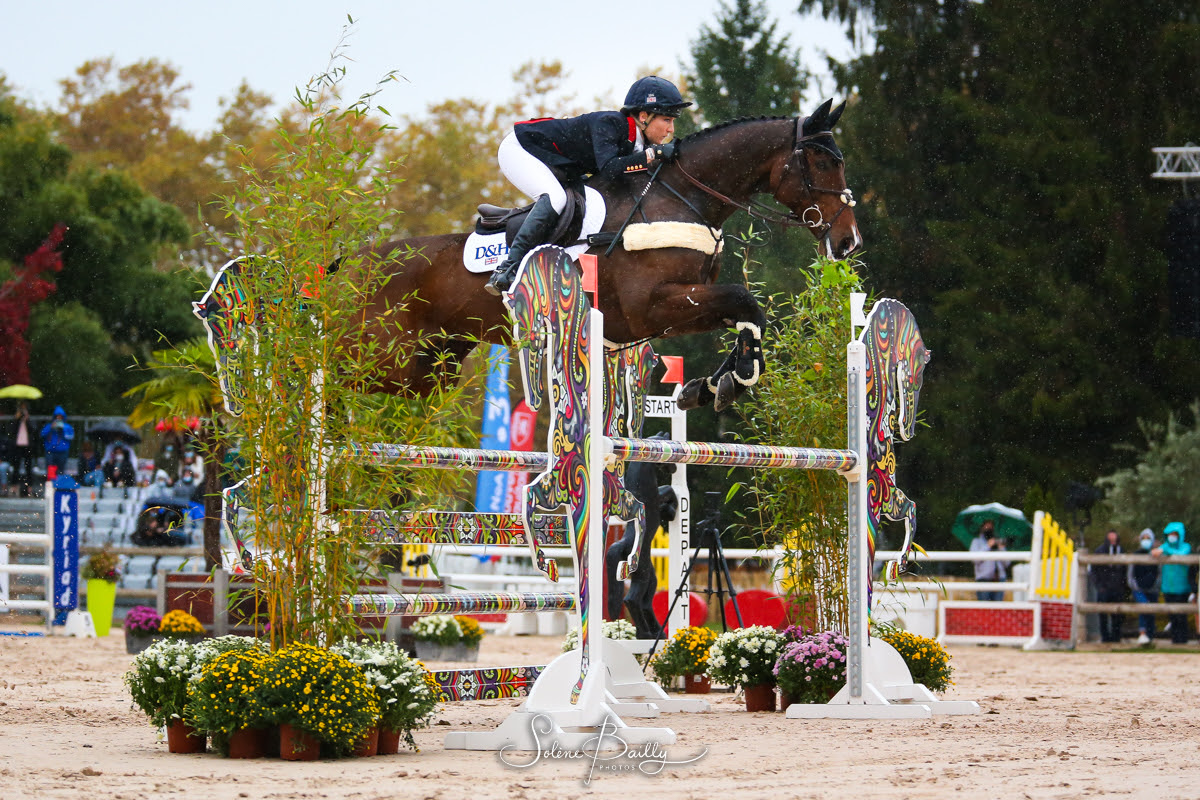 Laura Collett
©S. Bailly / Centaure Production
Laura Collett: "It's the stuff dreams are made of! I still don't quite believe this is all really happening. This morning, I was saying to myself that if I had had the choice, I wouldn't have wanted to ride any other horse than London 52 in this kind of competition! He's a fantastic jumper. It was his first time competing at this level and I really wasn't expecting this kind of result at the end of the competition."Piggy March: "As I said yesterday, my horse was competing in his first five-star competition. I'm just so delighted with his performance this week. I have great hopes for him in the future. I'd also like to thank the organisation team for the exceptional work they did to make this happen. I'm really grateful for the incredible opportunity we've had to be able to come and compete here this week, in such exceptional conditions. So, a really big thank you to everyone."Tim Price: "Well of course third place doesn't have quite the same feel as a victory... But I'm really happy to finish the weekend without any penalties. Wesko is old, but he's a great horse and I'm enjoying riding him for as long as I can at this level. I've also made amazing progress since I first competed in this event in Pau!"Alexis Goury: "I'm really happy with the progress Trompe l'oeil and I have made since we first competed here in 2018. Our score in the dressage test is much better than two years ago. He rode an amazing cross-country course and jumped wonderfully today. But in this 5* star event in Pau, there were two British Olympic teams to compete against. So, the competition was fierce (laughs)! Trompe l'oeil proved once again that he's a brilliant horse. I'm really delighted."Pascal Sayous: "I'm really proud of everyone who made this event possible. Thank you to the spectators who followed the rules, thank you to all the volunteers at Pau Events, and thank you to all my teams at Centaure Production. We've been through a lot of times where we thought that none of this would have been possible, but the team kept on working. Congratulations to the riders and drivers - without them this competition would never have happened. I'm feeling proud, very emotional and tired, but I'm already thinking ahead to 2021 to start over again!".
Once again this year, the cross-country event at the 5 Étoiles de Pau staged a magnificent show for its spectators. Thirty-one combinations and forty-five efforts to be negotiated along the 6.3-km course, and all in just 11.08 minutes. That was the challenge that French course designer Pierre Michelet set the forty-five competitors on the start list for the only 5*-L cross-country event this year.
Ten horse-rider pairs completed a flawless round, riding home without a single obstacle penalty and within the time limit imposed. Among them was British rider Laura Collett with London 52, who stays in pole position. Her fellow countrywoman Piggy March, riding Brookfield Inocent, took advantage of the few difficulties encountered by Christopher Burton to take second place on the provisional podium. New Zealand rider Tim Price also climbed up one place after the cross-country event, despite being just a second over the time limit, riding home in third place on Wesko. The French riders ended the day with three flawless rides. Jean-Lou Bigot climbs up to eighth place with Utrillo du Halage. Alexis Goury and Trompe l'Oeil d'Emery got into the Top 10, while Maxime Livio and Vitorio du Montet, thirty-first after the dressage test, now lie in twelfth place before the final show-jumping test tomorrow afternoon. Another wonderful day for equestrian sport, and some splendid French performances as two of these three horses were competing for the first time at five-star level.
Laura Collett
©S. Bailly / Centaure Production
Laura Collett: "It really picks you up to hear the encouragements from spectators along the course! The public here in Pau is really amazing. So, a big thank you to them all and to the organisation team to have made it possible to run the cross-country course in these conditions. After his first round with Mr Bass, I knew I had to be very careful with London 52 on the combinations. He's a very careful horse and always jumps a bit bigger too. So, I stayed very concentrated and he was just perfect. It's the first time he's ridden an eleven-minute cross-country course, so I'll see how things go tomorrow in the show-jumping event, but whatever happens, I'm just really proud of him this evening!" year. I've never been to Pau before, but I more or less expected the kind of course that we rode today: a course that encouraged forward, brave, attacking riding but with the odd sneaky thing put in. I'm really proud of my horse who was competing in his first 5* cross-country event today. I think he's one of the best horses I've ever had."Tim Price: "2020 has been a strange year for everyone. If there was only to be one 5* competition this year, the Pau five star is a pretty good representation. So, a big thank you to the organisation team and course designer Pierre Michelet for the quality of the course today. It was a course that encouraged bravery but also demanded us as riders to be on our toes, take the brilliance of some of the big jumps and do something with it. For me, that's exactly how a cross-country course should be at this level."Jean-Lou Bigot: "When I walked the course, I loved it already even before riding it! Pierre Michelet gave use a wonderfully balanced and technical course to work with. Congratulations and a big thank you to him! All the same, I can't say that it was an easy ride for me. Since the European Championships, Utrillo du Halage has made a lot of progress and I'm really pleased with his performance in both the dressage test and the cross-country event today, but I've still got a lot of work to do to compete at the same level as Tim Price (laughs)! "

The World's top riders and their mounts are all at the Domaine de Sers in Pau, Southwest France until this Sunday to battle it out in the 5* (the highest level eventing competition in equestrian sports). The first event in the competition, dressage, ended with the victory of British rider Laura Collett on her mount London 52.Australian Christopher Burton (22pts) was in the lead of the provisional ranking yesterday evening, but in the end it was the 2015 young horses World Champion, Laura Collett, who won the competition this morning. With an brilliant score of 78.70% she finishes the event with 21.3 penalty points. Laura Collett is currently forty-ninth in the world ranking, but she also took tenth place in the event with 26.2pts on Mr Bass. Close behind, Christopher Burton (22pts) and Piggy March (22.2pts) remain in second and third place, respectively. Although six of the ten top scores were taken by British riders, Tim Price (NZL), who ranks 2nd in the world, took fourth place with a dressage score of 77.04%, earning him 23 penalty points with Wesko.
German rider Christopher Wahler (25.6 pts) also made it to the top 10 with Carjatan S.
The last French rider to take off this morning, Maxime Livio scored 67.65%, finishing thirty-first, with 32.4 penalty points. "I am very happy with both my horses!! This is the first CCI5* eventing competition for London 52. He was a bit nervous when he entered the track but then he was well focused throughout the test! Of course, the event is not over yet and the cross-country tomorrow will undoubtedly shake up the ranking, but I have confidence in my horses. Mr Bass is experienced at this level of competition and is a very good cross country horse. London is less experienced but he is in great shape this weekend and I can't wait to see how he will perform tomorrow! We are very lucky to be here this weekend and I am very happy to be able to compete with these two outstanding horses", commented Laura Collett at the end of the event.
Tomorrow's event will be the breath-taking Cross-Country competition. Horse and rider will set off on the 6.3 kilometre course, with an array of 31 impressive natural obstacles. An event which promises many twists and turns in the rankings and a good dose of adrenaline for the public!Find the results here.
You can follow the live stream here.