Mañana en la dehesa de Montenmedio tiene lugar la Copa de Naciones (diseño de Javier Trenor) y los resultados de los conjuntos españoles que en ella van a formar no son excesivamente significativos por competir en aras a que los caballos tengan la mejor preparación para la prueba de equipos. De todas formas, podemos indicar que Eduardo Álvarez Aznar con LEGEND hizo 0 puntos en la de 1.40 y 1 punto Mariano Martínez Bastida con BELANO, Carlos López Fanjul con ASHAANE VILLA ROSE 1 punto en la de 1.35 y en la misma º Armando Trapote con TINKERBELL.
D. Lynch / SPRING DARK
Two big wins for Irish rider, Denis Lynch today one with Spring Dark in the 1.50m class and the other with Inventa D'Or in the 7yr old class

PortuguesriderRodgo Giesteira wins the 1.45m class with Farah and local Spanish rider Jesús Torres García wins the 1.40m with Grupo Prom Hacienda
for Irish rider, Denis Lynch today one with Spring Dark in the 1.50m class and the other with Inventa D'Or in the 7yr old class
There were around 550 horses out competing today in a busy day of jumping. This is the final week of the Autumn Tour which finishes on Sunday. The highlight events of this week's competition occur tomorrow with the Nations Cup and on Sunday with the big Grand Prix class, a qualifier for the Tokyo Olympics next year. Today there were three events running side by side, the CSIO3*, the CSI2* and the CSYIH*.
In the CSIO3*, B Big Tour 1.50m (FT) class, Irish rider Denis Lynch took the win with nearly a second in hand. His time was 54.61sec on the lovely mare Spring Dark who is by Jazz Band Courcelle. In fact the top three places in the class were taken by mares. In a comfortable second was Abdel Said from Egypt, with Alanine De Vains in 55.48sec. Third was the very successful Swedish rider Henrik Von Eckermann on the consistent Glamour Girl in 57.80sec. The class had 75 entries.
The CSIO3* 1.45m was a two phase class and was won by the Portuguese rider Rodrigo Giesteira Almeida with yet another mare, Farah by Arezzo VDL, stopping the clock in just 27.84sec. In second was the Italian rider Antonio Maria Garofalo with anthother mare, Hope Van de Horthoeve who finished in 28.10sec and in third was the very successful combination here at the Sunshine Tour, of Matthew Sampson with Chacco Boy (GBR) who finished in 28.38sec.
Local Spanish rider Jesús Torres García had a great success in the CSIO3* 1.40 m class with another talented 'feisty mare' Grupo Prom Hacienda. This was a 2 phase speed class and Jesus was the only rider to go clear in the second phase in under 26 seconds. The Moroccan rider Ali Al Ahrach with Ceika Maouine, another mare, took second place with third going to the Italian combination of Lucía Le Jeune Vizzini on her mare, Bianca. The mares were really on form today!
In the CSIO3* 1.35m class the German rider Marc Bettinger with one of the few geldings to win a class today, Viconte de Baerenrain by by Couleur Rubin. Second was Spanish rider, Kevin González de Zárate with the Alibaba de Tiji Z and third was another Portuguese rider Bernardo Ladeira Pereira with Nistria Van't Prinsenveld.
In the CSI2* one of the riders in the Nations Cup, host country's team, Mariano Martínez-Bastida won the 1.40m class with Quicksilver, beating off two Dutch riders. Bart Bles was second with Expert and Kim Emmen was third with Warriors Glory in a class with 116 competitors.
The 1.35m was won by the Brazilian rider João Victor Castro with Touch of Class 17. Second was Swedish rider Linda Heed with Laurien Van Orshof and in third repeating her position in the 1.40m class, was Kim Emmen, this time with Caliber Royale.
Not content with two third places, Kim Emmen also won the 1.30m class with Lady Angeles with almost half a second to spare over the Spanish rider Javier González Fraga and Carmucho who took second. The Brazilian rider Philip Greenlees with Astalavista Declamens took third place.
The Young Horse classes again consisted of a mixed 6/7yr old class which was quite a demanding course today and was won by Denis Lynch with Inventa D'Or, this stallion is by Bella Baloubet out of a Heartbreaker mare and is owned by Stal Thijssen. Second was the German rider, Marc Bettinger riding Irena P a gelding by Glasgow W VH Merelsnest, from an Indoctro mare. Third place was taken by another Irish rider, Ciaran Nallon with I Love You M who is by Andiamo and owned by the Brentwood Farm. The 5yr old class had 17 clears from 23 entrants.
These three tours continue tomorrow with a total of 12 classes between them, including the event that everyone has been waiting for the Nations Cup. There are 17 countries represented at this round and everything will start at 13:00. The Nations Cup is held in two rounds with only the top 8 teams from the first round participating in the second round. The Course designer is the internationally renown Javier Trenor. All action can be followed live on our web site www.sunshinetour.net.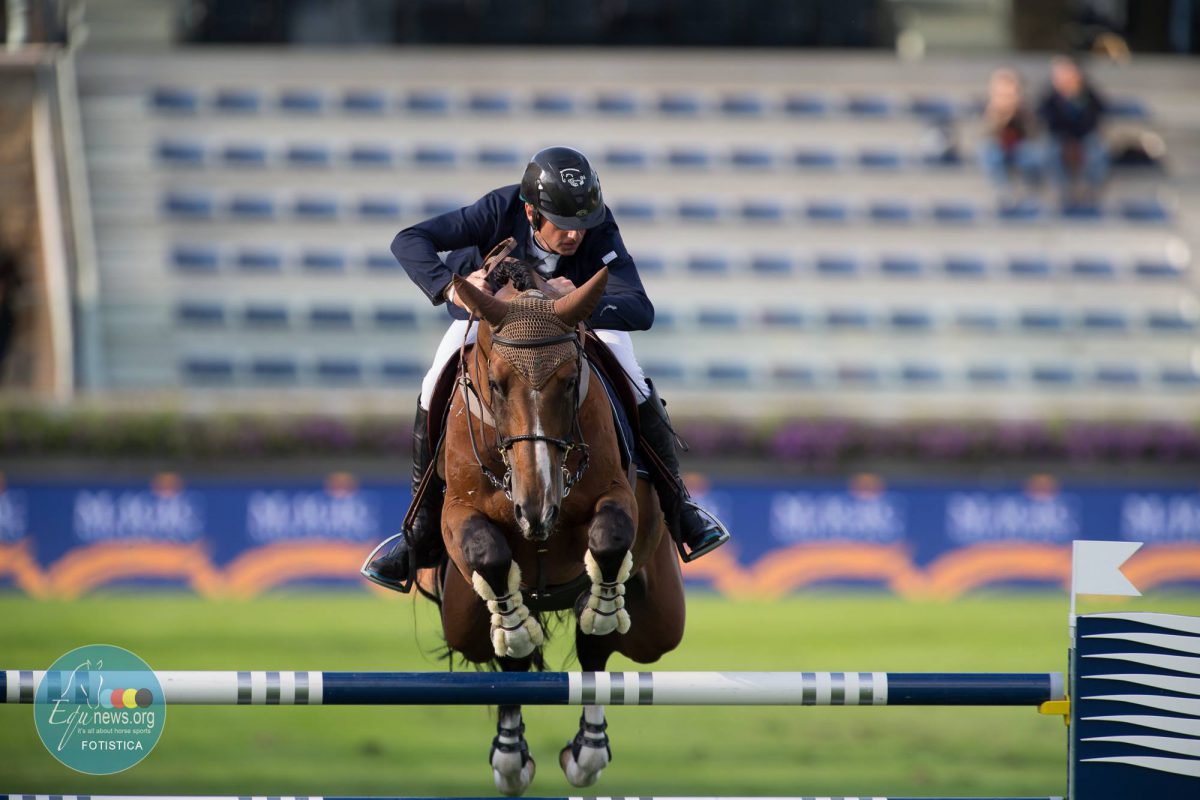 Tomorrow the Nations Cup comes to Montenmedio with 17 Teams set to participate
The only Nations Cup round in Spain this year will be held here in Cadiz province, at the Sunshine Tour site
The 27th of Nov 2020 is the date that 17 teams confront each other in the Showjumping Nations Cup here at Montenmedio. The event is part of the CSIO3* show that its already in full swing and on its sixth and final week of our Autumn Tour.
Tomorrow the teams will jump a first round over a course designed by an internationally qualified designer. The top eight teams after this round will pass on to the final round where the final placings will be decided. The host country's team is made up of Eduardo Álvarez Aznar, who is the team's lynchpin with the most experience; Armando Trapote who has taken part in two other Nations Cup rounds; Carlos López-Fanjul who has four Nations Cup rounds under his belt and first timer, Mariano Martínez-Bastida.
This is the first time that the organising team here at the Sunshine Tour has been privileged to hold the Nations cup and it will be the only round held in Spain this year, as both the CSIO in Gijón and the Final in Barcelona were cancelled earlier in the season.
The Nations Cup without a doubt is always a spectacular competition, however due to the current health crisis, the event is held behind closed doors with no public access but you can stream it live and for free to support your team, on the Sunshine Tour official website www.sunshinetour.net.
Running alongside this event is the CSIO3* show with 15 classes, including three Ranking classes and on Sunday 29th Nov, another qualifier for the Tokyo Olympics 2021.
The Young Horse CSI2* is also running for 5,6 and 7yr old horses. In total 600 horses will be taking to the arenas over the course of this week's competition and almost 220,000€ of prize money will be won.
With amazing international riders taking part like Peder Fredricson and Henrik Von Eckermann, for Sweden; Marlon Modolo Zanotelli for Brasil and Maikel Van del Vleuten, for the Netherlands; all of whom are ranked in the top 20 of the FEI Longines Rankings; Laura Renwick (GBR), Pedro Veniss (BRA), Olivier Robert (FRA) and Gregory Wathelet (BEL) to mention just a few, we can promise to witness some fabulous jumping here over the following days.