For Immediate Release
Lindsay Brock and Sabrina Brashares for Jennifer Wood Media, Inc.ld medalist McLain Ward won his third CSI5* in two weeks by taking top call in the $401,000 Lugano Diamonds Grand Prix CSI5* riding his 2016 Olympic mount, HH Azur, during "Saturday Night Lights" on February 22, at the Winter Equestrian Festival (WEF) in Wellington, FL.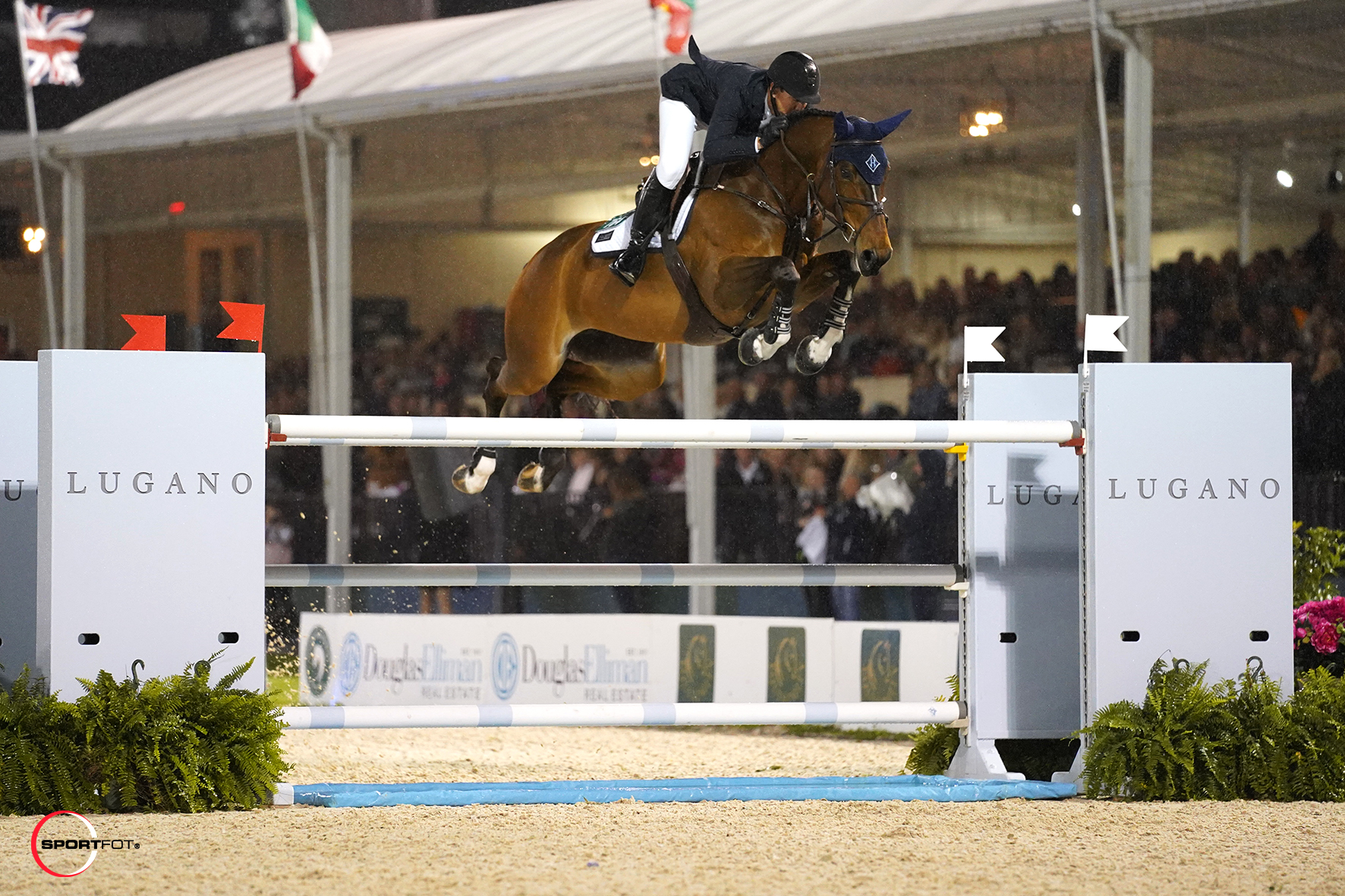 McLain Ward and HH Azur. Photo ©
Sportfot
WEF continues at the Palm Beach International Equestrian Center (PBIEC) through March 29, 2020, with 12 consecutive weeks of world-class competition and $13 million dollars on offer. The seventh week of competition, sponsored by Lugano Diamonds, runs February 19-23 and is recognized as a CSI5* and CSI2* by the Fédération Equestre Internationale (FEI).
Santiago Varela (ESP), who has been tapped to set the tracks at the 2020 Olympic Games in Tokyo, Japan, was the course designer for the Lugano Diamonds Grand Prix, which welcomed six contenders from three different countries to a tie-breaking jump-off.
Continuing a banner month that included the birth of his second daughter, Madison, Ward is riding a wave of success and a little bit of luck.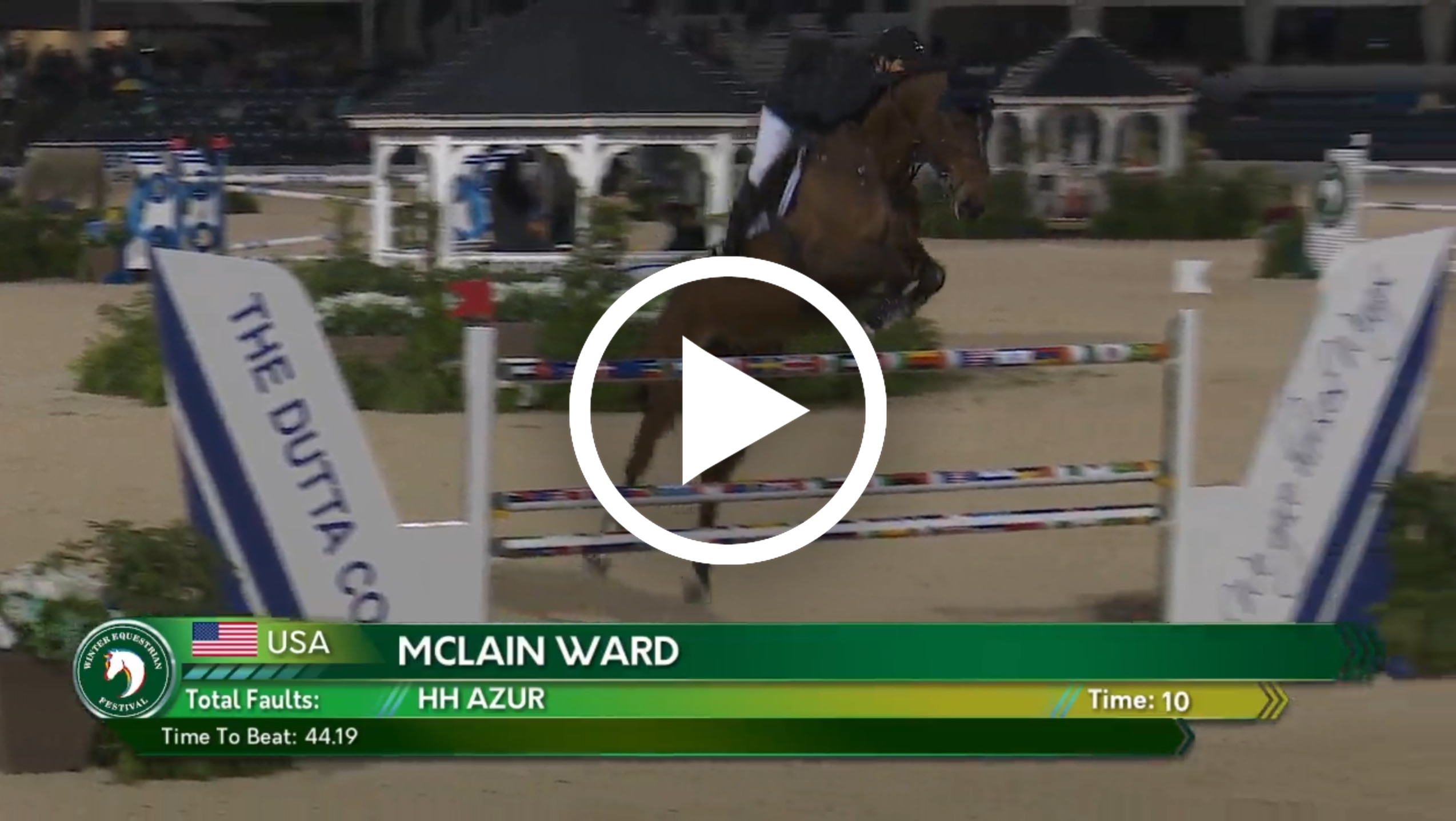 Watch McLain Ward and HH Azur's winning jump-off round.
"It's been a pretty incredible few weeks. My team is doing an amazing job," said Ward, who also won the Fidelity Investments® Grand Prix CSI5* during WEF five riding Noche de Ronda. "I'm lucky to have phenomenal horses and owners, to be able to have multiple horses that can win at this level. If we're really honest with ourselves, sometimes you can do nothing right, and sometimes you can do nothing wrong. We're in one of those streaks, and we're going to enjoy it and try to keep doing our best."
Of the two riders who jumped double clear, Ward and HH Azur, a 14-year-old Belgian Sport Horse mare (Thunder van de Zuuthoeve x Sir Lui) owned by Ward and Double H Farm, utilized "Annie's" massive stride and foot speed to stop the clock at 39.85 seconds. The time proved more than good enough to top Ireland's Capt. Brian Cournane riding his own Penelope Cruz in 44.19 seconds. The podium was rounded out by Alex Granato (USA), who had the time to beat Ward but pulled a single rail with Page Tredennick's Carlchen W to settle on four faults in 38.87 seconds.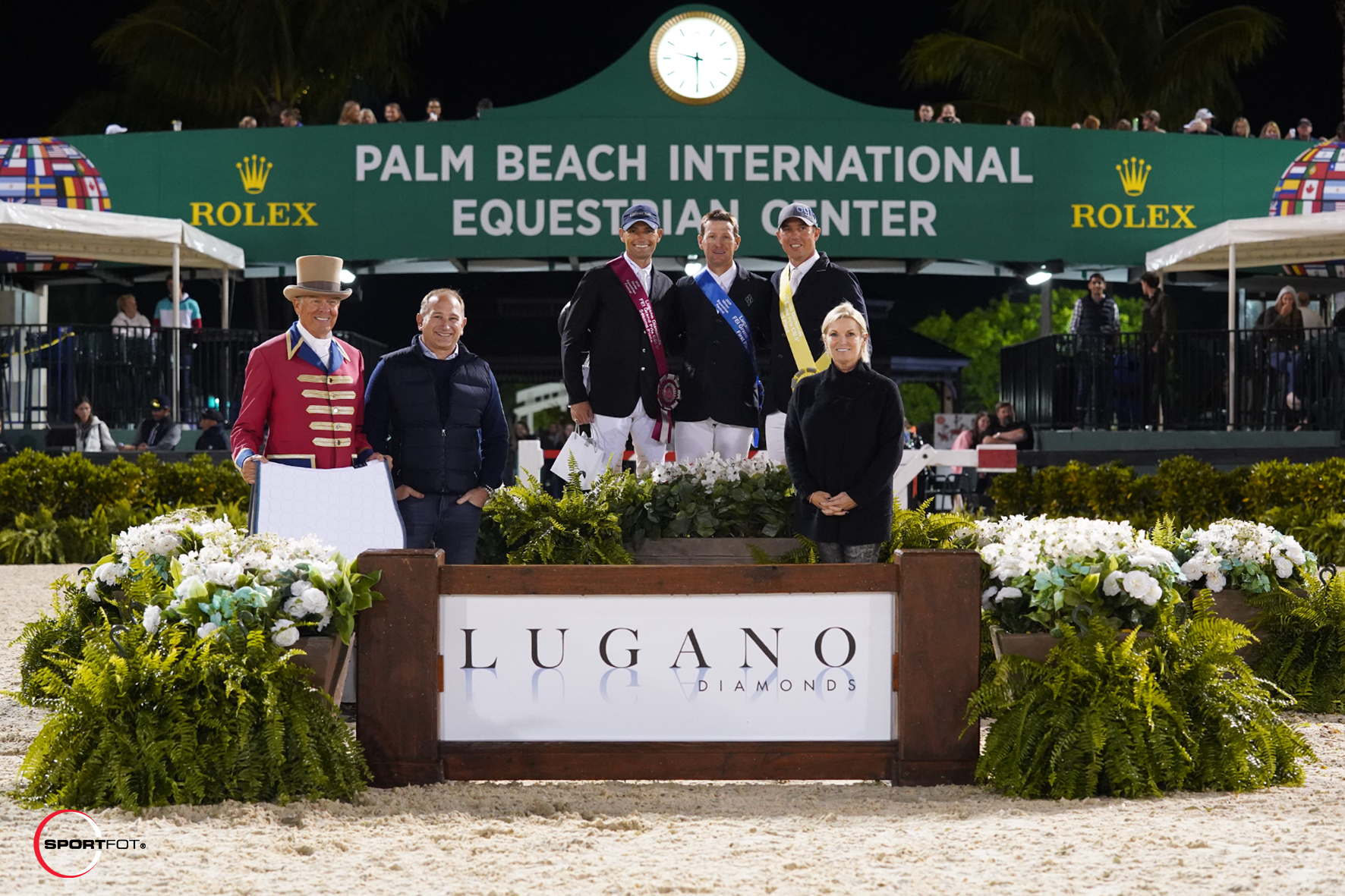 Second-place finisher Capt. Brian Cournane, winner McLain Ward, and third-place Alex Granato are joined by ringmaster Steve Rector, Moti Ferder, Owner and CEO of Lugano Diamonds, and Denise Wynne, Sales Manager for Lugano Diamonds. Photo ©
Sportfot
HH Azur is making a comeback from a minor injury that sidelined her during the Longines FEI Jumping Nations Cup™ Final in Barcelona in the fall of 2019. "Tonight, she felt great," said Ward. She's getting a little older, has jumped a lot of big jumps in her life, and been an incredible partner. You count your jumps at this stage in a career. We stopped for the year after Barcelona, but we kept her in light work."
Ward's plan came to fruition on Saturday, and HH Azur appears to be back in the game. "Once I got through the double, I took a touch off coming home. For sure I left a little room, but a lot of times you can lose it before you get started, and I didn't want to do that," he said. "For me, Santi is one of the best [course designers] in the world. He's a horseman course builder, and I think he's going to do a brilliant job at the Olympic Games."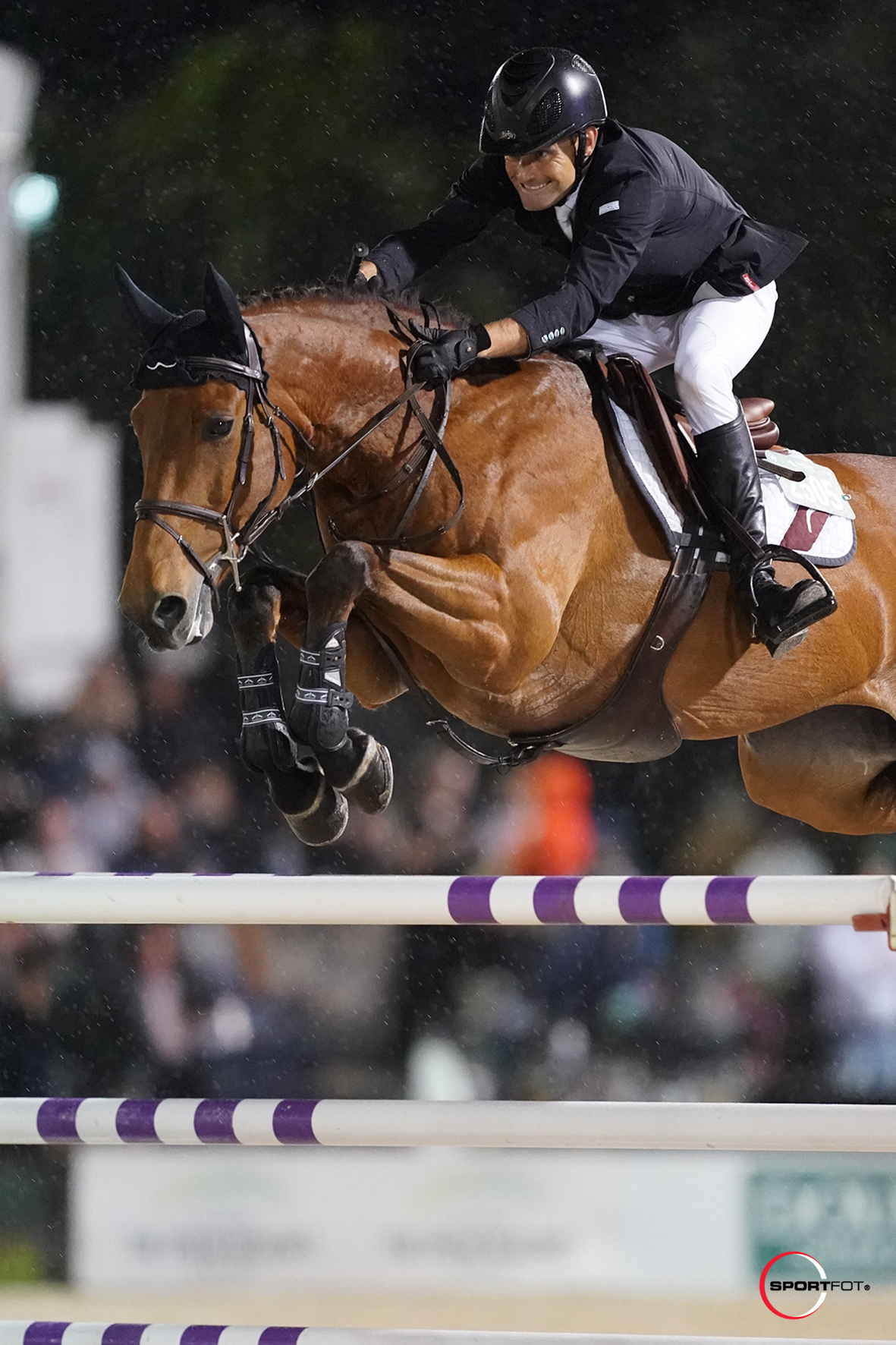 Capt. Brian Cournane and Penelope Cruz. Photo ©
Sportfot
Capt. Cournane is now in his third year piloting Penelope Cruz, a 12-year-old Irish Sport Horse (Ustinov x Peter Pan), and stepped the mare up to the five-star level just two weeks ago at WEF. "She's been jumping great in 1.50m league on Sundays," he said. "Tonight, she really felt on form and jumped great.
"It was very clever course building," continued Cournane of the track that proved to be a challenge for many. "The water jump came up early, and got the horses really open. The skinny at the ingate really got a lot of people. The combination was also very difficult."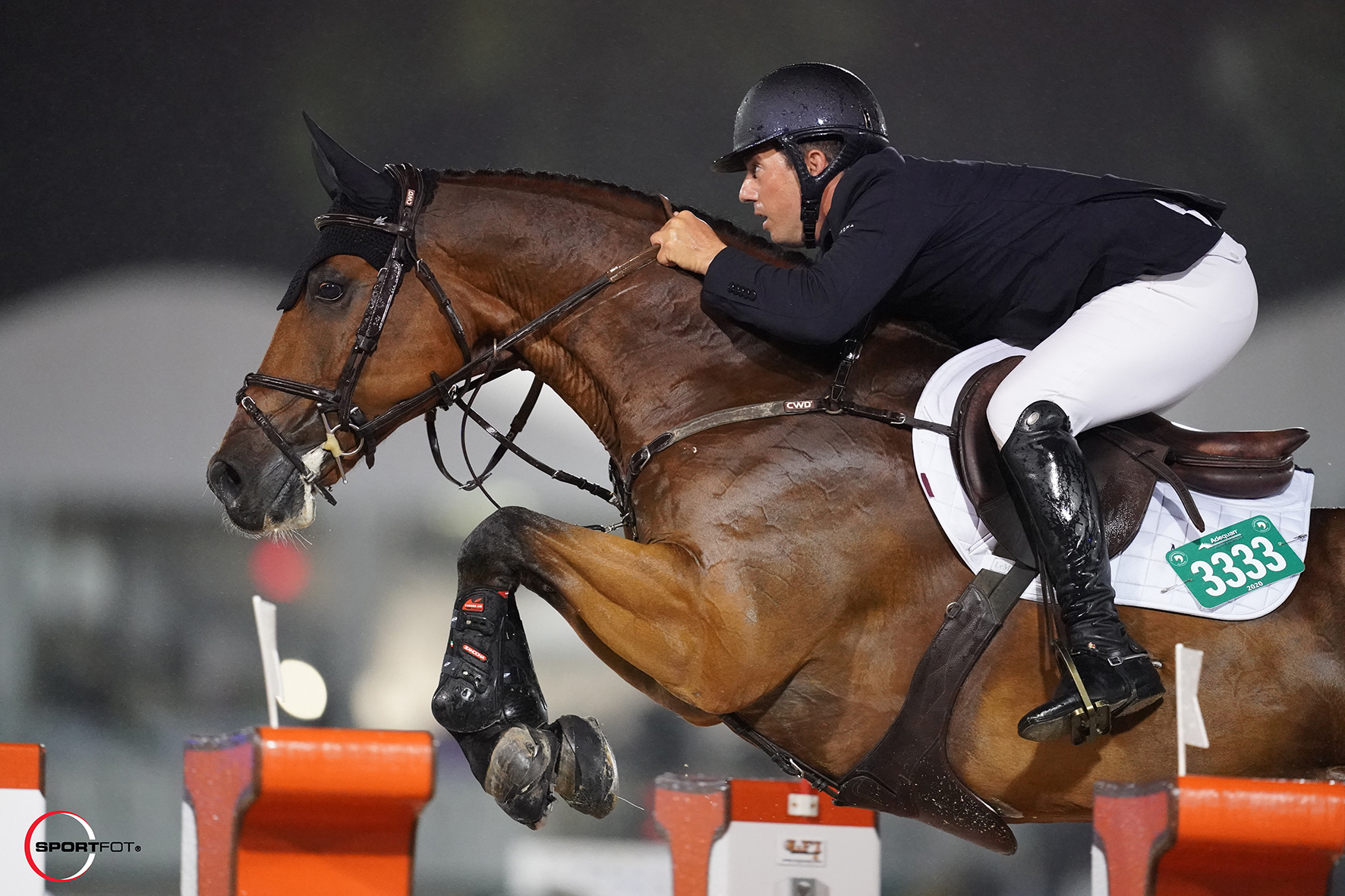 Alex Granato and Carlchen W. Photo ©
Sportfot
Granato made his way onto the podium beside Ward and Cournane despite some last-minute wavering in his jump-off plan. "I had definitely walked the inside turn to the double during the course walk, and I was planning it," he said. "But, it didn't go well for Eduardo, I saw Brian go around. I looked at it two or three times once I was in the ring. I was a little unsure, but as soon as I started, [Carlchen W] felt really with me. If anything I got in his way. He turned so well into it, and I pushed a little bit out to give him a little extra help and caused the rail at B.
"I was really happy with him," continued Granato of his 12-year-old Mecklenberg gelding (Chacco-Blue x Continue) he plans to point toward the Longines FEI Jumping World Cup™ Final in Las Vegas, NV, this spring. "I thought he performed well, and I am excited for how he feels."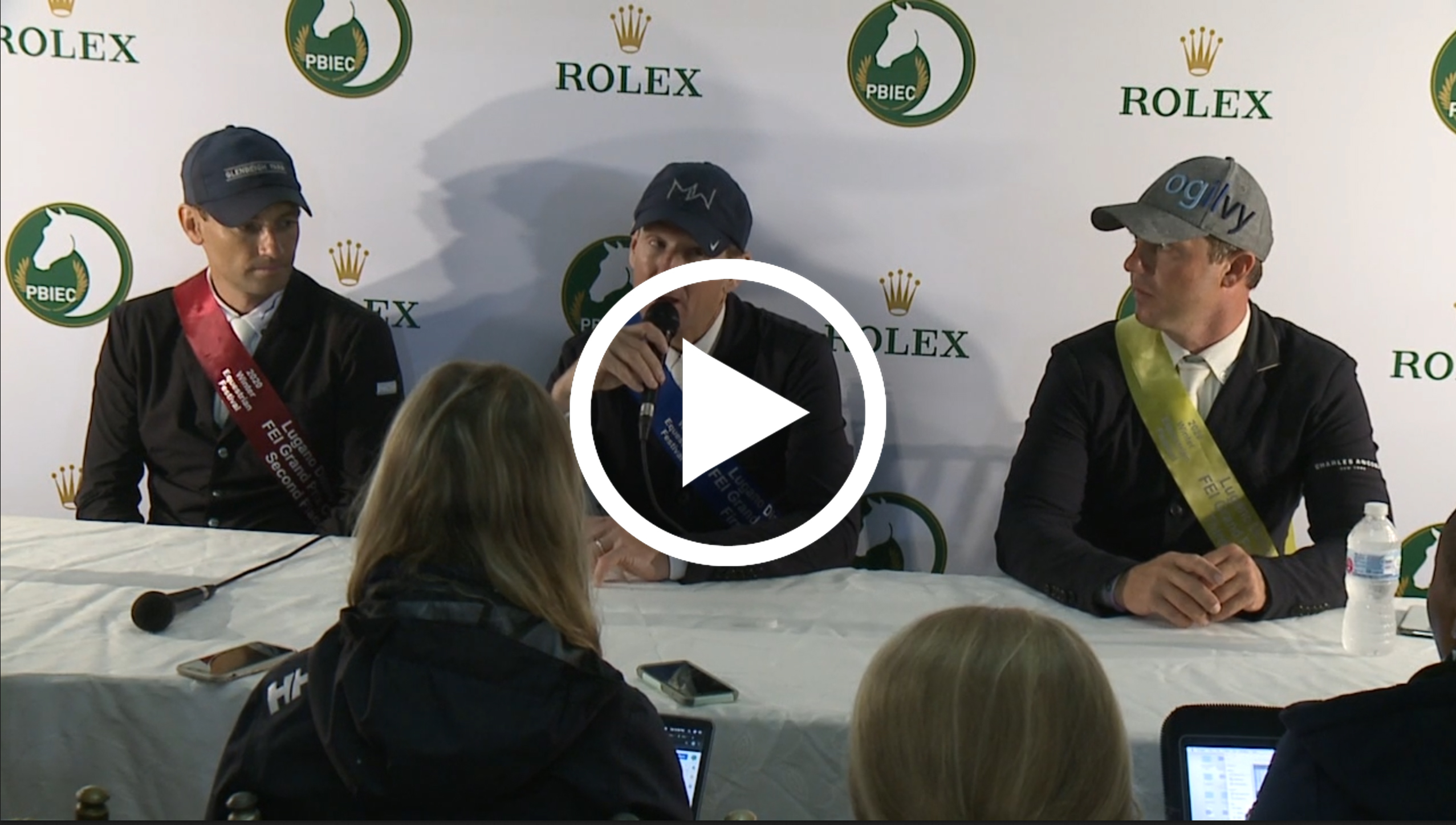 Hear from the top three in the closing press conference for the Lugano Diamonds Grand Prix CSI5*.
Darragh Kenny (IRL) and Romeo 88 took fourth place with a four-fault jump-off round in 39.30 seconds for fellow owner Ann Thompson, while Brazil's Eduardo Menezes capped the top five riding Magnolia Mystic Rose with four faults in 40.10 seconds or owner Rm Agronegocios Eireli. Returning last over the short course, Daniel Coyle (IRL) finished sixth with two poles hitting the ground in a time of 43.36 seconds aboard Legacy, owned by Ariel Grange.
In a special award presentation, Kristen Vanderveen (USA) was named the week seven Martha Jolicoeur Leading Lady Rider after consistent top performances in the Saturday-night grand prix and the Equinimity WEF Challenge Cup Round 7 on Thursday.
Also winning in the International Arena at WEF on Friday, Claire McKean (USA) opened the day with a victory in the $2,500 High Amateur-Owner Jumpers, presented by Lugano Diamonds, riding her own Cartoon Time. In the CSI2* ranks, Mexico's Eugenio Garza Perez topped the $37,000 Dutta Corp/G Klatte 1.45m CSI2* aboard Caracas for owner El Milagro.
Final Results: $401,000 Lugano Diamonds Grand Prix CSI5*
1 HH AZUR: 2006 Belgian Sport Horse mare by Thunder van de Zuuthoeve x Sir Lui
MCLAIN WARD (USA), Double H Farm & McLain Ward: 0/0/39.85
2 PENELOPE CRUZ: 2008 Irish Sport Horse mare by Ustinov x Peter Pan
CAPT. BRIAN COURNANE (IRL), Capt. Brian Cournane: 0/0/44.19
3 CARLCHEN W: 2008 Mecklenberg gelding by Chacco-Blue x Continue
ALEX GRANATO (USA), Page Tredennick: 0/4/38.87
4 ROMEO 88: 2009 Zangersheide stallion by Contact van de Heffinck x Orlando
DARRAGH KENNY (IRL), Darragh Kenny and Ann Thompson: 0/4/39.30
5 MAGNOLIA MYSTIC ROSE: 2009 BH mare by Zirocco Blue VDL
EDUARDO MENEZES (BRA), Rm Agronegocios Eireli: 0/4/40.10
6 LEGACY: 2010 Zangersheide mare by Chippendale Z x Bon Ami
DANIEL COYLE (IRL), Ariel Grange: 0/8/43.36
7 CARLITO'S WAY 6: 2010 Holsteiner gelding by Casall x Lordanos
RODRIGO PESSOA (BRA), Artemis Equestrian Farm LLC: 4/75.94
8 BLUE MOVIE: 2006 Anglo European mare by Chacco Blue x Pilot
ROWAN WILLIS (AUS), Rowan Willis: 4/76.04
9 VIC DES CERISIERS" 2009 Selle Français gedling by Olympic d'Anguerny x Desir du Chateau
BEAT MÄNDLI (SUI), Grant Road Partnser GmbH: 4/76.80
10 SILVER SHINE: 2009 Oldenburg gelding by Califax x Balou du Rouet
MARTIN FUCHS (SUI), Willow Grace Farm: 4/77.60
11 LADRIANO Z: 2008 Zangersheide gelding by Lawito x Baloubet du Rouet
DANIEL BLUMAN (COL), Blue Star Investments: 4/77.94
12 LUCIFER V: 2006 Westphalian gelding by Lord Dezi x Grandeur
NAYEL NASSAR (EGY), Evergate Stables LLC: 4/78.48
Claire Stevenson Rides Prem' Dollar Boy to Win Ariat National Adult Medal
The Ariat National Adult Medal took place on Saturday in Ring 7 with Claire Stevenson piloting Prem' Dollar Boy to top honors. The pair received a 77 in the first round. The top four horses returned to the ring for a test, where Stevenson and Prem' Dollar Boy were able to rise to the top of the class.
Stevenson, of Southampton, NY, and her horse Prem' Dollar Boy have just begun their equitation career together. The 17-year-old Selle Français gelding (Dollars Boy x De Va Hurie) was originally a grand prix horse and only started competing in the equitation during week three of the 2020 WEF. Stevenson describes Prem' Dollar Boy as her "forever horse" and also one of the sweetest horses she knows.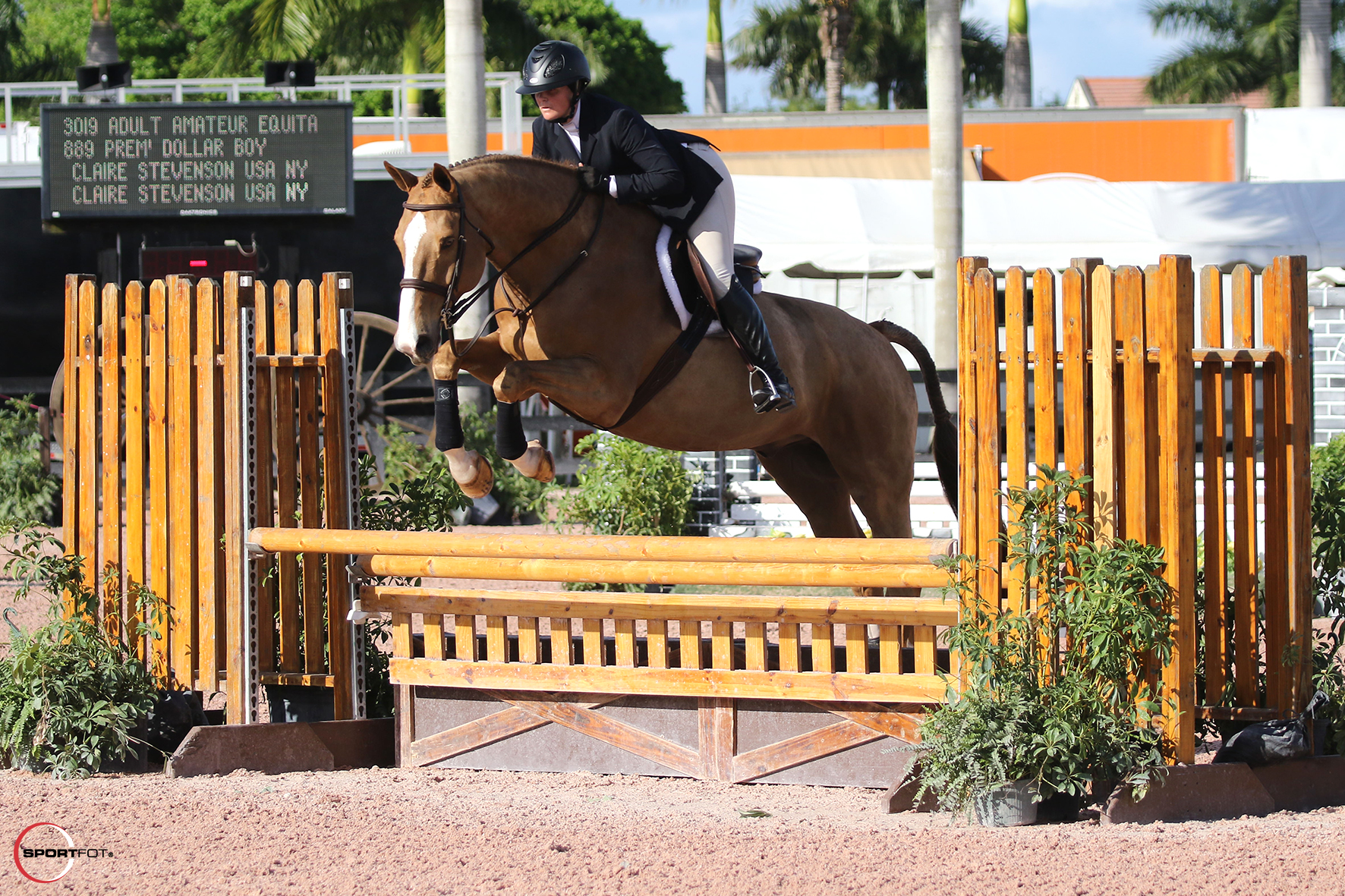 Claire Stevenson and Prem' Dollar Boy. Photo ©
Sportfot
"We take care of him ourselves, so whether it's doing the stall in the morning or night check, he's like a lap dog," Stevenson described. "He's also so fun to ride, regardless of what I'm doing with him I have a blast. To get to have some success as well is a lot of fun."
Going into the test, Stevenson and Prem' Dollar Boy were sitting in third place. Stevenson's plan was to have a consistent and solid test. After a picture-perfect ride, the pair, trained by Jenny Dunion, climbed three spots to take over the lead.
"That was actually our first trot jump in a test. I was really happy with him and he answered every question. I couldn't ask for more, he was super," Stevenson commented.
Not far behind was Kristin McCuin, of Lake Worth, FL, and her horse Fenway. The pair received a score of 78 and kept their second-place spot through the test. Third-place honors went to Macenzie Ingenito and her horse Fascino. Ingenito, of Glastonbury, CT, and Fascino received a first round score of 75 and went from fourth place to third place after the test.
Hunter, jumper, and equitation competition for week seven will conclude on Sunday, February 22, 2020, highlighted by the $73,000 CaptiveOne Advisors 1.50m Classic CSI5*, and the $50,000 Dutta Corp/Guido Klatte Grand Prix CSI2*. For full results, visit www.PBIEC.com.
Photo credit: Photos © Sportfot, official photographer of the Winter Equestrian Festival. These photos may be used only in relation to this press release and must include photo credit.