For Immediate Release
Lindsay Brock and Sabrina Brashares for Jennifer Wood Media, Inc.
Wellington, FL – January 25, 2020 – Erin Davis-Heineking (USA) is making the most of her two-week visit to the 2020 Winter Equestrian Festival (WEF) with a win in the $137,000 Adequan® Grand Prix CSI3* during "Saturday Night Lights" of week three at the Palm Beach International Equestrian Center in Wellington, FL, on Saturday, January 25.
WEF continues through March 29, 2020, with 12 consecutive weeks of world-class competition and $13 million dollars on offer. The third week of competition at WEF is sponsored by Adequan® and recognized as a CSI3* by the Fédération Equestre Internationale (FEI).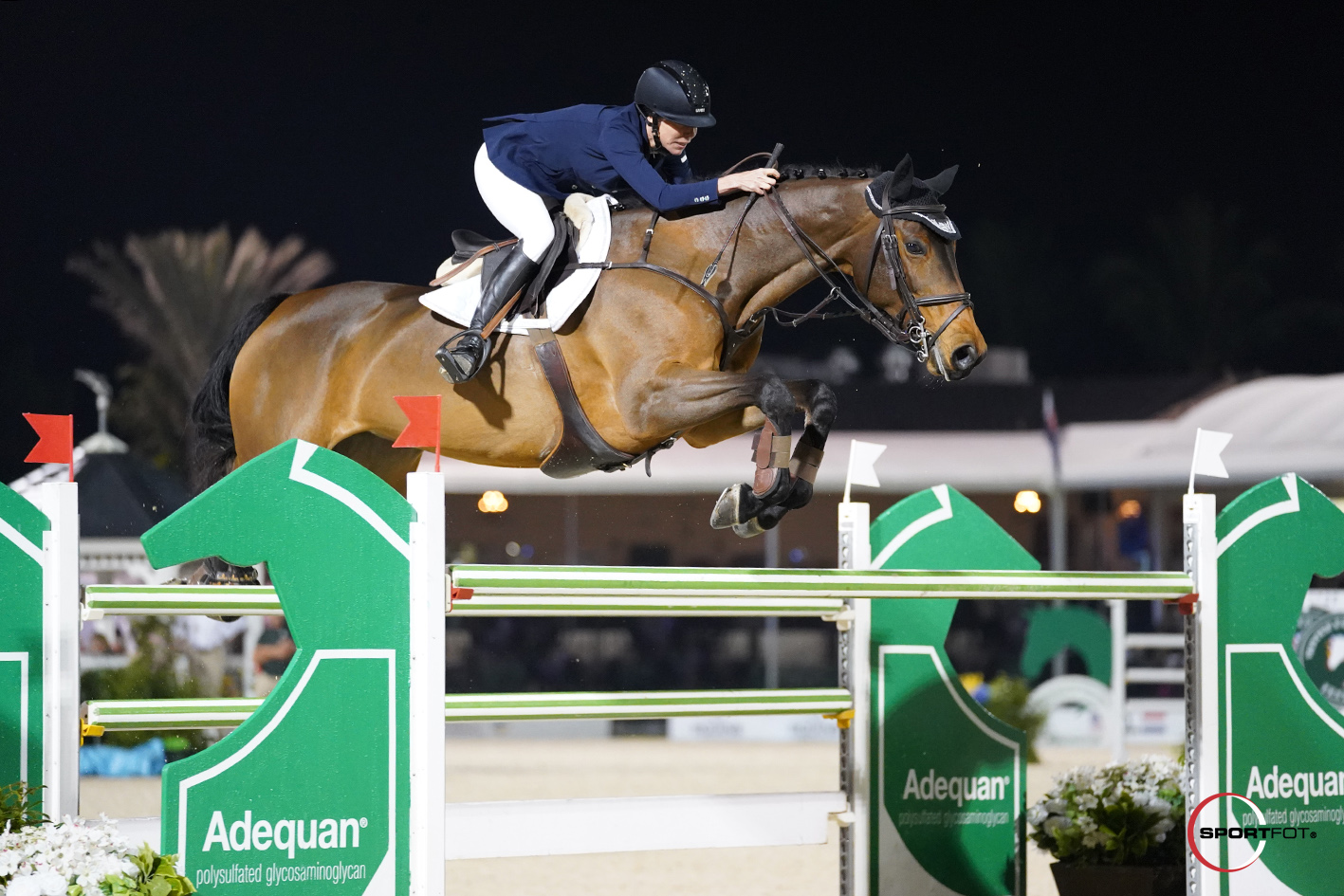 Erin Davis-Heineking and Leonie. Photo © Sportfot
Davis-Heineking rode Leonie to thrill Saturday night's crowd by leading the grand prix from start to finish after posting the first clear round over Kelvin Bywater's (GBR) opening track. She again returned first over the short course and set the pace fault free in a quick 45.51 seconds. At the conclusion of a six-horse jump-off, Davis-Heineking still stood atop the podium, barely inching out Ireland's Shane Sweetnam and Karlin van't Vennehof. They were just fractions off the win in 45.67 seconds.
"I was a little bit in disbelief that I had left a couple of jumps up out there," said Davis-Heineking of her jump-off ride. "It didn't quite go as I planned; I had an idea in my mind of the numbers that I wanted to do, and then right before I went in, my trainer/husband [Christian Heineking] basically said to leave one out from all of those. So, I took a shot at the last line and tried to do the six. I chipped in a seven, and she left it up. I was really proud of her."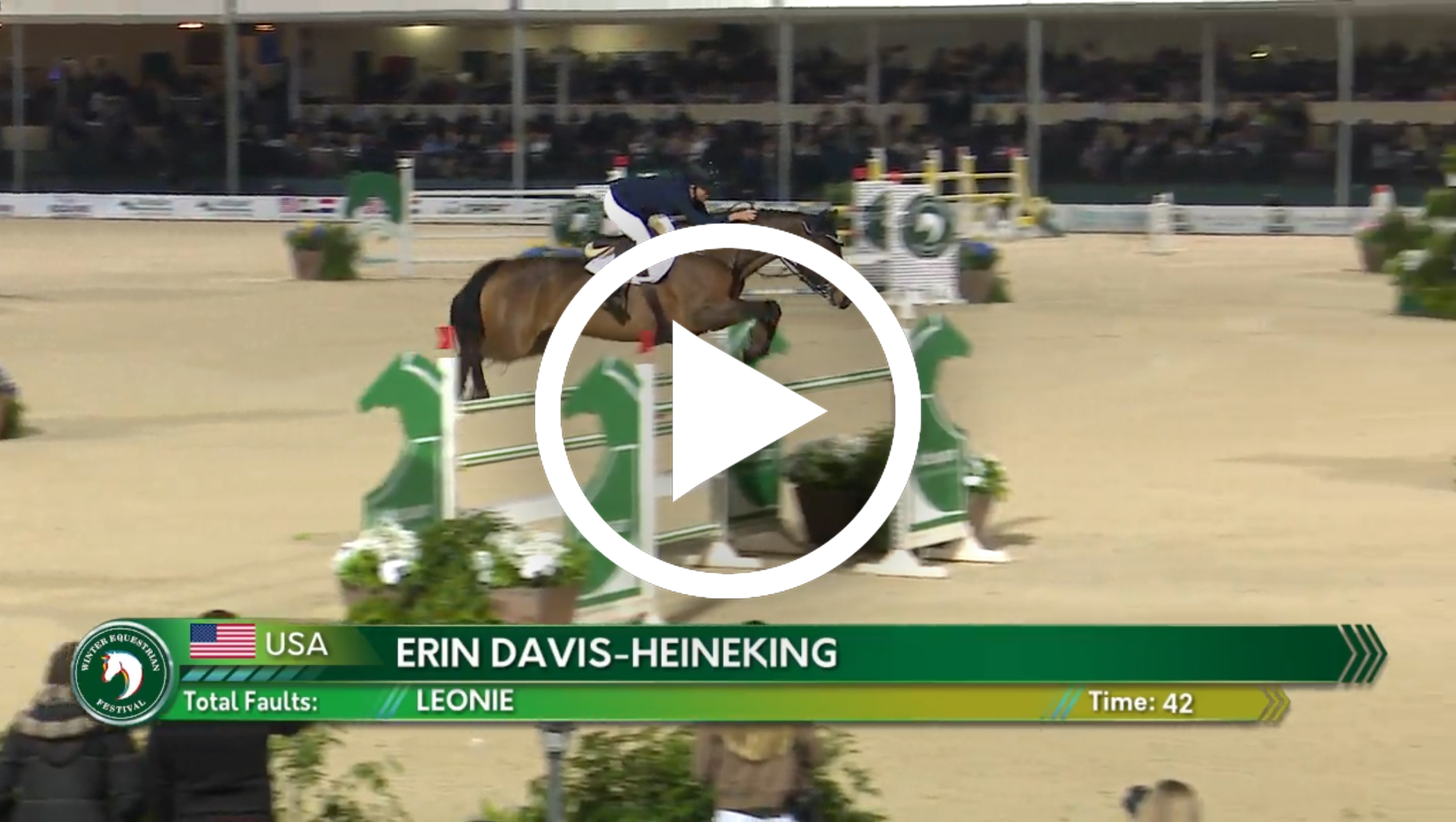 Watch Erin Davis-Heineking and Leonie's winning jump-off round.
Leonie, an 11-year-old Oldenburg mare (Leo von Faelz x Chacco-Blue) owned by October Hill Farm, Inc., joined Davis-Heineking's string two years ago when she came out of retirement to pilot the mount.
"She was a sale horse of my husband's, and he was trying to get me back in the saddle," she said. "He told me to play around with her at home. I did, and before I knew it, he had talked me into going in a small grand prix close by. I almost won it, and got the taste again. Honestly, I never saw myself here two years ago, so it's been quite a ride."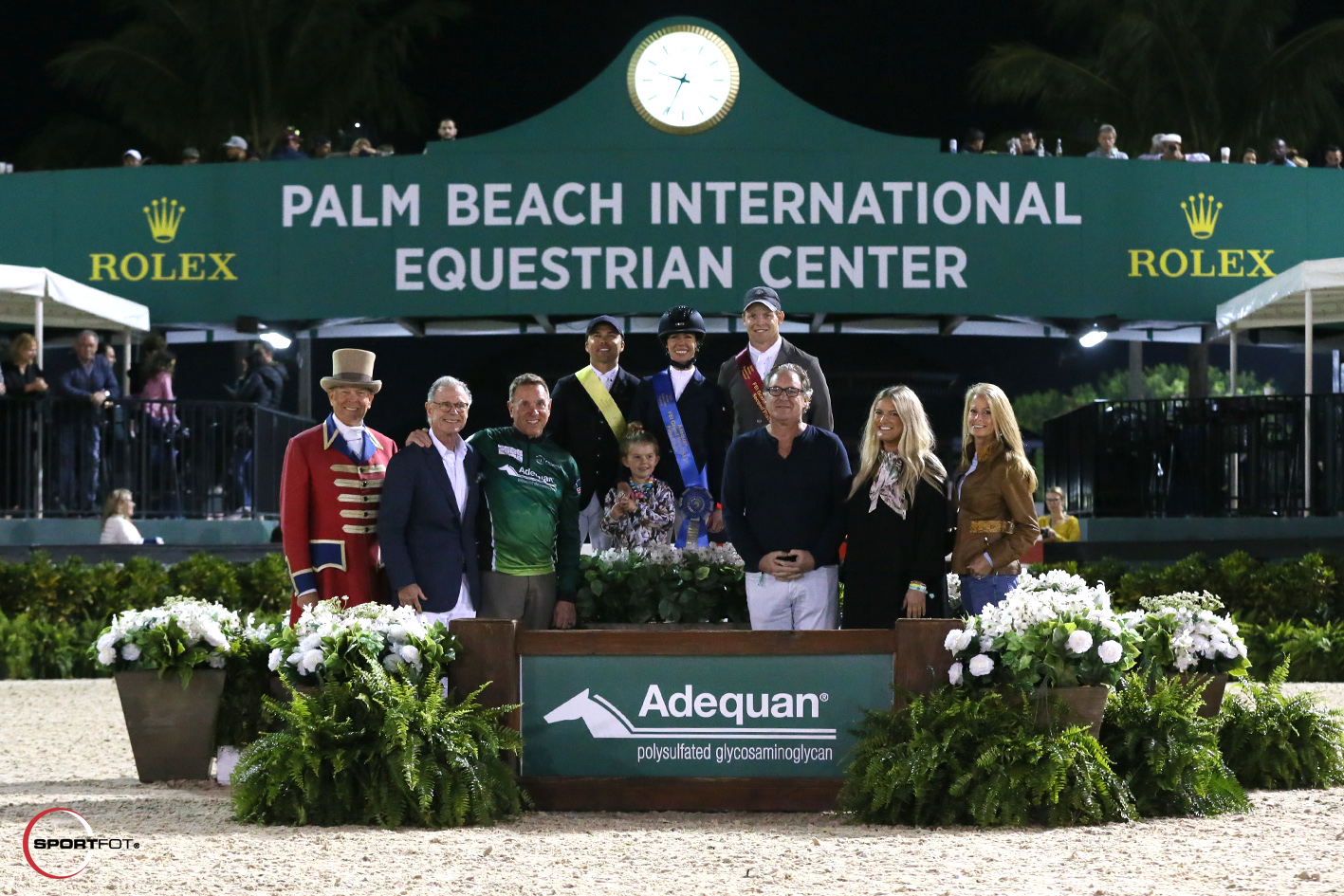 Podium finishers Erin Davis-Heineking, her daughter Ella, Shane Sweetnam, and Kent Farrington are honored by (left to right) ringmaster Steve Rector, Roger Smith of ESP, Director of Strategic Partnerships for American Regent Animal Health Allyn Mann, ESP CEO Mark Bellissimo, Account Coordinator at Stephens & Associates Advertising Eleni Mauromoustakos, and Senior Territory Manager at American Regent Animal Health Kathy Serio. Photo © Sportfot
Davis-Heineking competed at WEF in the amateur jumper ranks in her 20s and returned with a bang this week. "I never really imagined that I would win one of these grand prix!"
After finishing the runner-up, Sweetnam is excited about Karlin van't Vennehof's future, saying, "It's her first three-star ever and her first night class ever. She still has a bit of a ways to go with her rideability, but it's getting better all the time.
"When I walked the course tonight, it looked like a very tough course, but she's a good mare," continued Sweetnam of the 10-year-old Belgian-bred mare he owns with Seabrook LLC. "She really gets on with her jump. In the jump-off, maybe I could have been a touch faster, but she did a great job; I'm very happy with her."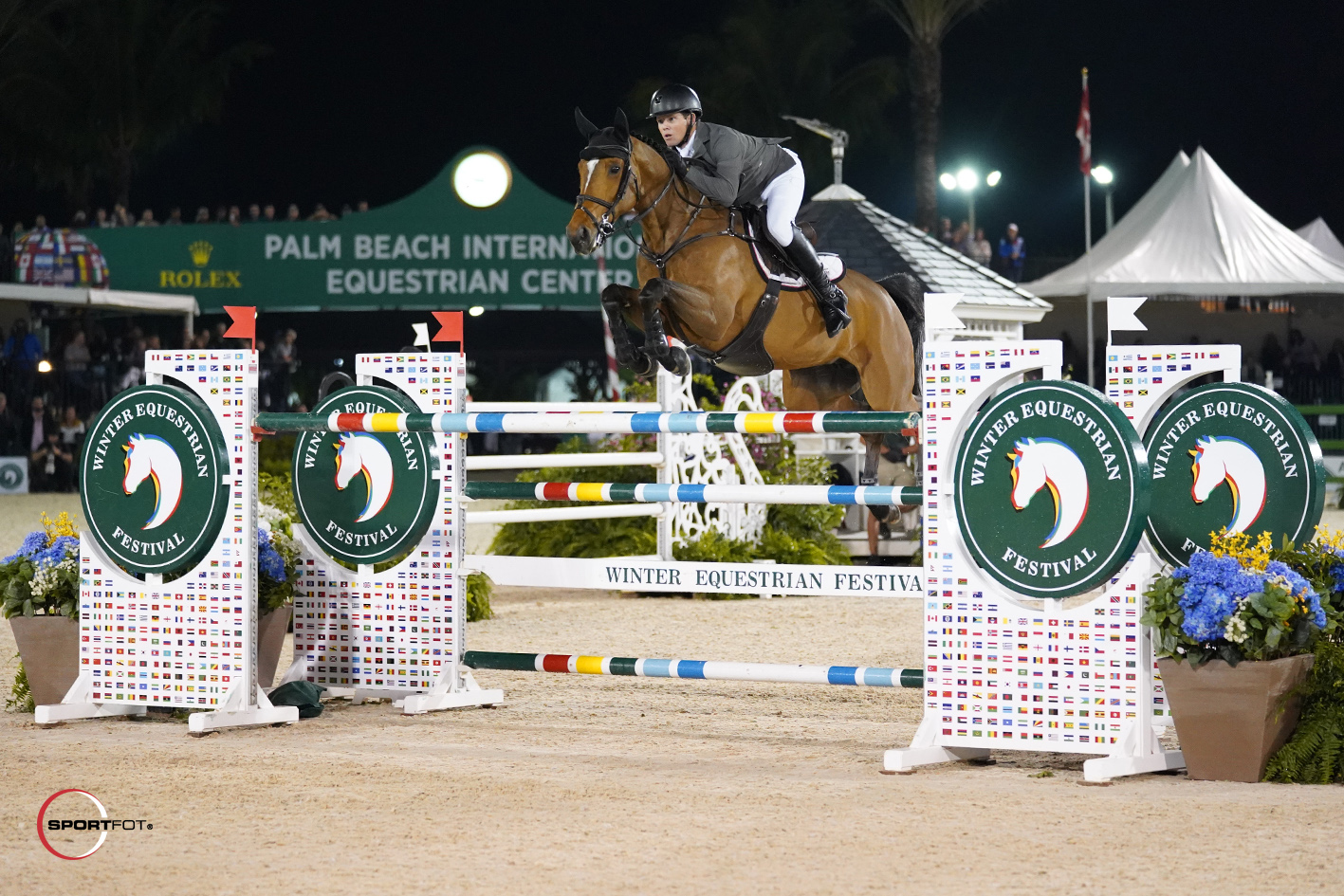 Shane Sweetnam and Karlin van't Vennehof. Photo © Sportfot
U.S. Olympic team silver medalist Kent Farrington rounded out the podium on his up-and-coming mount Kaprice, owned by Farrington and Tanma Corp.
"This is the biggest class that she's ever jumped, so she was going super high in the first round," he said of the 10-year-old Belgian Warmblood mare. "I was trying to compete in the jump-off going as fast as I thought she'd be comfortable under the lights. Erin had an amazing round. I've known her since I was a kid riding in the Midwest, so I'm really excited to see her here in Wellington and coming out with a big win."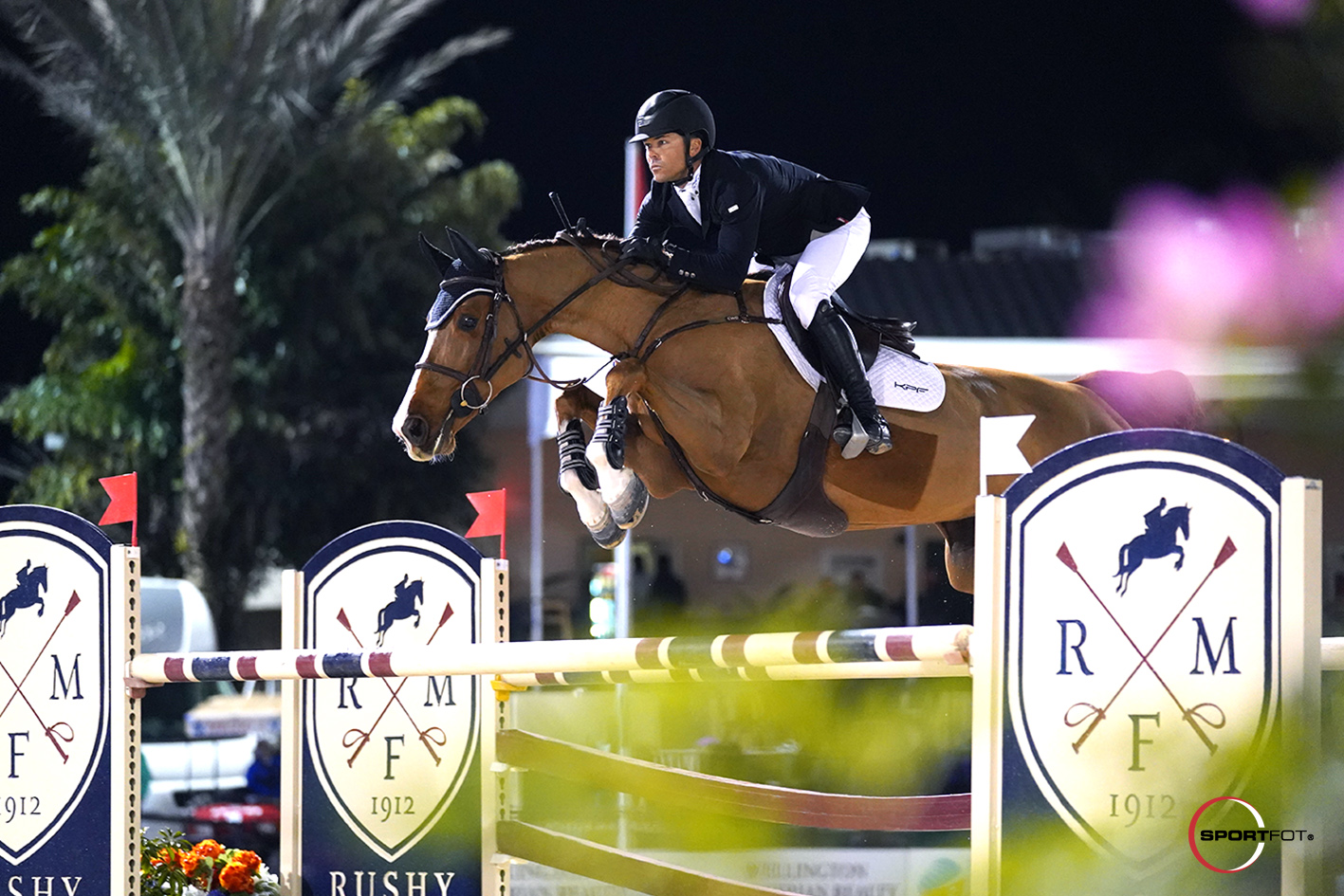 Kent Farrington and Kaprice. Photo © Sportfot
Amanda Derbyshire (GBR) finished fourth riding Cornwall BH for Gochman Sport Horses. They were double-clear in 49.89 seconds, securing Derbyshire the Martha W Jolicoeur Leading Lady Rider Award for week three. Cameron Hanley (IRL) capped the top five on Kasper Van Het Hellehof for owner Poden Farms with the fastest four-fault jump-off round.
Allyn Mann of Adequan®, a colossal supporter of horse sport, was impressed with the level of competition converging in Wellington this weekend that spanned disciplines. "I think what's amazing is this afternoon I was across the street watching some of the top dressage horses in the world compete. Then I hopped in a golf cart and took about a five-minute ride to come here to watch some of the top [show jumping] riders and horses in the country compete.
"This place is electric," he continued. "We're just all really blessed to be part of it."
Also winning in the International Arena at WEF on Saturday, Caitlin Creel (USA) topped the $15,000 SJHOF High Amateur/Owner Jumper Classic, presented by Lugano Diamonds, riding her own Friar M. Week three of WEF concludes on Sunday, January 26, with the $37,000 CaptiveOne Advisors 1.50m Classic being featured in the International Arena. For full results, visit www.PBIEC.com.
Final Results: $137,000 Adequan® Grand Prix CSI3*
1 LEONIE: 2009 Oldenburg mare by Leo von Faelz x Chacco-Blue
ERIN DAVIS-HEINEKING (USA), October Hill Farm, Inc.: 0/0/45.51
2 KARLIN VAN 'T VENNEHOF: 2010 BWP mare by Fantomas De Muze X Quasimodo Vd Molendreef
SHANE SWEETNAM (IRL), Seabrook LLC and Shane Sweetnam: 0/0/45.67
3 KAPRICE: 2010 BWP mare by Echo van't Spieveld x Carthago
KENT FARRINGTON (USA), Tanma Corp. & Kent Farrington: 0/0/46.02
4 CORNWALL BH: 2008 Holsteiner stallion by Con Air x Cambridge
AMANDA DERBYSHIRE (GBR), Gochman Sport Horses: 0/0/49.89
5 KASPER VAN HET HELLEHOF: 2010 BWP stallion by Emerald Van't Ruytershof x Nabab de reve
CAMERON HANLEY (IRL), Poden Farms: 0/4/48.32
6 THEODORE MANCIAIS: 2007 Selle Français gelding by Kashmir van Schuttershof
SPENCER SMITH (USA), Torrey Pines & Ashland Farm: 0/6/61.93
7 FIGOR: 2010 KWPN gelding by Querly-Elvis x Indoctro
TIFFANY FOSTER (CAN), Artisan Farms, LLC: 1/74.04
8 VIVA COLOMBIA: 2005 Oldenburg mare by Couleur-Rubin x Landor S
BRIANNE GOUTAL-MARTEAU (USA), Rose Hill Farm: 1/74.47
9 KEOKI: 2009 Holsteiner gelding by Catoki x Cassini I
DAVID BLAKE (IRL), Pine Hollow Farm: 1/74.60
10 ENJOY LOUIS: 2004 Belgian Warmblood gelding by Coriano x Kannan
CATHERINE TYREE (USA), Mary & Joe Tyree: 1/75.10
11 EVITA: 2009 KWPN mare by Tangelo van de Zuuthoeve
THAISA ERWIN (AUS), Thaisa Erwin: 1/76.80
12 VILLAMOURA: 2009 mare by Diamant de Semilly
SYDNEY SHULMAN (USA), Jill Shulman: 4/66.72
Gabrielle Sokolow and Kindred Claim Large Junior Hunter 15 and Under Championship
Saturday morning in the E.R. Mische Grand Hunter Ring began with Gabrielle Sokolow and Kindred earning champion in the Large Junior Hunter 15 and Under division. Sokolow and Kindred won the under saddle and received an additional first and second place ribbon to claim the championship title.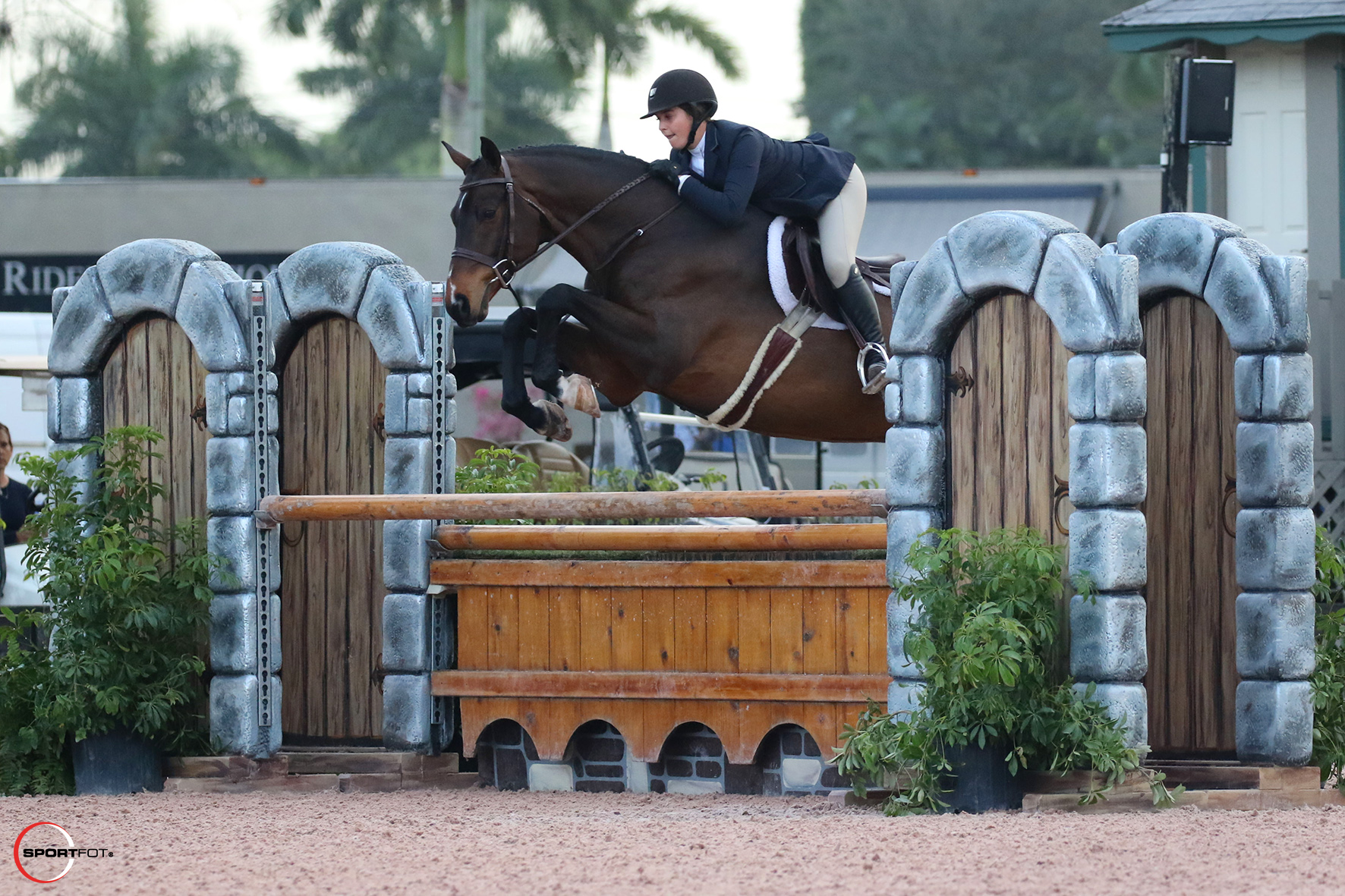 Gabrielle Sokolow and Kindred. Photo © Sportfot
Kindred is a new ride for Sokolow, who has had the horse for less than a week. Sokolow went to Ocala last week to try the horse as a prospect for the junior hunter division. It was clear that the pair was right for each other when they won all three classes and were champion in their first show together earlier this season. "We instantly knew that it was the right match!" commented Sokolow.
The eight-year-old gelding was then brought to Wellington, where he showed earlier in the week with Kate Conover. Sokolow, of Westlake Village, CA, then took over the ride on Kindred again and the pair was able to continue their winning streak. "He has such a great personality and the way he goes around the ring is just so pretty," said Sokolow of her new mount.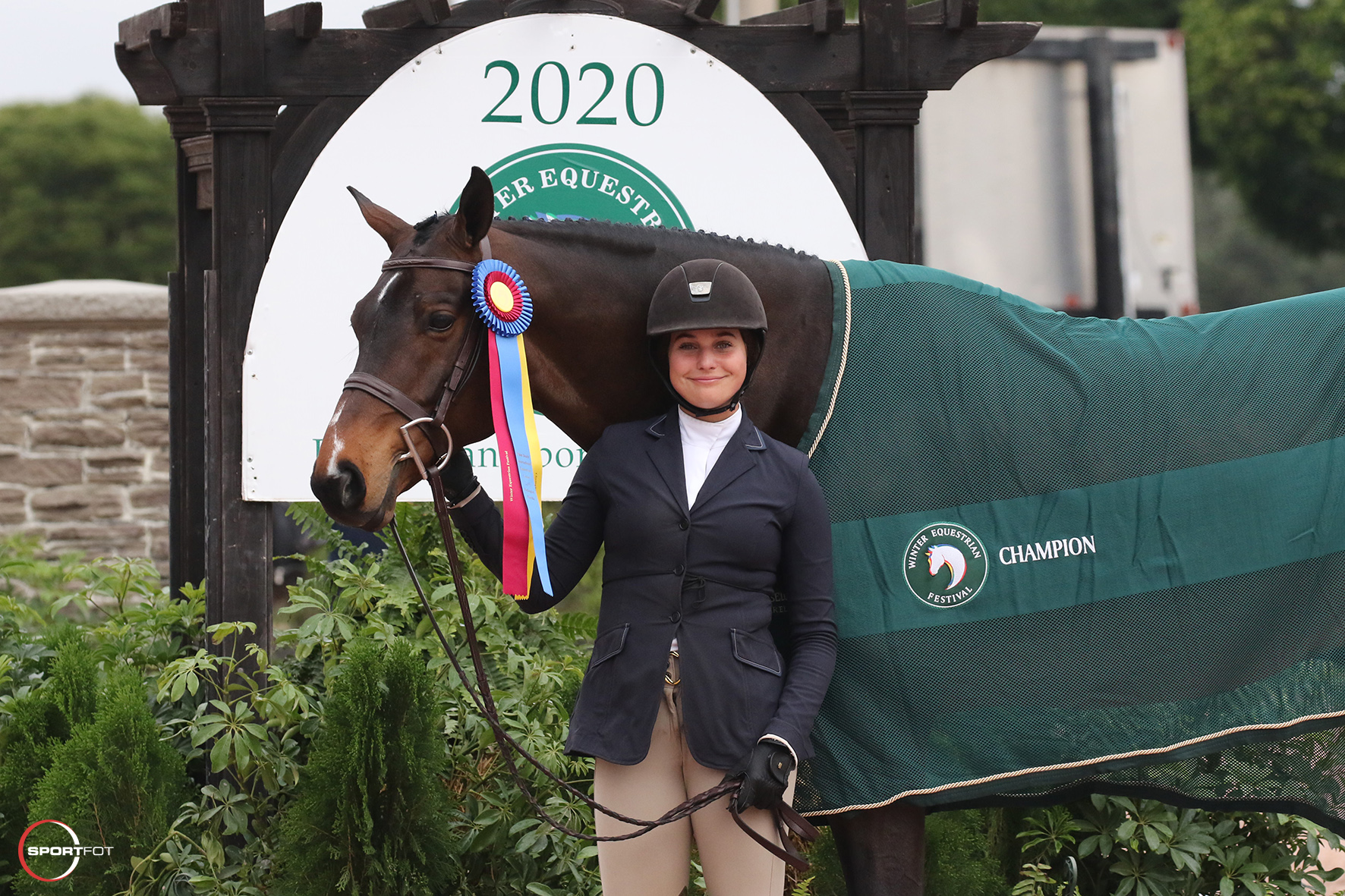 Gabrielle Sokolow and Kindred in their championship presentation. Photo © Sportfot
Although the first day of the division was a learning experience for Sokolow, the second day was very successful. "Today, we clicked and it was really good. He is amazing, and I'm already in love with him!" she said.
Sokolow trains with Elizabeth Reilly and Chris Iwasaki out of Makoto Farms in Calabasas, CA, and plans to continue to show Kindred in the Large Junior Hunter 15 and Under ranks for the remainder of WEF. This summer, the pair will hopefully begin competing in hunter derbies and the Hunter Prix classes at HITS Saugerties. "Eventually I want to go to derby finals on him!" Sokolow described as one of her long-term goals with Kindred.
Reserve champion of the Large Junior 15 and Under went to Augusta Iwasaki, of Calabasas, CA, and Lion. Iwasaki and Lion, owned by Davlyn Farms Inc., received two firsts and a seventh place to claim the reserve title.
Hunter competition for Week 3 will come to a close on Sunday with the completion of the Junior Hunter 3'3" 15 and Under division in the E.R. Mische Grand Hunter Ring.
Photo Credit: Photos © Sportfot, Official Photographer of the Winter Equestrian Festival. These photos may be used only in relation to this press release and must include photo credit.