Su tercera madre, Api Gomery, fue la madre de TCHIN DE LA TOUR (Chin Chin) ganador en 2018 con el francés G. Foutrier a 1.45 CSI***** W y a 1.50 CSI**** La Coruña y GP CSI** St Court, en 2017 GP CSI*** San Giovanni y GP CSI** Oliva, en 2016 GP CSI** Opglabbeek y GP CSI** Le Touquet... Chin CHIN compitió en los JJ.OO Seúl 1998 y Barcelona 192 con el asimismo mejicano J. Azcárraga.
Pedigree CETANO VAN ASPERGEM Z
Santiago Lambre Storms to NetJets Grand Prix CSI2* Win
Jan 18, 2020 - 11:15 PM
For Immediate Release
Lindsay Brock and Sabrina Brashares for Jennifer Wood Media, Inc.
Wellington, FL – January 18, 2020 – Mexico's Santiago Lambre rode Cetano van Aspergem Z to a speedy victory in the $73,000 NetJets Grand Prix CSI2* on Saturday, January 18, during "Saturday Night Lights" at the 2020 Winter Equestrian Festival (WEF) at Palm Beach International Equestrian Center in Wellington, FL.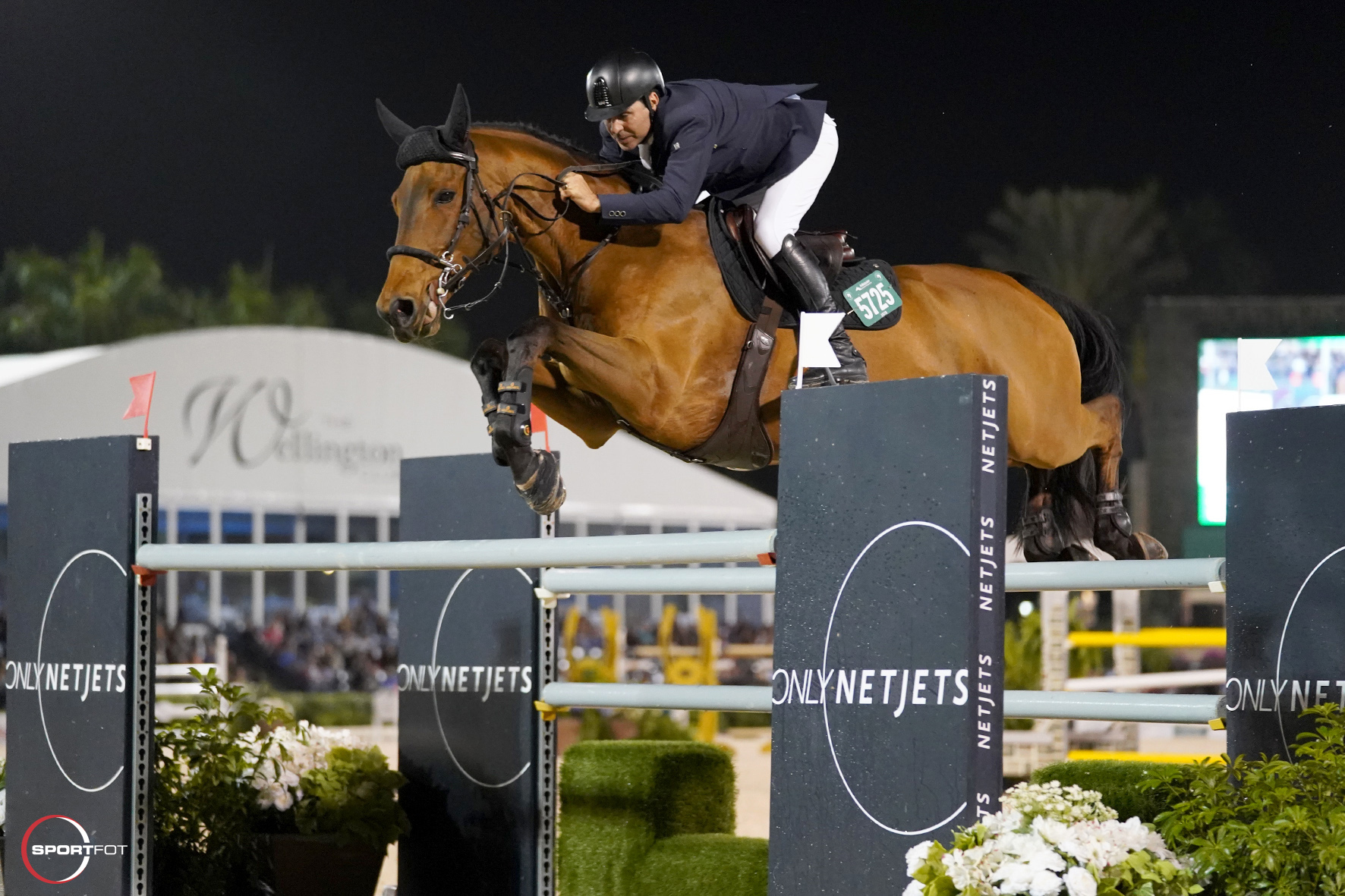 Santiago Lambre and Cetano van Aspergem Z. Photo ©
Sportfot
WEF continues through March 29, 2020 with 12 consecutive weeks of world-class competition and $13 million dollars on offer. The second week of competition at WEF is sponsored by NetJets and recognized as a CSI2* by the Fédération Equestre Internationale (FEI). The week's featured events conclude on Sunday, highlighted by the $25,000 Hermés Under 25 Grand Prix and the $37,000 CaptiveOne Advisors 1.45m in the International Arena.
Clears were hard to come by in the opening round set by course designer Oscar Soberon (USA). A tight time allowed was first bested by Lillie Keenan (USA) riding Fasther, a mount that lived up to its name and led the way. Keenan was joined by five more riders, setting the stage for a six-horse speed duel over the second round's short course.
Rails fell for both Keenan and fellow U.S. rider Todd Minikus, riding Calvalou, before U.S. team Olympic gold medalist McLain Ward set the pace on a clear round in 43.60 seconds aboard Jet Blue. His time, however, was quickly beat when Lambre and Cetano van Aspergem Z stopped the clock in 40.22 seconds.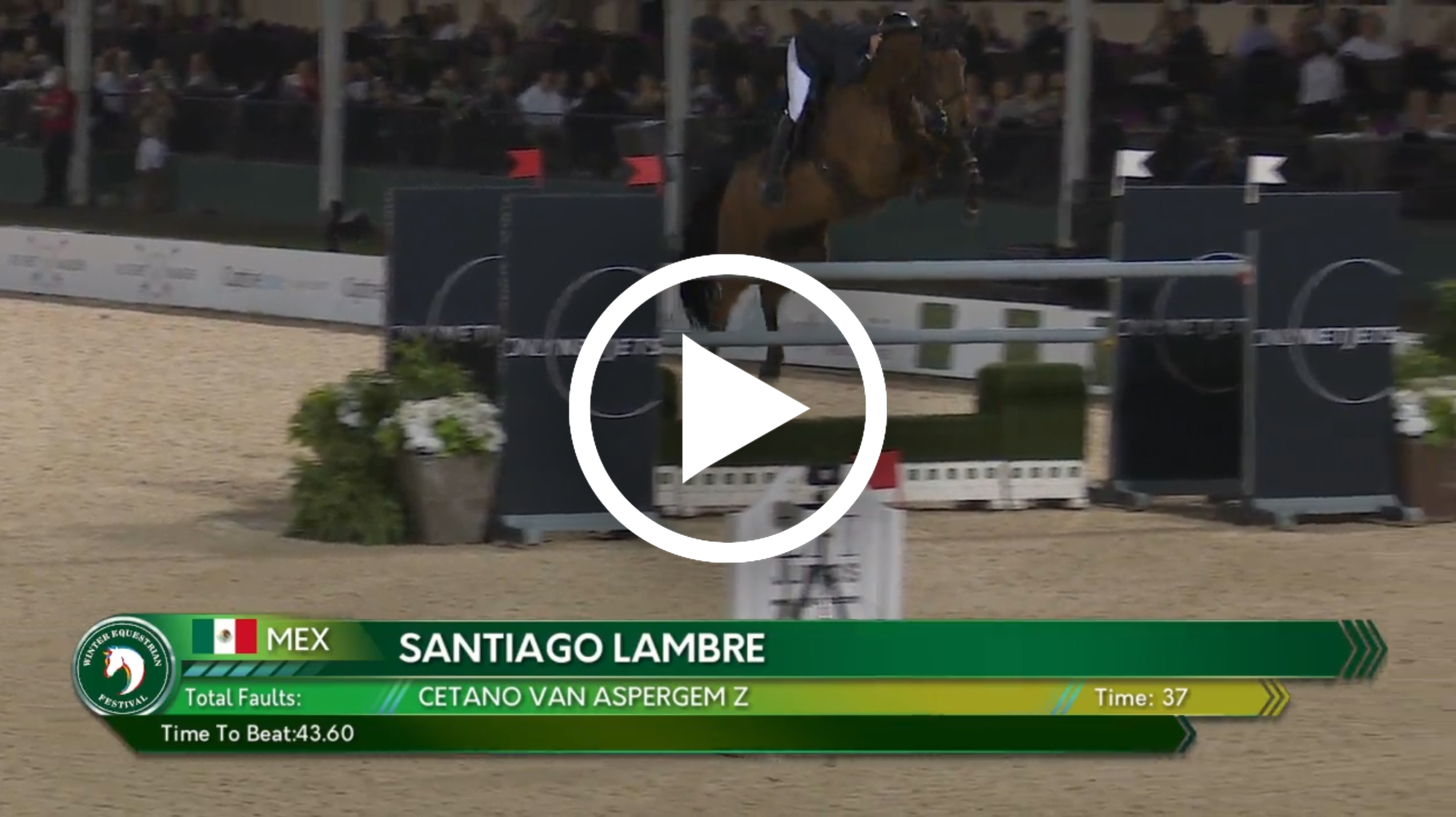 Watch Santiago Lambre and Cetano van Aspergem Z's winning jump-off round.
"This horse is naturally fast," said Lambre of the horse he has been competing internationally for almost three years. "I tried to not lose my mind, and I tried to keep a good, nice rhythm. The horse, at this level, can be very fast, and tonight it was.
"I'll try to move up to the four star in two weeks, and then we'll have to see how it goes," continued Lambre of his plans for Cetano van Aspergem Z, a 10-year-old Zangersheide gelding (Clinton x Ahorn Z). "This is the first year that I have five or six horses to compete, so I plan to jump every week, and I think I have competitive horses for it."
Ireland's Paul O'Shea and Canadian Olympic champion Eric Lamaze both took shots at Lambre's time but could not match his mount's impressive foot speed. Lamaze was closest to victory just fractions off the pace in 40.26 seconds and settled for second riding Idalville d'Esprit, owned by Torrey Pines Stables Inc. and Chris Stinett.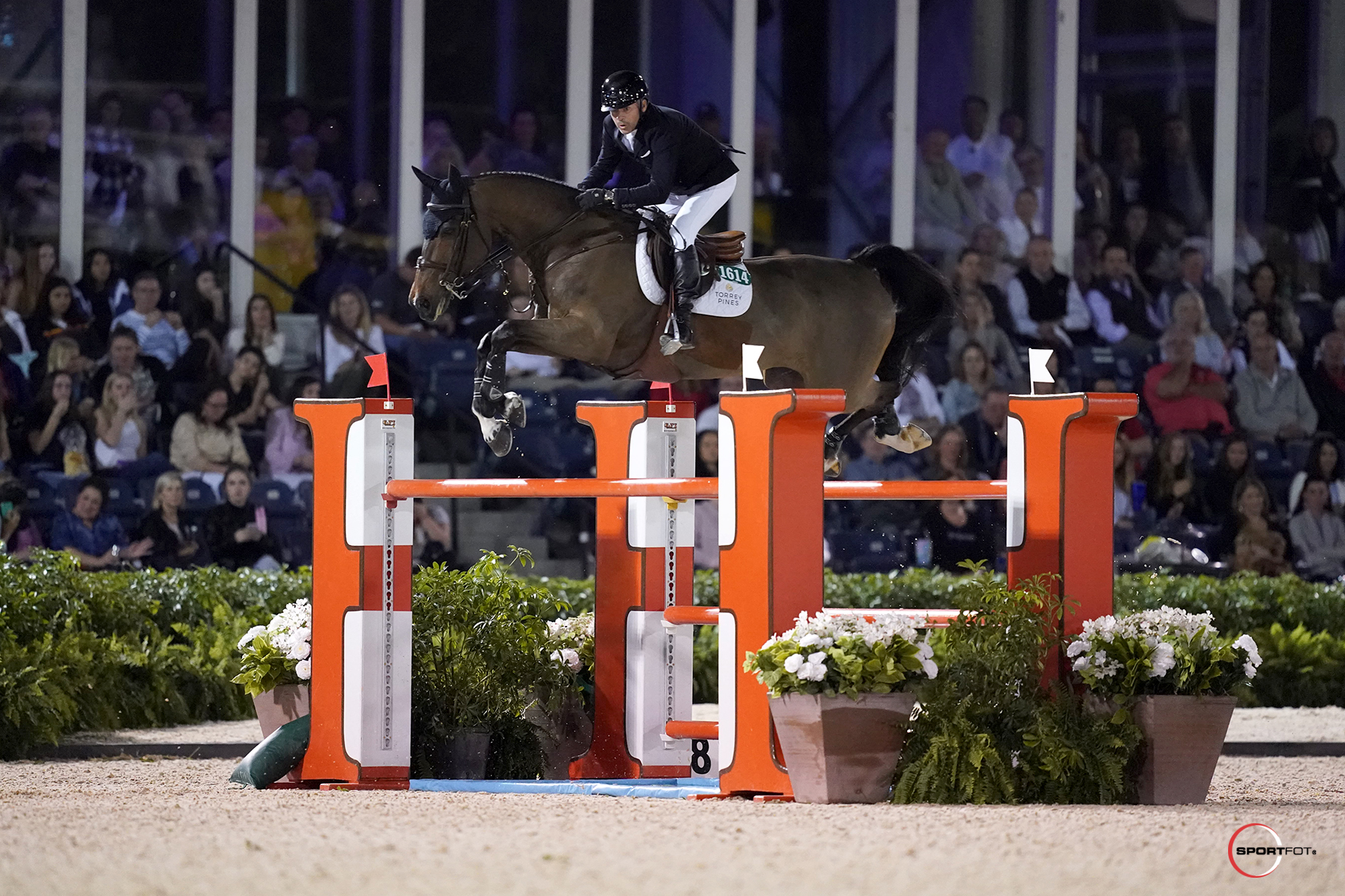 Eric Lamaze and Idalville d'Esprit. Photo ©
Sportfot
"It's opening night, and this is where you bring up the young horses and young riders," said Lamaze. "I think it's going to get a whole lot more exciting as we carry on too. Nevertheless, tonight ended up being a very good competition.
"The obstacles were hard to jump. It wasn't necessarily the height, but the way they were built," he continued. "It ended up with the right amount of clear. For me, it's a new horse. So I learn a little bit every day about him. This was the first time that I asked him to go fast, and I was quite happy with the result."
Ward's double-clear handed him and new mount Jet Blue the third-place ribbon for owner Portfolio Horses LLC. "I was thrilled; this was the second event that we've had Jet Blue at in the last month, and he's been clear in both grand prix, so for a horse just turning nine, I'm really impressed by him," he said. "I had a little problem in the jump-off here in December in the four star, and the same turn was here tonight, so I was a little chicken tonight. I wasn't going to be fast enough and hoped these guys would make a mistake, but they're a bit too good for that."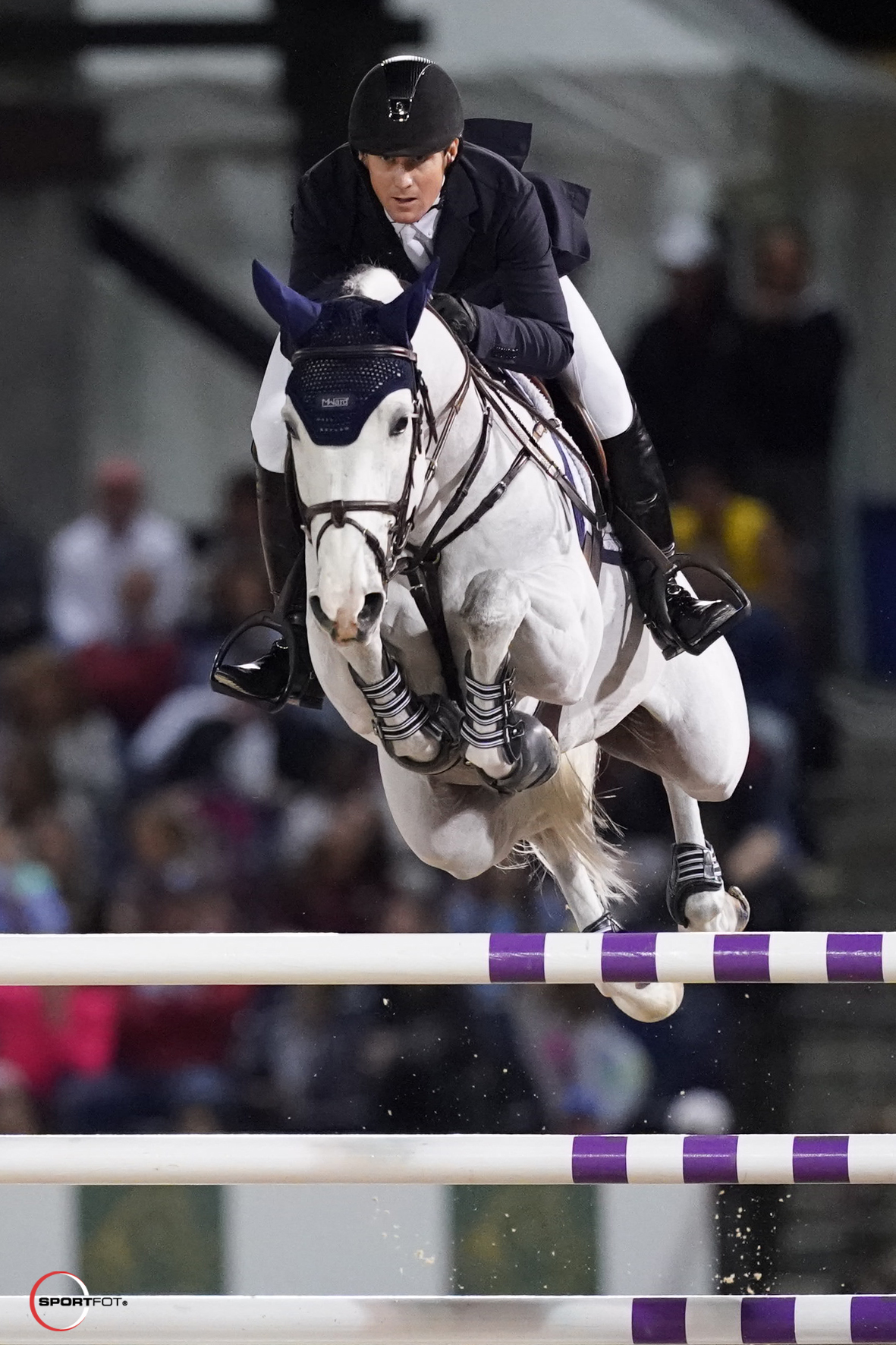 McLain Ward and Jet Blue. Photo ©
Sportfot
O'Shea finished fourth riding Skara Glen's Chancelloress in 46.71 seconds for owner Skara Glen Stables, while Keenan and Fasther, owned by Chansonette Farm LLC, capped the top five on four faults in 40.46 seconds. Keenan's performance also guaranteed her the Martha Jolicoeur Leading Lady Rider Award for the second week in a row. Rounding out the jump-off, Minikus and his own Calvalou took sixth on four faults in 41.76 seconds.
Also winning in the International Arena at WEF on Saturday was Emily Ward (USA), who kicked of Under 25 competition with a victory in the $10,000 Hermés Under 25 Welcome riding Millioninmind, owned by Stephan Barnes. Jennifer Gates (USA) won the $15,000 Lugano Diamond SJHOF High Amateur-Owner Jumper Classic on Alex for Evergate Stable, LLC, while Flo Norris (USA) topped the $10,000 Griffis Residential SJHOF High Junior Jumper Classic on Elton d'Acceglio for owner Cisca Norris.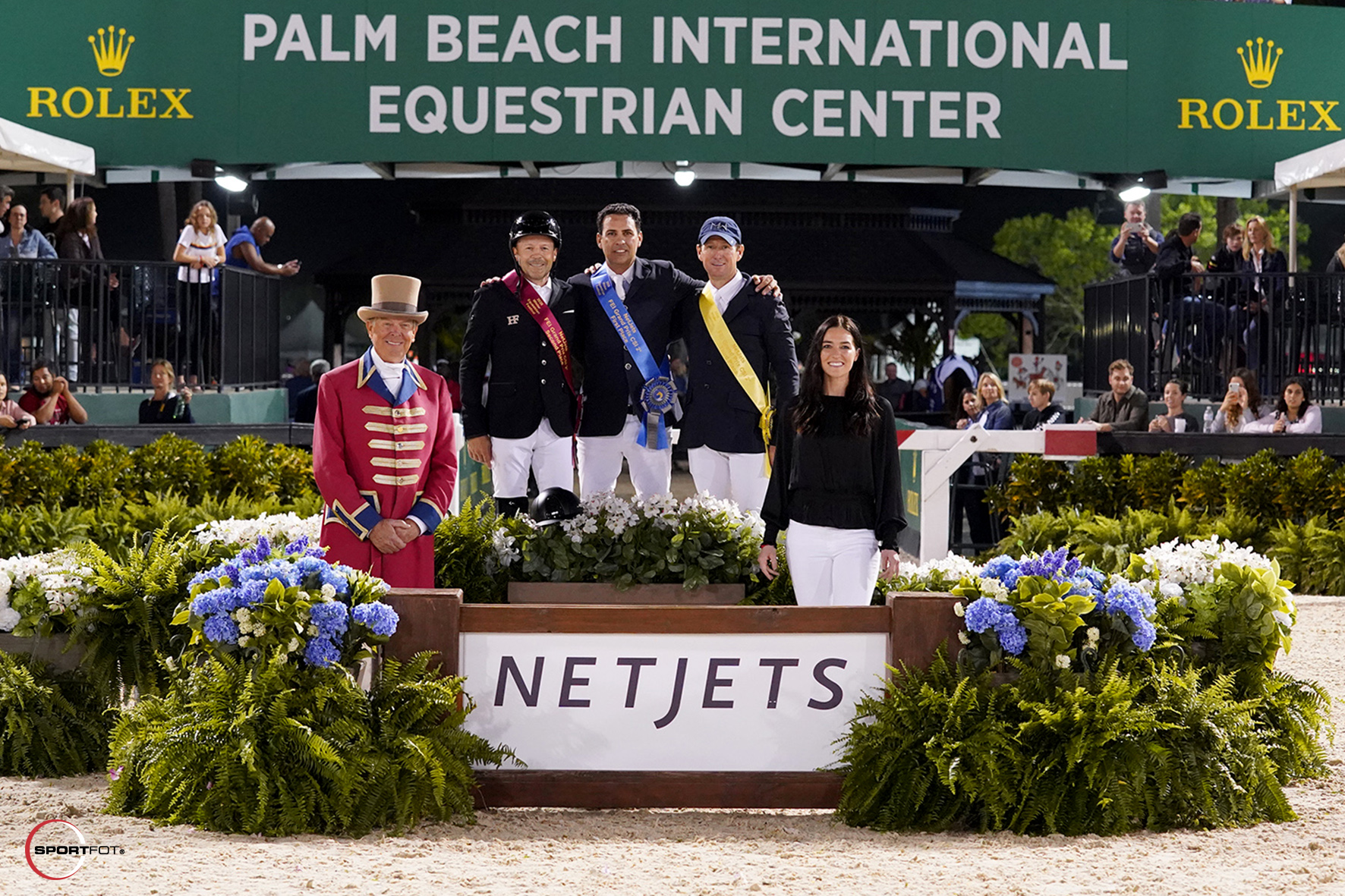 Santiago Lambre (center), Eric Lamaze (left), and McLain Ward (right) are honored for their top finishes by Catherine Zazon, Head of Equestrian Marketing Partnerships for NetJets, and ringmaster Steve Rector. Photo ©
Sportfot
Final Results: $73,000 NetJets Grand Prix CSI2*
1 CETANO VAN ASPERGEM Z: 2009 Zangersheide gelding by Clinton x Ahorn Z
SANTIAGO LAMBRE (MEX), Tal Milstein Stables: 0/0/40.22
2 IDALVILLE D'ESPRIT: 2008 BWP gelding by Carabas van de wateringhoeve x Nabab de Reve
ERIC LAMAZE (CAN), Torrey Pines Stables Inc and Chris Stinett: 0/0/40.26
3 JET BLUE: 2011 KWPN gelding by VDL Zirocco Blue
MCLAIN WARD (USA), Portfolio Horses LLC: 0/0/43.60
4 SKARA GLEN'S CHANCELLORESS: 2009 KWPN mare by Chacco Blue x Balou du Rouet
PAUL O'SHEA (IRL), Skara Glen Stables: 0/0/46.71
5 FASTHER: 2010 KWPN gelding by Vigo d'Arsouilles x Farmer
LILLIE KEENAN (USA), Chansonette Farm LLC: 0/4/40.46
6 CALVALOU: 2007 Oldenburg gelding by Calvaro F.C. x Baloubet du Rouet
TODD MINIKUS (USA), Todd Minikus, LTD: 0/4/41.76
7 VENICE BEACH: 2009 Hanoverian mare by Voltaire x Escudo I
RODRIGO PESSOA (BRA), Artemis Equestrian Farm LLC: 1/80.55
8 KASPER VAN HET HELLEHOF: 2010 BWP stallion by Emerald Van't Ruytershof x Nabab de reve
CAMERON HANLEY (IRL), Poden Farms: 1/80.65
9 AKUNA MATTATA: 2008 Holsteiner mare by Quinar x Landwind II
NICOLE SHAHINIAN-SIMPSON (USA), Silver Raven Farms: 1/80.88
10 MAKAVOY: 2003 KWPN gelding by Hors La Loi II x Ahorn
BEN ASSELIN (CAN), Attache Stables: 1/81.27
11 BOLD PRINZ: 2009 PZHK gelding by Cornet's Prinz x Pegasus HB
STELLA MANSHIP (USA), Elan Farm: 1/83.30
12 ESSENAR CRIXUS: 2010 ISH gelding by Luidam x ARD VDL Douglas
JORDAN COYLE (IRL), Elan Farm: 4/76.07
Becky Gochman and Last Man Darling Capture Championship in Equiline Amateur-Owner Hunter 3'3" 36 & Over
The Equiline Amateur-Owner Hunter 3'3" 36 & Over division came to an end on Saturday with Becky Gochman and Last Man Darling earning the title of champion. Gochman piloted Last Man Darling, owned by Gochman Sport Horses LLC, to two firsts, a third, a fifth, and a sixth-place ribbon.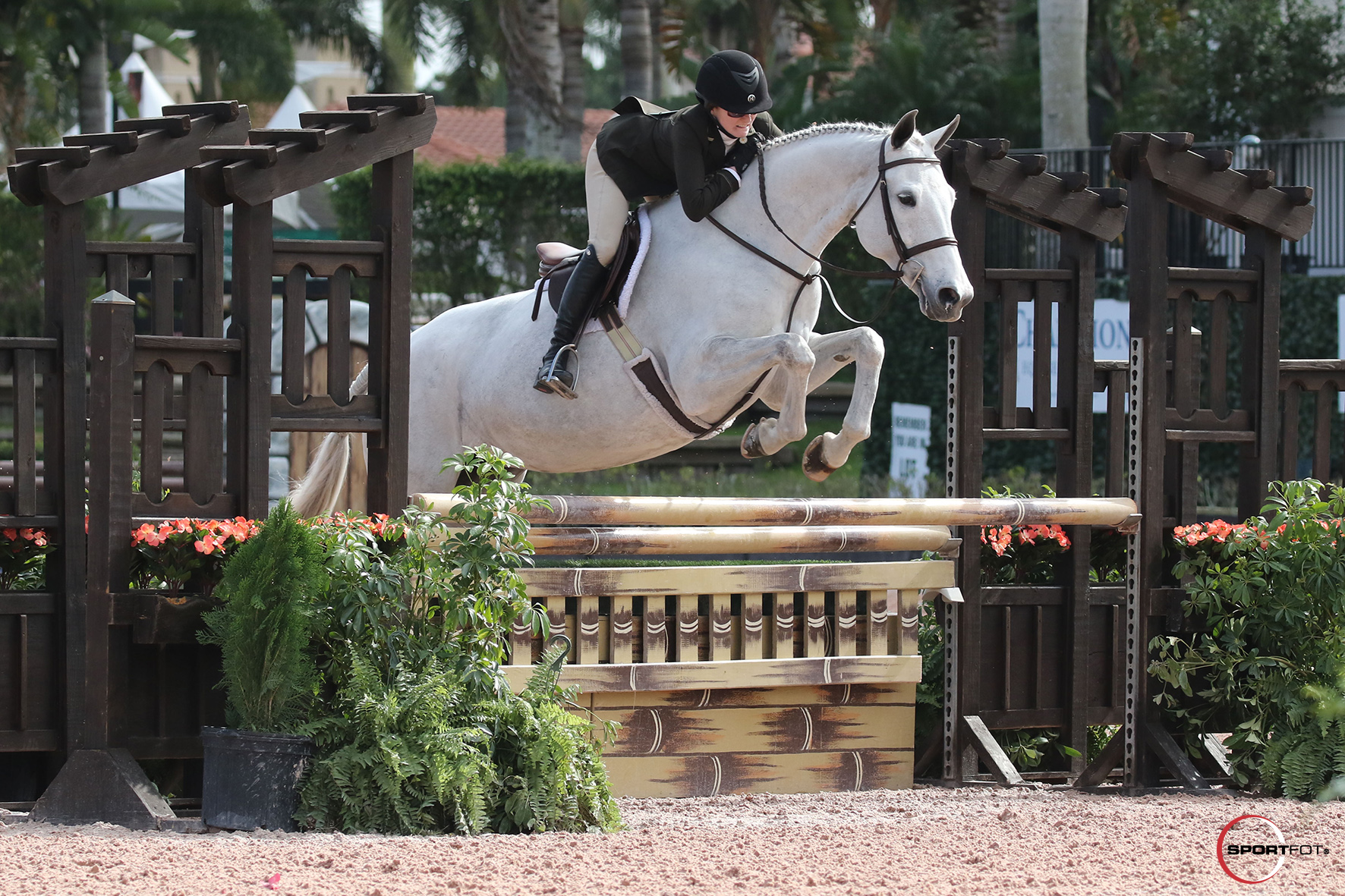 Becky Gochman and Last Man Darling. Photo ©
Sportfot
This championship was an extra-special one for Gochman, of Wellington, FL. This season is the mare's return to the show ring after an injury sidelined them for two years. This was the pair's second week showing again. "Last week she was a little excited, and I was a little nervous; this week we both calmed down and took a breath," Gochman described.
Last Man Darling has been in the Gochman family for close to five years. "She started off with my girls, Sophie and Mimi, in the junior hunters, and then I began to show her successfully in the 3'3" amateur-owners," Gochman explained.
Gochman, who trains with Scott Stewart and Ken Berkley, is excited to have her partner back in the show ring and knows that she can always count on her mare to impress the judges. "She is a beautiful mover, and she jumps up high and round. When she does, it's a fantastic feeling," Gochman said of Last Man Darling. "When all of her good qualities add up, it comes out to be a magical horse!"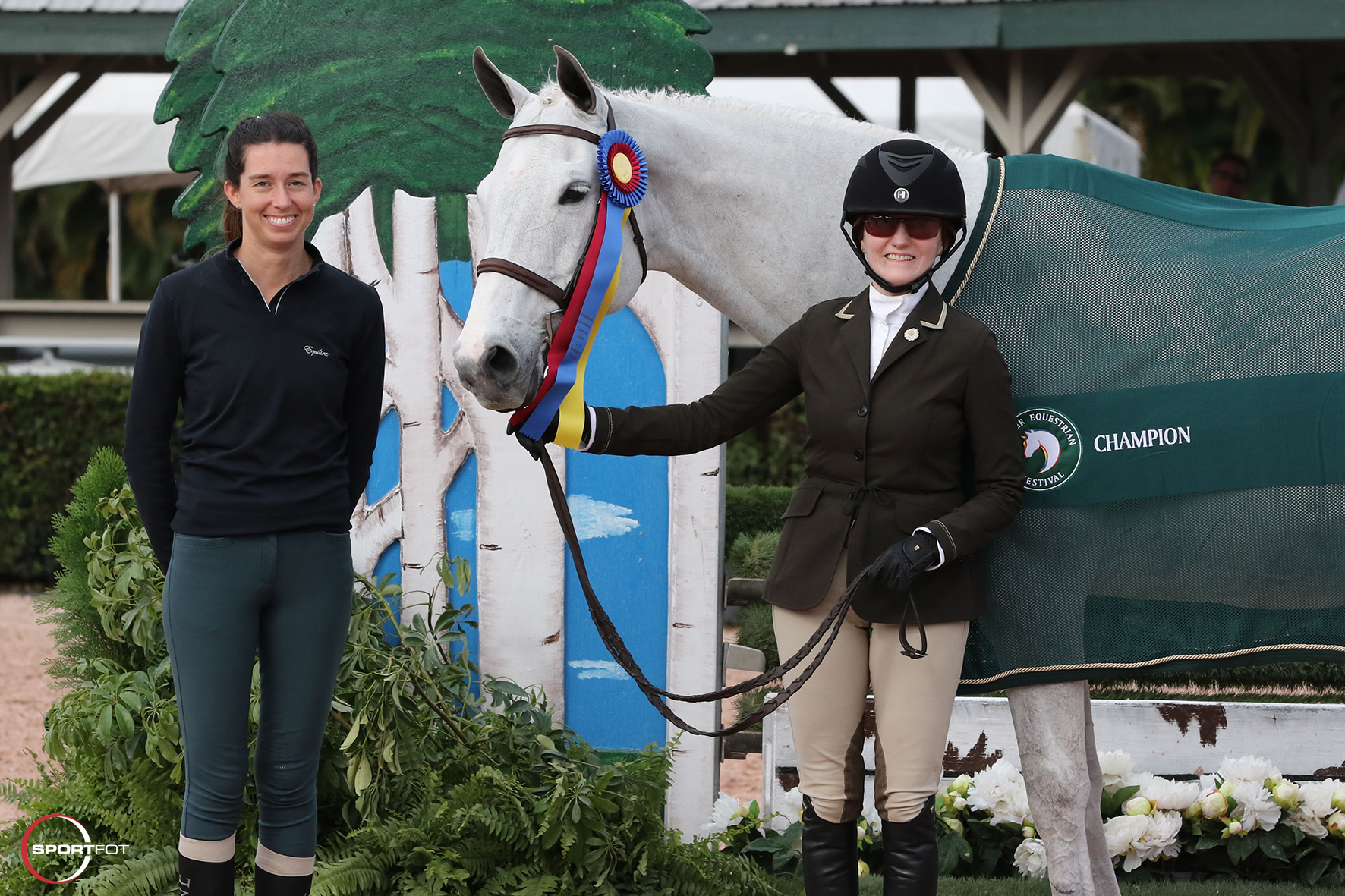 Becky Gochman and Last Man Darling in their winner presentation with Mackenzie MacLean of Equiline. Photo ©
Sportfot
This season Gochman hopes to continue to learn from Last Man Darling and also have fun showing her. "She's a mare, so I'm learning to be still and leave her alone to do her thing, because when she does it is amazing," Gochman commented. The pair also hopes to qualify for indoors with a successful spring and summer show season.
Earning the reserve champion title in the Equiline Amateur-Owner Hunter 3'3" 36 & Over division was Carol Hoffman, from Frenchtown, NJ, and Good Thing. Hoffman and Good Thing, owned by Market Street, Inc., received a second, third, and fourth to secure the reserve champion spot.
Week two of the 2020 Winter Equestrian Festival will wrap-up on Sunday with the Palm Beach Equine Clinic Amateur Owner Hunter 3'6" 18-35 division in the E.R. Mische Grand Hunter Ring. For full results, visit www.PBIEC.com.
Photo Credit: Photos © Sportfot, Official Photographer of the Winter Equestrian Festival. These photos may be used only in relation to this press release and must include photo credit.