A las cuadras del jinete americano ha ido el semental hosteiner de 9 años LOVELESS (Lord Z-Lord-Ladykiller xx / Lordship-Lord Calando-Lord / Corleone-Caletto II-Cor de la Bryère); que su segunda madre, Carna, fue la madre de CATWALK (Colman-Carthago) que con el británico R. Whitaker acaba de ganar la Copa del Mundo Helsinki, ganador también GP CSI**** Montenmedio y CSI** Keyose 2017, GP CSI***** Lausana y GP CSI**** Montenmedio 2016, Copa Naciones CSIO***** Roma 2015,GP CSI*** Windsor y Copa Naciones CSI***** St.Gallen 2014,GP CSI*** Kiel 2013... Lo montaba el año pasado a 1.40 el alemán Thomas Voss.
Kent Farrington Tops Equinimity WEF Challenge Cup Round 2
Pedigree KAPRCE VAN T`ROOSAKKER digree KAPRCE VAN T`ROOSAKKER

Lindsay Brock and Sabrina Brashares for Jennifer Wood Media, Inc.
Wellington, FL – January 16, 2020 – U.S. Olympic team silver medalist Kent Farrington and Kaprice had the speed to win the $37,000 Equinimity WEF Challenge Cup Round 2 CSI2* on Thursday, January 16, during the 2020 Winter Equestrian Festival (WEF) at the Palm Beach International Equestrian Center in Wellington, FL.
WEF continues through March 29, 2020 with 12 consecutive weeks of world-class competition and $13 million dollars on offer. The second week of competition at WEF is sponsored by NetJets and recognized as a CSI2* by the Fédération Equestre Internationale (FEI). The week's featured event is the $73,000 NetJets Grand Prix CSI2* during "Saturday Night Lights" on January 18, at 7 p.m. in the International Arena.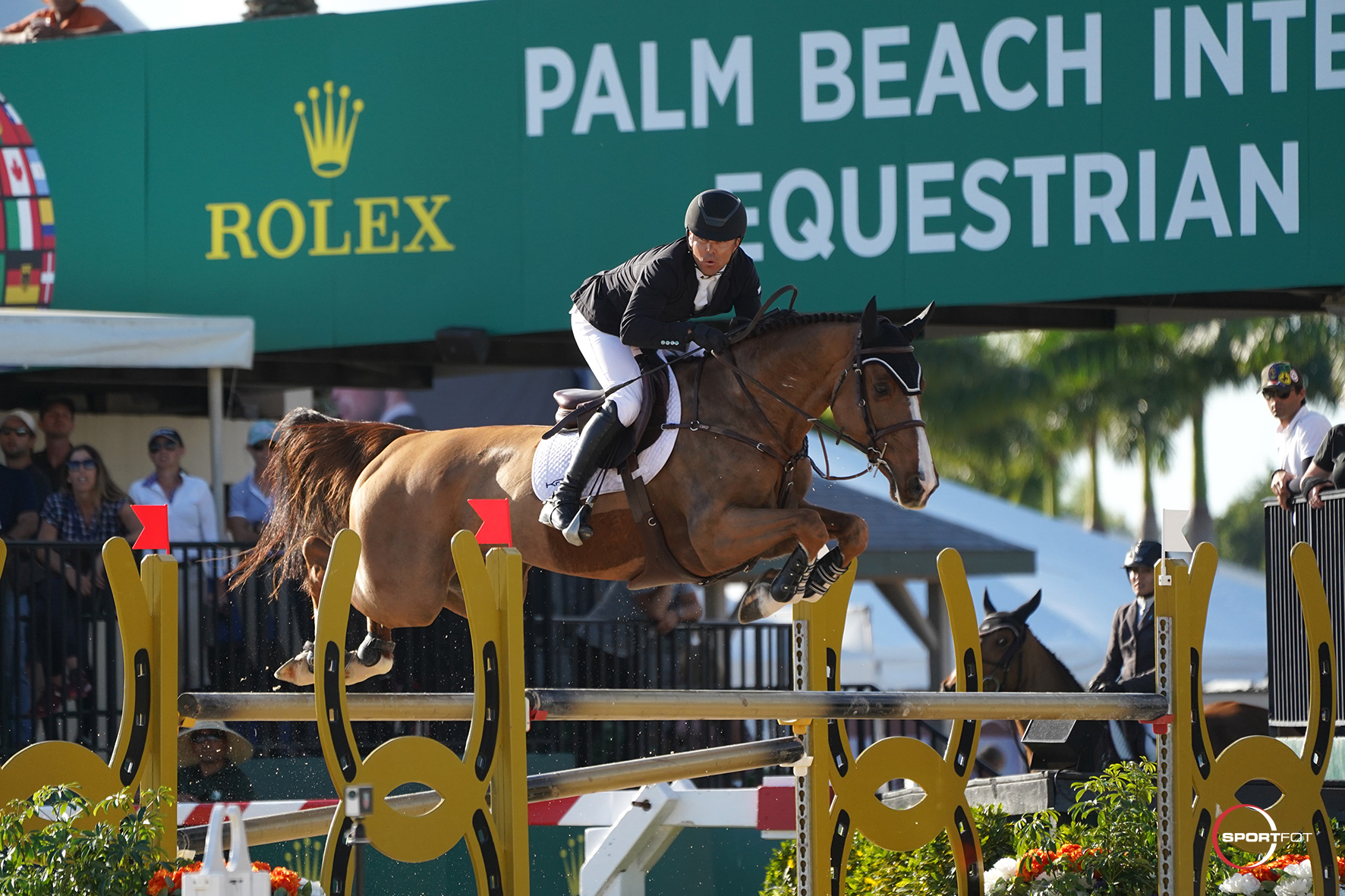 Kent Farrington and Kaprice. Photo ©
Sportfot
The 22-horse jump-off was a who's who of top sport from a competitive starting field of 103 horses. Farrington utilized Kaprice's foot speed to stop Oscar Soberon's (MEX) short track clock at 37.44 seconds over fellow U.S. rider Abigail McArdle riding Victorio 5, who collected a time of 38.36 seconds for owner Victorio Equine Group LLC.
"For this level of competition I'm producing younger horses, so for me it was more about what the horse is ready to do than how fast the class is going," said Farrington of what shaped his plan for Thursday's jump-off. "Kaprice is naturally very quick, and she grows in her confidence off riding with a bit of speed because she is extremely careful. It's an incredible horse and it's all about keeping her confidence high."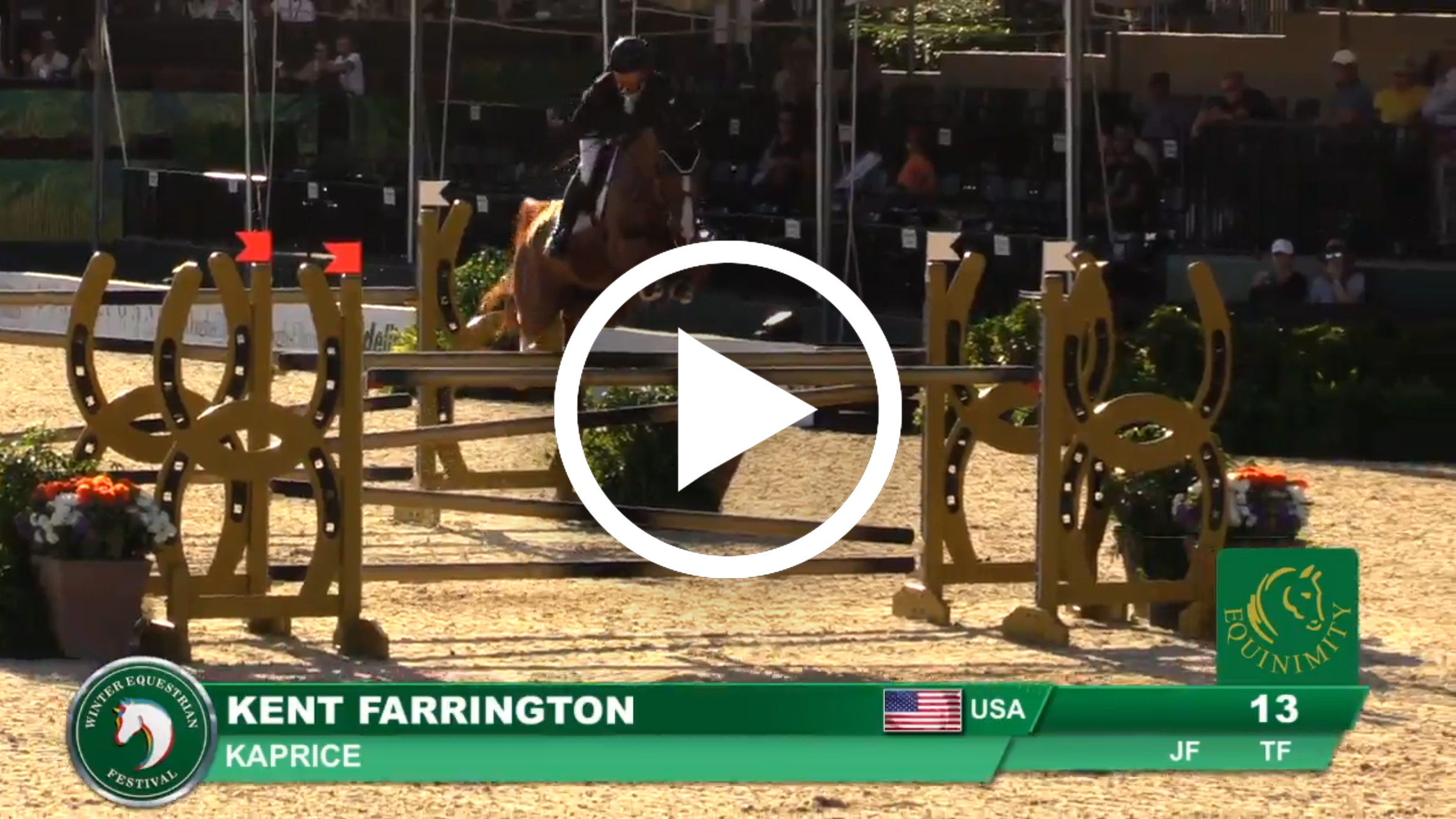 Watch Kent Farrington and Kaprice's winning jump-off round.
Farrington got the ride on Kaprice, a 10-year-old Belgian Warmblood mare (Echo van't Spieveld x Carthago) and the end of its six-year-old year but took his time producing the mount. "I spent a lot of time not showing. She had a lot of blood and energy, so I spent almost a year playing with her on the flat and jumping really small fences to get her more manageable," he said. "In the last year, she is coming into her own."
Farrington's plan is to compete Kaprice, which he owns together with Haity McNerney, in the $73,000 NetJets Grand Prix CSI2* on Saturday evening in the mare's second appearance under the lights.
"My plan is to grow her this season," continued Farrington. "With things like Tokyo coming up it's great that we have WEF and this new ground to jump on. I'm confident here to show all my horses and it's a great place to produce horses."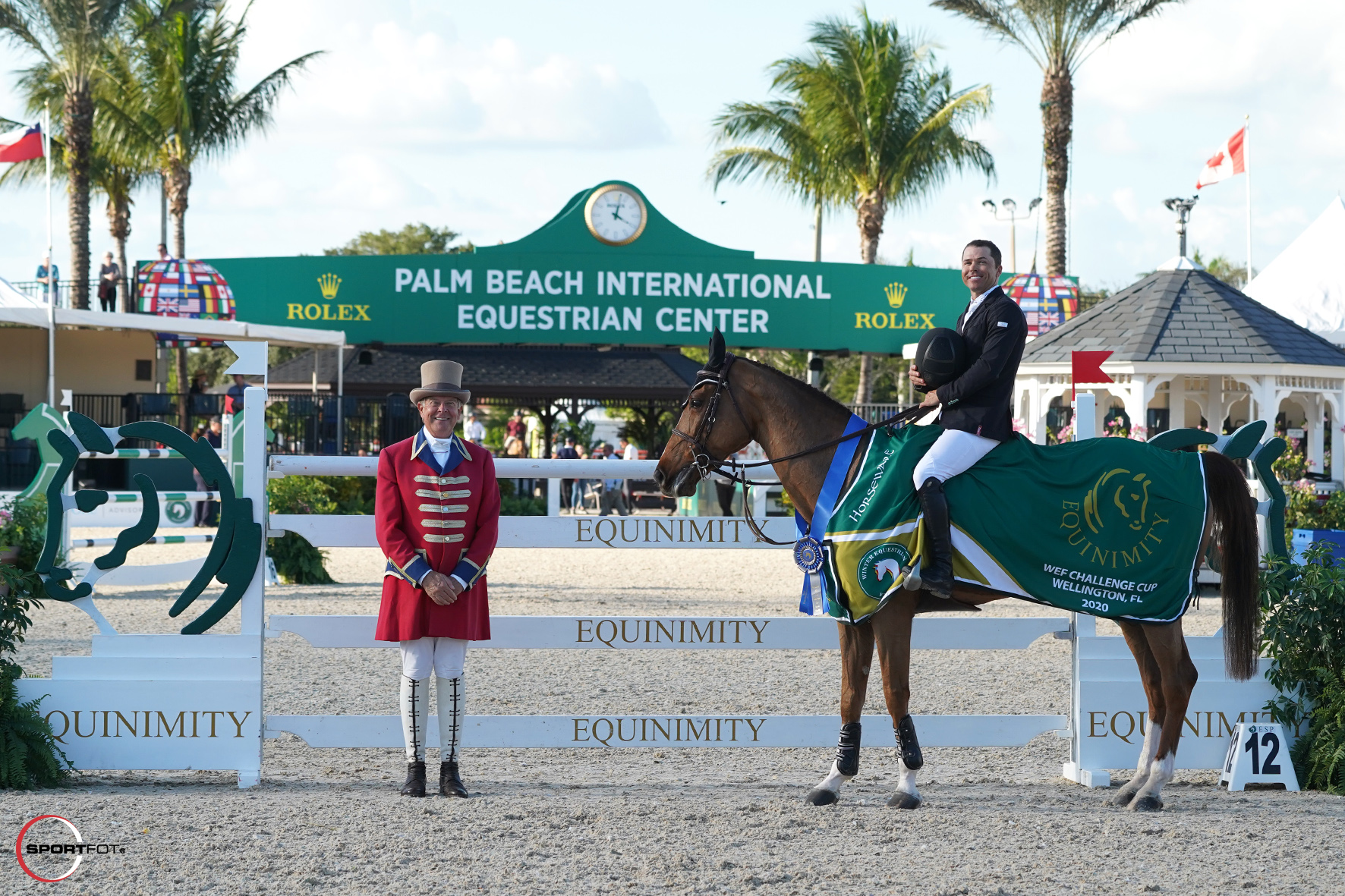 Kent Farrington and Kaprice in their winning presentation with ringmaster Steve Rector. Photo ©
Sportfot
Under 25 rider Taylor St. Jacques (USA) held the lead for several trips, but settled for third riding her own Upsilon de la Liniere, in a time of 38.62 seconds, while Brazil's Rodrigo Pessoa took fourth in 38.82 seconds aboard Venice Beach for owner Artemis Equestrian Farm LLC. Capping the top five, Lacey Gilberston (USA), stopped the clock and 39.01 seconds riding Baloppi for owner Seabrook LLC.
Also winning in the International Arena at WEF on Thursday, Conor Swail (IRL) topped the $8,000 Douglas Elliman 1.45m riding Gamble, owned by Asta Torokvei.
Final Results: $37,000 Equinimity WEF Challenge Cup Round 2
1 KAPRICE: 2010 BWP mare by Echo van't Spieveld x Carthago
KENT FARRINGTON (USA), Kent Farrington & Haity McNerney: 0/0/37.44
2 VICTORIO 5: 2006 Hanoverian stallion by Uccello x Graf Top
ABIGAIL MCARDLE (USA), Victorio Equine Group LLC: 0/0/38.36
3 UPSILON DE LA LINIERE: 2008 Selle Français gelding by Tinka's Boy x Querlybbet Hero
TAYLOR ST. JACQUES (USA), Taylor St. Jacques: 0/0/38.62
4 VENICE BEACH: 2009 Hanoverian mare by Voltaire x Escudo I
RODRIGO PESSOA (BRA), Artemis Equestrian Farm LLC: 0/0/38.82
5 BALOPPI: 2007 Danish Warmblood mare
LACEY GILBERTSON (USA), Seabrook LLC: 0/0/39.01
6 BOHEME DE LA ROQUE: 2011 Selle Français mare by Kannan x Medine d'Amaury
MARIE HECART (FRA), Eurl Top Stallions Company: 0/0/39.98
7 BALOUTINUE: 2010 Hanoverian gelding by Balou du Rouet x Landor S
ADAM PRUDENT (USA), Plain Bay Farm: 0/0/40.57
8 ABRACADABRA WKT: 2008 Holsteiner mare by Casall x Romino
DANIEL BEDOYA (BOL), Monica Hanks: 0/0/40.80
9 AMICE Z: 2007 Zangersheide gelding by Air Jordan Z x Odermus R
CHARLIE JAYNE (USA), Charlie Jayne: 0/0/44.15
10 MTM FLUTTERBY: 2007 KWPN mare by C-Indoctro
BRIAN MOGGRE (USA), Major Wager LLC: 0/4/37.22
11 AKUNA MATTATA: 2008 Holsteiner mare by Quinar x Landwind II
NICOLE SHAHINIAN-SIMPSON (USA), Silver Raven Farms: 0/4/37.53
12 BRIGHTON: 2006 KWPN gelding by Contendro II x Quick Star
TIFFANY FOSTER (CAN), Artisan Farms LLC: 0/4/37.55
Scott Stewart Rides Everwonder to Champion in the Equine & Tack Nutritionals Green Hunter 3'9"
For the second week in a row, Scott Stewart and Everwonder earned the championship title for the Green Hunter 3'9" division in the E.R. Mische Grand Hunter Ring. Stewart, of Wellington, FL, rode Everwonder to three first-place ribbons, as well as two second-place finishes to secure champion in the division.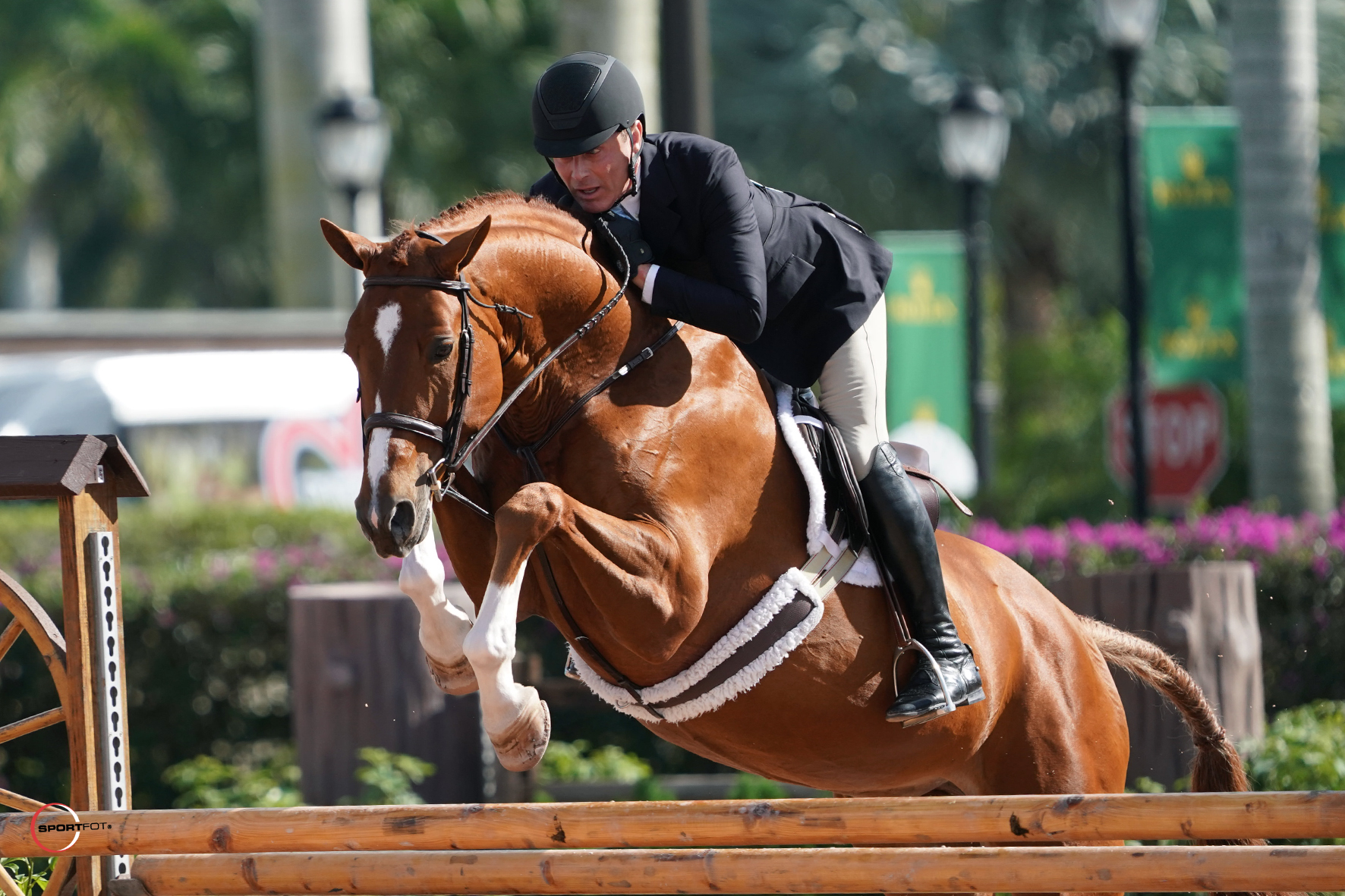 Scott Stewart and Everwonder. Photo ©
Sportfot
The eight-year-old gelding owned by Ella Bikoff is going into its third season with Stewart. "We bought him when he was a five-year-old stallion from Canada, where he was mostly doing dressage," Stewart explained. In their first few outings, the pair did a few pre-green classes and had a successful season last year showing in the first year green hunters.
While Stewart will continue to show Everwonder, owner Bikoff, of Whitestone, NY, is also starting to take over the reins. "The idea is to bring him along for Ella to do in the Small Junior Hunters," said Stewart. Once World Championship Hunter Rider (WCHR) week during week six is finished, the gelding will mainly just show with Bikoff.
After scoring in the 90s in three of their rounds, Stewart was very impressed with Everwonder's performance. "He is a really spectacular jumper and jumped well in every round to get a few high scores," Stewart described.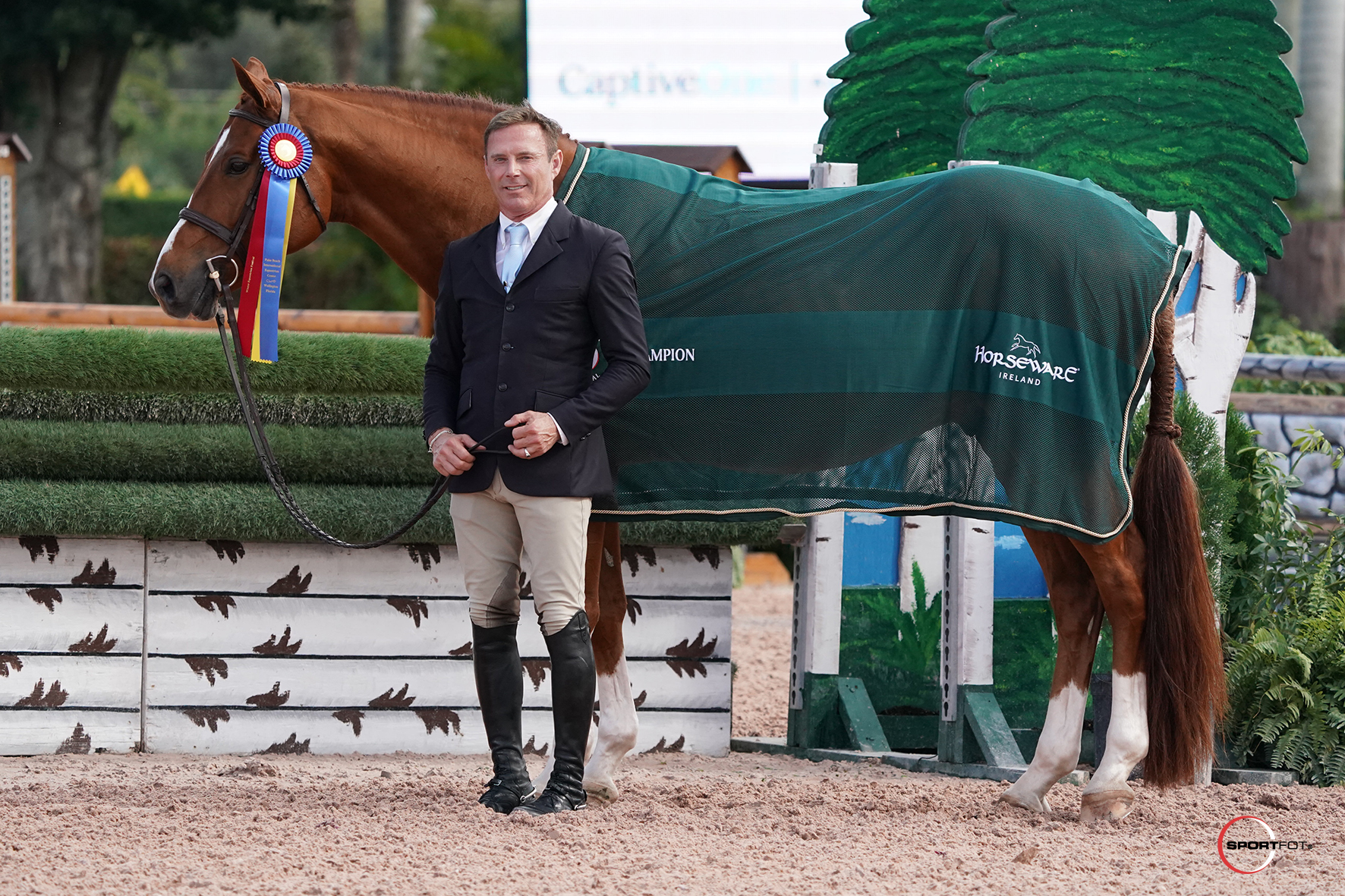 Scott Stewart and Everwonder in their winning presentation. Photo ©
Sportfot
Stewart was especially pleased to earn champion considering how tough the competition was. "It's a very competitive division this year! Yesterday, I was second with a score of 93," Stewart said. He was glad to see such a good and challenging division of horses this season.
The reserve champion in the 3'9" Green Hunters went to Tara Metzner from Rancho Santa Fe, CA, and Lion. Metzner and Lion, owned by Davlyn Farms Inc., received a first, fourth, and two fifth-place ribbons to earn the reserve champion spot.
Competition will continue on Friday of week two as competition is highlighted by Adult Amateur Hunter classes in the Rost Ring. For full results, visit www.PBIEC.com.
Photo Credit: Photos © Sportfot, Official Photographer of the Winter Equestrian Festival. These photos may be used only in relation to this press release and must include photo credit.