Con barrage, 45 participantes, 13 sin falta, 8 sin ninguna penalidad en el desempate, montante 209.000$ (68.970 el ganador), diseño del brasileño Anderson Lima.
Nota de prensa
Jennifer Wood and Summer Grace for Jennifer Wood Media, Inc.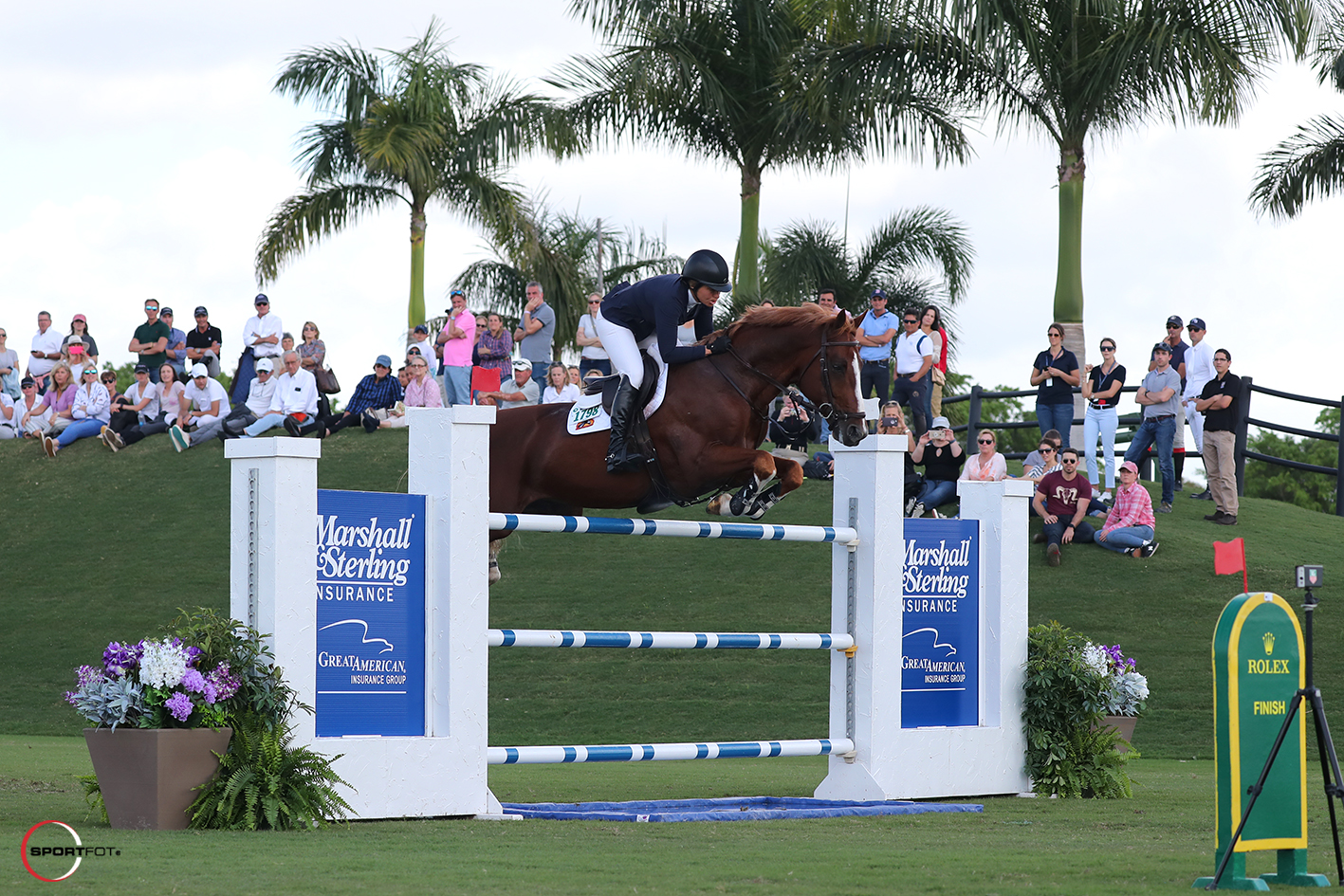 Beezie Madden and Darry Lou. Photo © Sportfot
The fourth week of competition at WEF, sponsored by Marshall & Sterling Insurance/Great American, concludes on Sunday, February 3. The Winter Equestrian Festival (WEF) continues with 12 consecutive weeks of world-class competition through March 31, 2019.
Competing over a course set by Brazil's Anderson Lima on the stunning grass derby field at Equestrian Village, 45 entries completed the first round, with 13 clear to advance to the jump-off. Of those 13, it was a mix of show jumping veterans and up-and-coming rookies, but it was the veterans who would take the podium places on the day.
Olympian Amy Millar of Canada and her 2016 Olympic mount Heros, owned by Ammo Investments, set the early time to beat with a clear round in 41 seconds flat, which would hold up for seventh place. The leading time was dropped to 38.87 seconds by 21-year-old Lucas Porter (USA) riding Sleepy P Ranch LLC's Diamonte Darco. They would finish in fourth place. Olympian Margie Engle (USA) and Royce galloped through the timers in 40.19 seconds for sixth place, and they were bumped by Amanda Derbyshire (GBR) on Roulette BH, owned by Gochman Sport Horse LLC, who finished in 39.10 seconds for fifth place.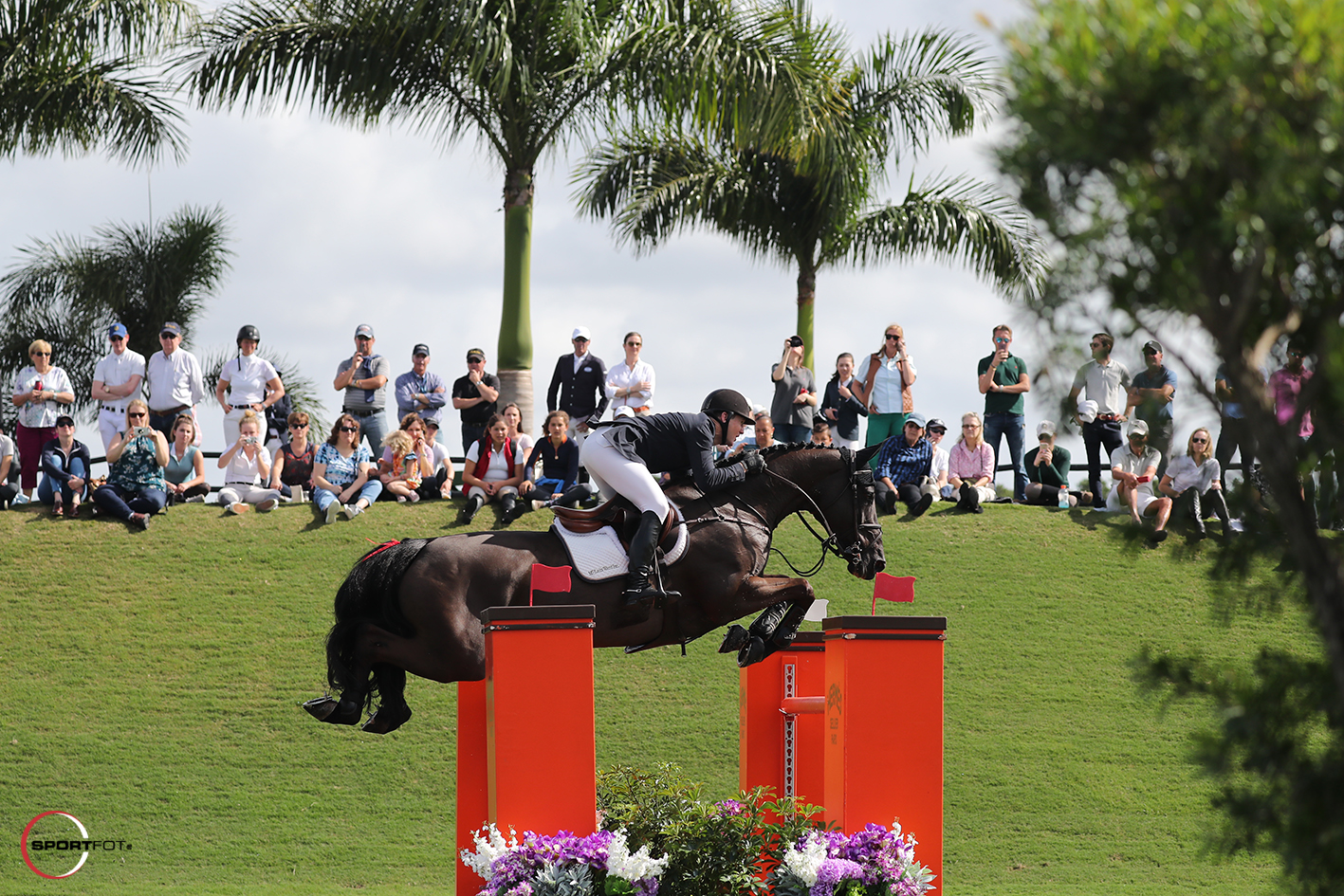 McLain Ward and Tradition de la Roque. Photo © Sportfot
It came down to a highly anticipated jump-off finale with three American riders in the top 4 in the country deciding the final placings. It started with Olympic team gold medalist McLain Ward (USA) on Tradition de la Roque, owned by Kessler Show Stables Europe B.V. With a slower rollback to start the course, they then picked up the pace and finished the course in 37.07 seconds for second place.
"I was slow one to two," said Ward, who is ranked number two in the Rolex/USEF Show Jumping List. "She was a little surprised by the inside turn, and I checked up. I knew I left some room there. With [Beezie and Kent], one of them is going to get you if you leave an inch. But I'm thrilled with the mare."
Ward has ridden Tradition de la Roque, a 12-year-old Selle Francais mare (Kannan x Oberon du Moulin) since September, taking over the ride for Olympian Reed Kessler. "What I like about her is what suits this type of a venue: she's very solid in her brain," he described. "She's brave, she's easy, she's straightforward. She's going to try to do a good job for you. She's not going to be too impressed by the atmosphere, which is really the difficulty of this field."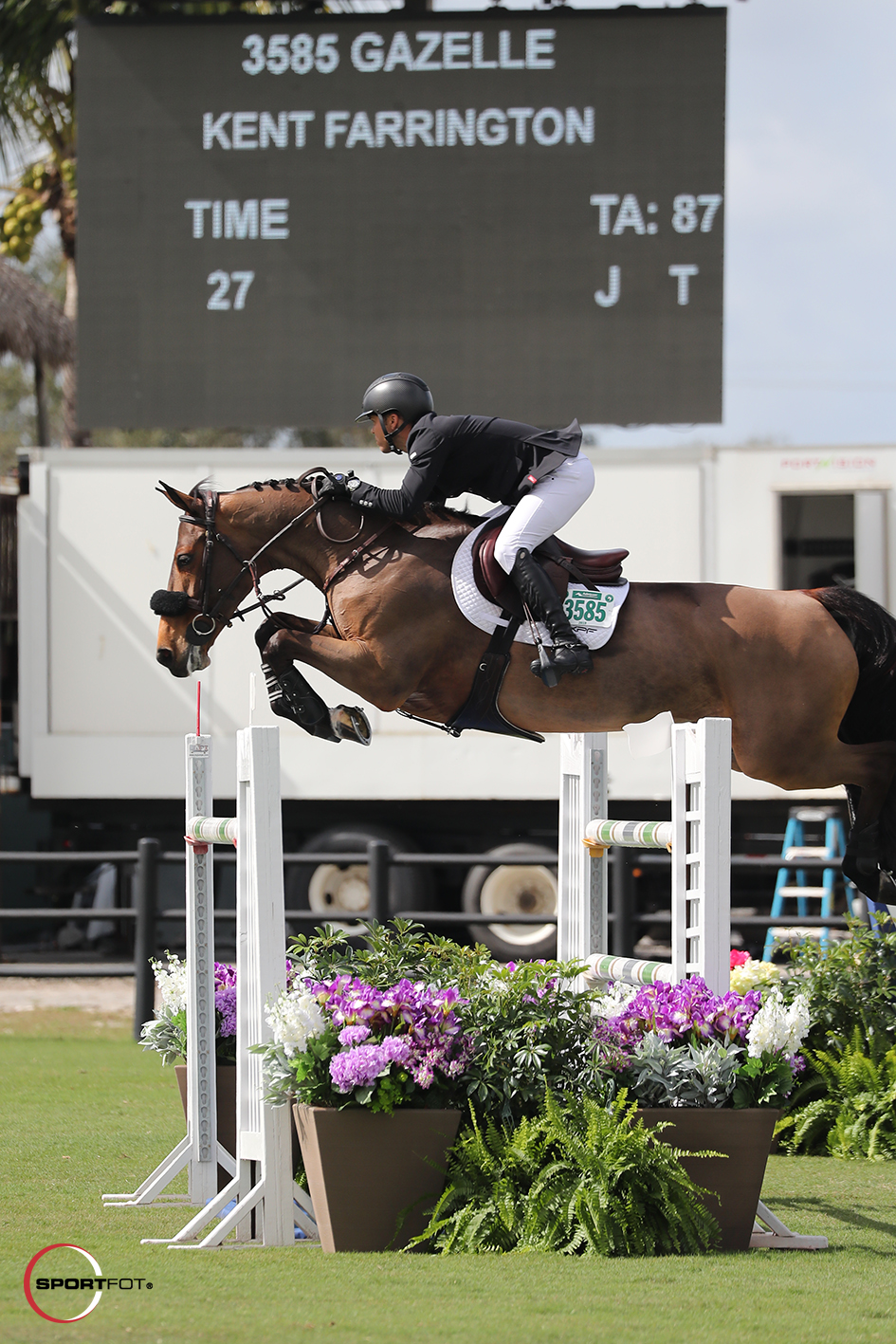 Kent Farrington and Gazelle. Photo © Sportfot
Olympic team silver medalist and ranked number three on the Rolex/USEF Show Jumping List Kent Farrington (USA) and Gazelle, owned by Robin Parsky & Kent Farrington, had a similar issue with the first rollback on course and finished just off the pace in 37.15 seconds for third place.
"I think with her not showing in a while, she was a bit impressed in the jump-off," said Farrington of Gazelle, who last competed in Geneva, Switzerland, in December. "When I rolled back to number two, she goes super high. Same at the end when I rollback again short, she goes super high. In a class like this with these riders, that takes time, and that's where I think I got caught today. But I'm very pleased with her performance.
"She's very reliable on grass so I was confident to bring her out," continued Farrington of the 13-year-old Belgian Warmblood mare by Kashmir van Schuttershof x Indoctro. "I think the ground is fantastic on these fields, so I try to jump it as much as possible whenever they're available for us."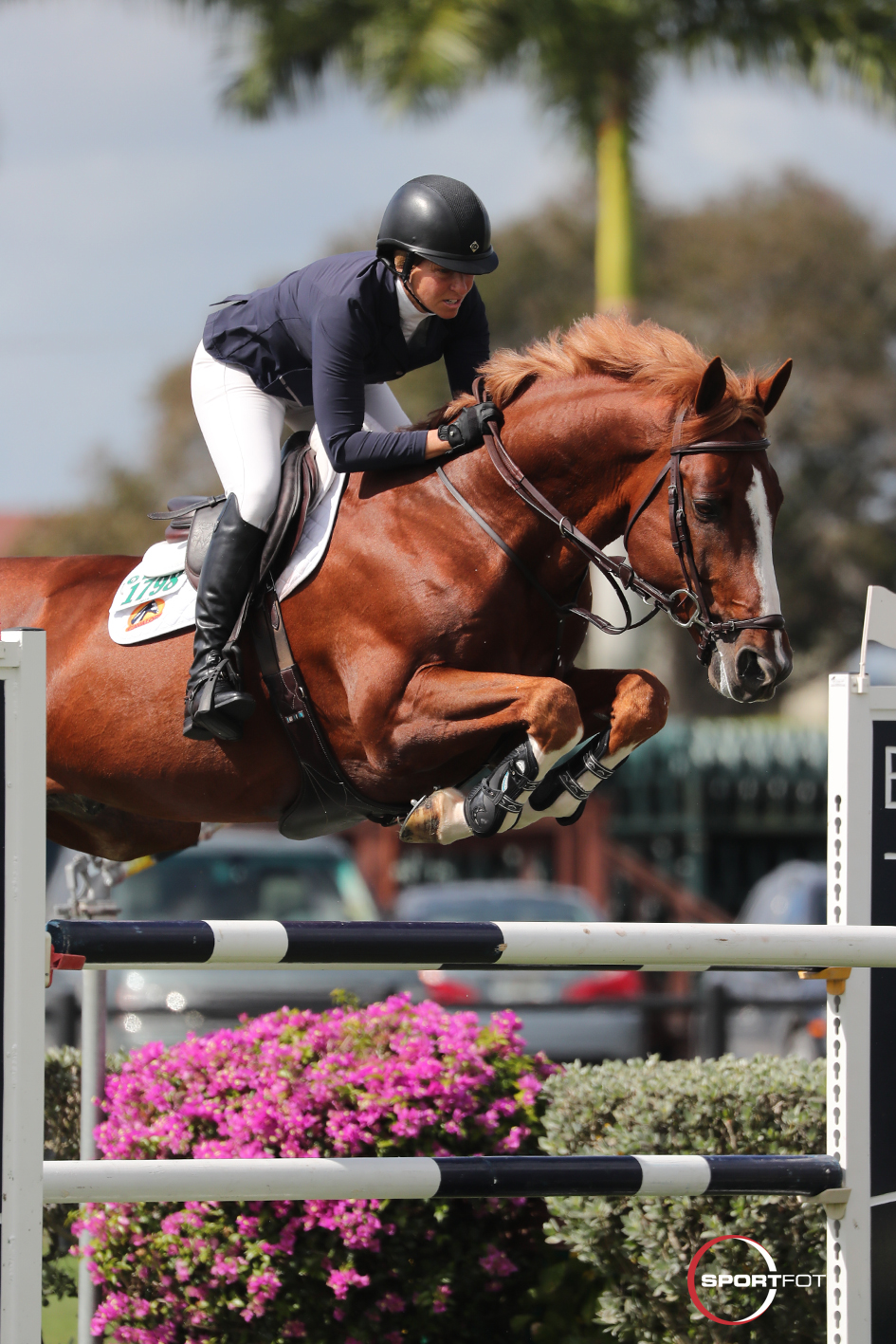 Beezie Madden and Darry Lou. Photo © Sportfot
Last to go was Madden, who stands fourth on the Rolex/USEF Show Jumping List, on Abigail Wexner's Darry Lou, an 11-year-old KWPN gelding by Tangelo van de Zuuthoeve x Nabab de Reve. With smooth turns and an open stride, they galloped down to the final Marshall & Sterling vertical and picked up the victory in a time of 36.80 seconds to the cheering of the crowd.
"It's always a huge advantage to go last – well, not always, but most of the time – especially when I have Kent and McLain right in front of me," said Madden. "It was awesome to be able to see them go and know what I had to do to win. I think I probably made it up one to two. I didn't see how many strides they did, but I was quite quick there. I'm not sure you could do any less there. Then I think I kind of matched them everywhere else probably."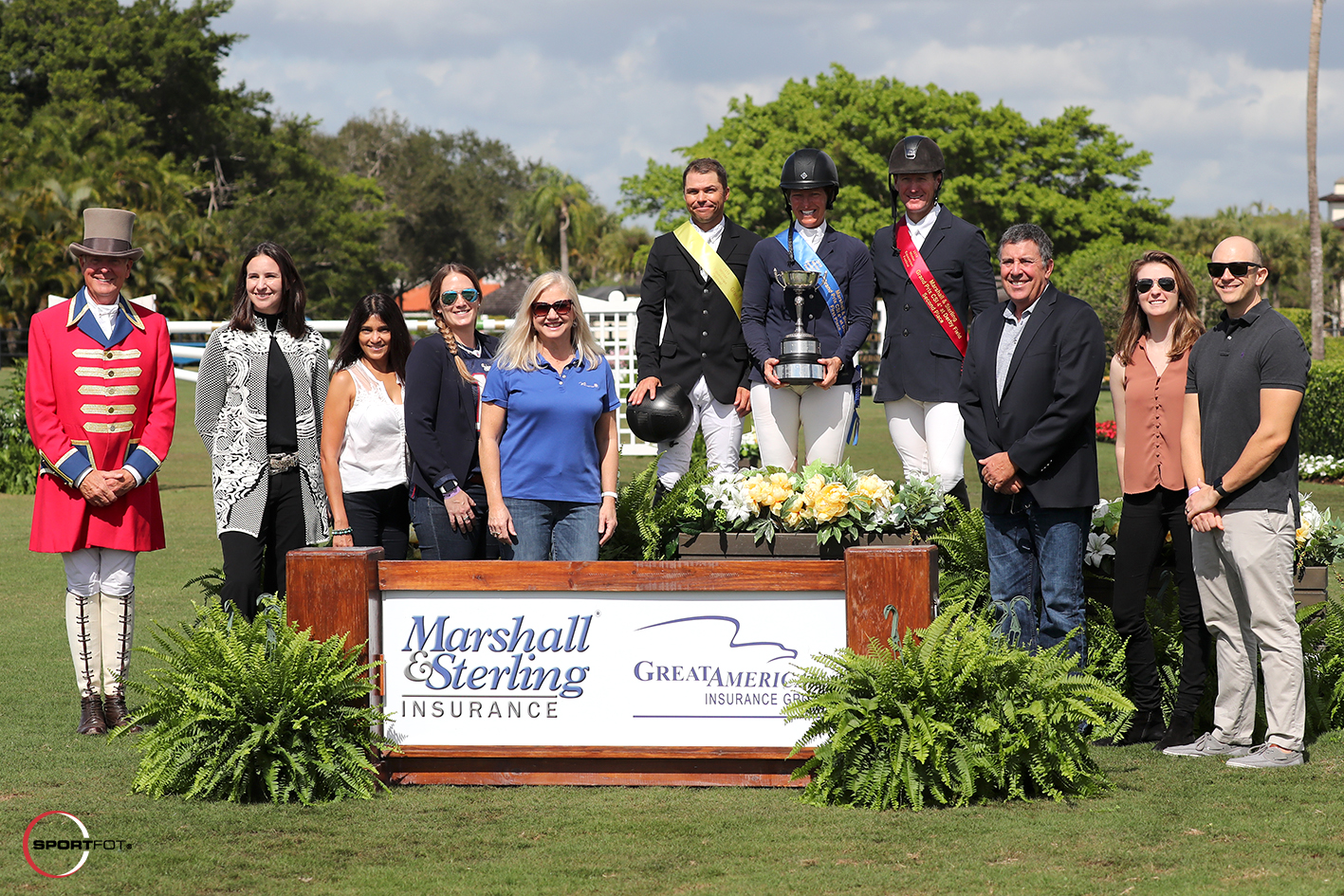 Kent Farrington, Beezie Madden, and McLain Ward on the podium with (L to R): ringmaster Steve Rector; Lindsey Williamson, Client Service Representative; Sandra Seetaram, Account Manager; Amelia Stasny, Client Service Representative; Village of Wellington Mayor Anne Gerwig; Don Graves, Vice President/Director Equisport Division; Elizabeth MacWilliam, Operations Manager; Greg Oxios, Client Service Representative, Marshall & Sterling Insurance/Great American. Photo © Sportfot.
Madden agreed with Farrington on the sentiment of competing on the grass field. "I like to jump on the grass whenever we have the opportunity. It was actually a nice beginning for him because I know he's good on grass and in fields and has a lot of experience with that, so even though this is his first week, I thought I could aim him for the grand prix. I think a lot of horses like to jump on good grass. It's more forgiving, and it sometimes has more spring too if it's really good grass. This was excellent I would say."
For her win, Madden was presented with The Village of Wellington Cup. As the owner of the winning horse, Darry Lou, owner Abigail Wexner will also receive a one-night stay at the Brazilian Court Hotel in Palm Beach, and a bottle of Banfi Principessa Gavi courtesy of Banfi Vintners.
The Martha Jolicoeur Leading Lady Jumper Rider Award, given in memory of Dale Lawler, was presented to Margie Engle.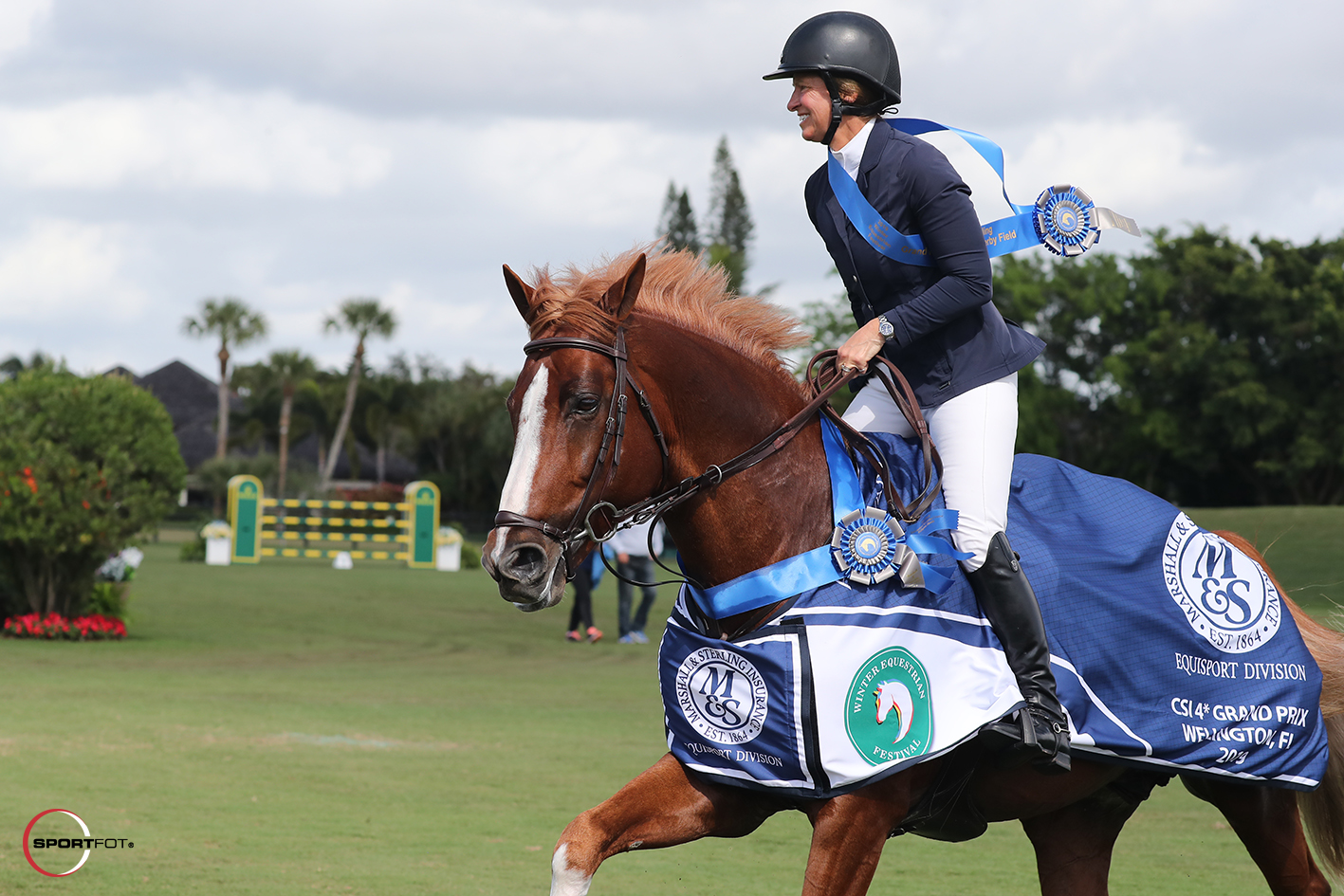 Final Results: $209,000 Marshall & Sterling Insurance/Great American Grand Prix CSI 4*
1 DARRY LOU: 2008 KWPN gelding by Tangelo van de Zuuthoeve x Nabab de Reve
BEEZIE MADDEN (USA), Abigail Wexner: 0/0/36.80
2 TRADITION DE LA ROQUE: 2007 Selle Français mare by Kannan x Oberon du Moulin
MCLAIN WARD (USA), Kessler Show Stables Europe B.V.: 0/0/37.07
3 GAZELLE: 2006 Belgian Warmblood mare by Kashmir van Schuttershof x Indoctro
KENT FARRINGTON (USA), Kent Farrington & Robin Parsky: 0/0/37.15
4 DIAMONTE DARCO: 2005 GBSH mare by Unbelievable Darco x Unknown
LUCAS PORTER (USA), Sleepy P Ranch LLC: 0/0/38.87
5 ROULETTE BH: 2009 Irish Sport Horse gelding by Moschino x Michellino
AMANDA DERBYSHIRE (GBR), Gochman Sport Horse LLC: 0/0/39.10
6 ROYCE: 2004 Oldenburg stallion by Café au Lait x Grandilot
MARGIE ENGLE (USA), Gladewinds Partners, LLC: 0/0/40.19
7 HEROS: 2007 Belgian Warmblood gelding by Canadian River x Clinton
AMY MILLAR (CAN), AMMO Investments: 0/0/41.00
8 FEE DES SEQUOIAS Z: 2009 Zangersheide mare by Figaro Du Ri d'Asse x Saccor
JUAN MANUEL GALLEGO (COL), Juan Manuel Gallego: 0/0/41.42
9 PUMPED UP KICKS: 2003 Brandenburg gelding by Levisto x San Juan
JENNIFER GATES (USA), Evergate Stables LLC: 0/0/42.11
10 SARI: 2008 Selle Francais mare by Ninio de Rox x Timorrak des Isles
KAREN POLLE (JPN), Kinoshita Group: 0/4/38.88
11 CETANO VAN ASPERGEM Z: 2009 Zangersheide gelding Clinton x Ahorn Z
SANTIAGO LAMBRE (MEX), Tal Milstein Stables: 0/4/40.76
12 QUI VIVE DES SONGES Z: 2006 Zangersheide stallion by Quaprice Z x Lagos
HEATHER CARISTO-WILLIAMS (USA), Holly & Ralph Caristo: 0/4/46.82
Small Request and Augusta Iwasaki Dominate the Small Junior Hunter 3'6" 15 & Under Division
Saturday competition in the Rost Arena at the 2019 Winter Equestrian Festival (WEF) saw 15 horse-and-rider teams return for an early morning start in the Small Junior Hunter 3'6" 15 & Under division. Augusta Iwasaki of Calabasas, CA, returned to the ring with three separate mounts but would ultimately take the tricolor ribbon aboard her newest mount, Small Request.
Iwasaki and the seven-year-old Westphalian gelding (Quaid x For Bella) held the lead for the duration of the division as the duo picked up three firsts and a second across the classes. Small Request is a recently imported gelding owned by Elizabeth Reilly and Augusta/Chris Iwasaki.
According to Iwasaki, the gelding only made the journey over from Europe at the end of 2018 and had never competed in hunter competition prior to arriving in Wellington.
"The ESP Holiday Circuit Finale and past few weeks of WEF have been his first experiences in the hunter ring. He's very careful, but slow in the air, and he looks beautiful going around the ring, so I think that makes him stand out," she commented of the gelding's instant success.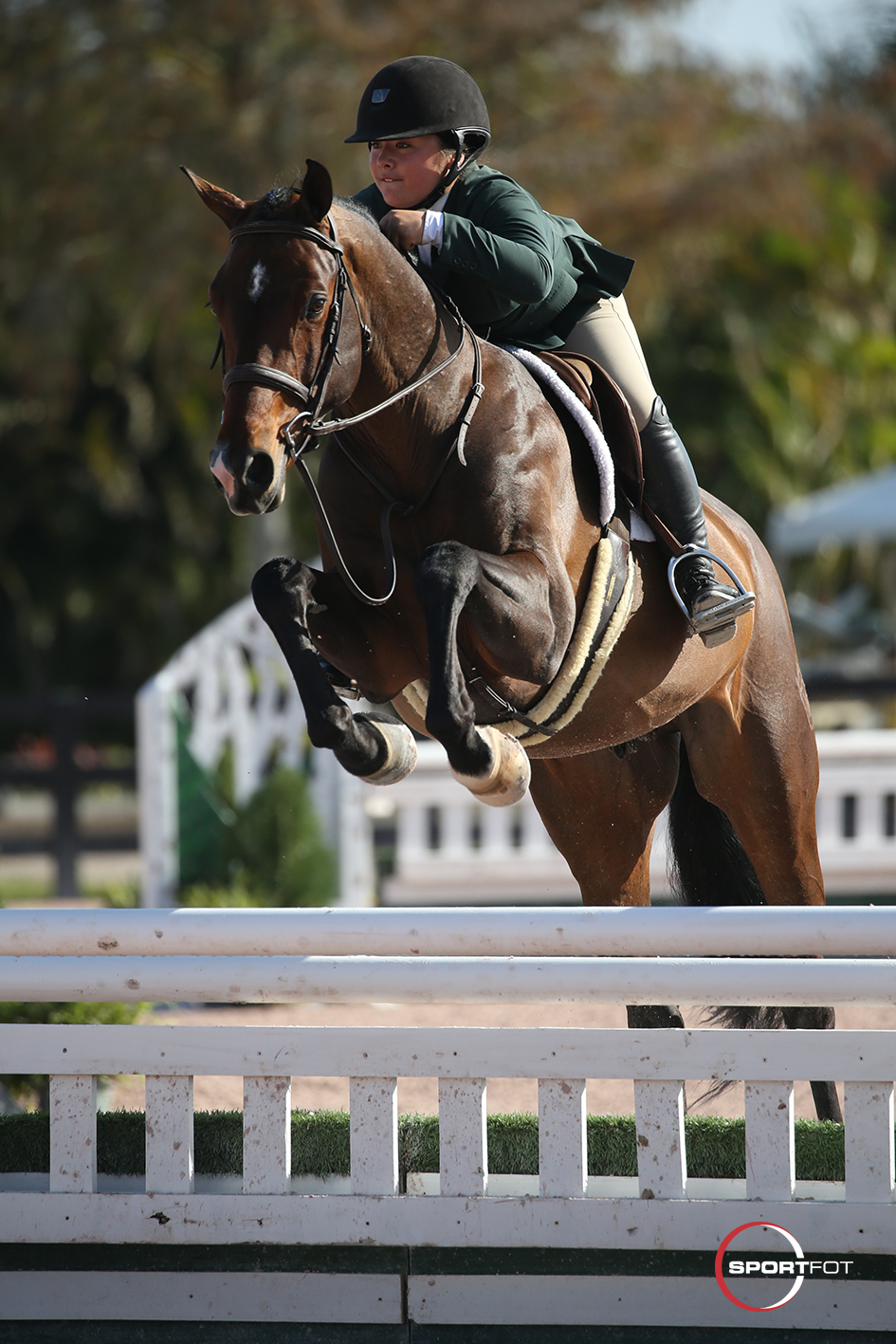 Augusta Iwasaki and Small Request. Photo © Sportfot
Iwasaki is looking forward to continuing to compete in the Small Junior Hunters with Small Request and hopes that the pair will qualify to compete in the $100,000 WCHR/USHJA Peter Wetherill Palm Beach Hunter Spectacular during WCHR Hunter Week 6.
"I always look forward to coming to WEF. It's a really nice place to spend the winter, and I'm very happy to be able to develop our relationship here," she commented.
Reserve champion in the Small Junior Hunters 3'6" 15 & Under went to Chase Finizio of Boca Raton, FL, and the Vantage Point Equine Corporation's nine-year-old Dutch Warmblood gelding, Speak Up.
Hunter competition during Week 4 of WEF will wrap up on Sunday, February 3. The Amateur-Owner Hunter 3'3" 18-35 division will start off the E.R. Mische Grand Hunter Field, while the Junior Hunter 3'6" 16-17 competitors will lead in the Rost Arena.
Photo Credit: Photos © Sportfot, Official Photographer of the Winter Equestrian Festival. Thelation to this press release and must include photo credit.