GP con barrage de 72.000$, 45 participantes, 8 sin falta, 5 sin ninguna penalidad en el desempate, diseño del mejicano Oscar Soberon.
Nota de pensa
Jennifer Wood and Summer Grace for Jennifer Wood Media, Inc.
Wellington, January 19, 2019 — The "Saturday Night Lights" series continued on January 19 with the $72,000 NetJets Grand Prix CSI 2* and Olympian Mario Deslauriers (CAN) and Amsterdam 27 scoring a win under the lights at the Palm Beach International Equestrian Center in the second week of the 2019 Winter Equestrian Festival (WEF). The 12-week WEF circuit features hunter, jumper, and equitation competition and continues through March 31, 2019, at the Palm Beach International Equestrian Center.
Highlight events of the final day of competition during WEF 2, sponsored by NetJets, include the $25,000 Hermes Under 25 Grand Prix on Sunday, January 20, at 8 a.m., followed by the $36,000 1.45m CaptiveOne ClassiThere were 45 entries in the grand prix, and eight were able to go clear over a course designed by Oscar Soberon of Mexico.
First to return over the short course were Juan Pablo Betancourt (COL) and My Way, who set the pace with a clear round in 38.72 seconds that would hold up for fourth place. Zoe Conter (BEL) and Stephex Stables' Dragonfly de Longchamps also put in a clear round, but in a slower 39.93 seconds for fifth place.
Eventual third-place finishers Capt. Brian Cournane (IRL) and Armik took over the lead next in the jump-off by finishing clear in 38.48 seconds, but the lead changed hands two horses later when Olympian Lauren Hough (USA) and Wyndmont's Valinski S lowered the winning time to 37.28 seconds.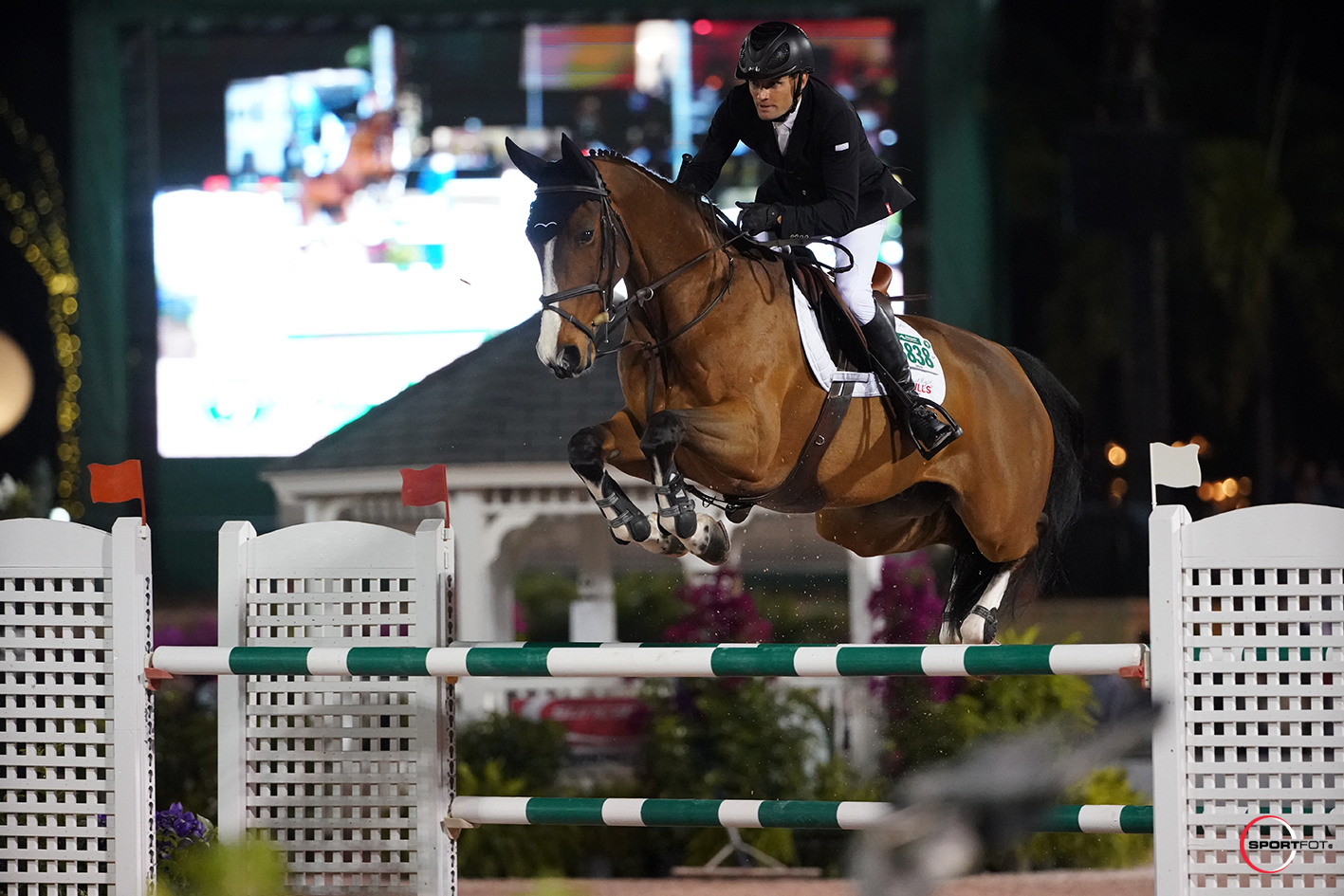 Capt. Brian Cournane and Armik. Photo © Sportfot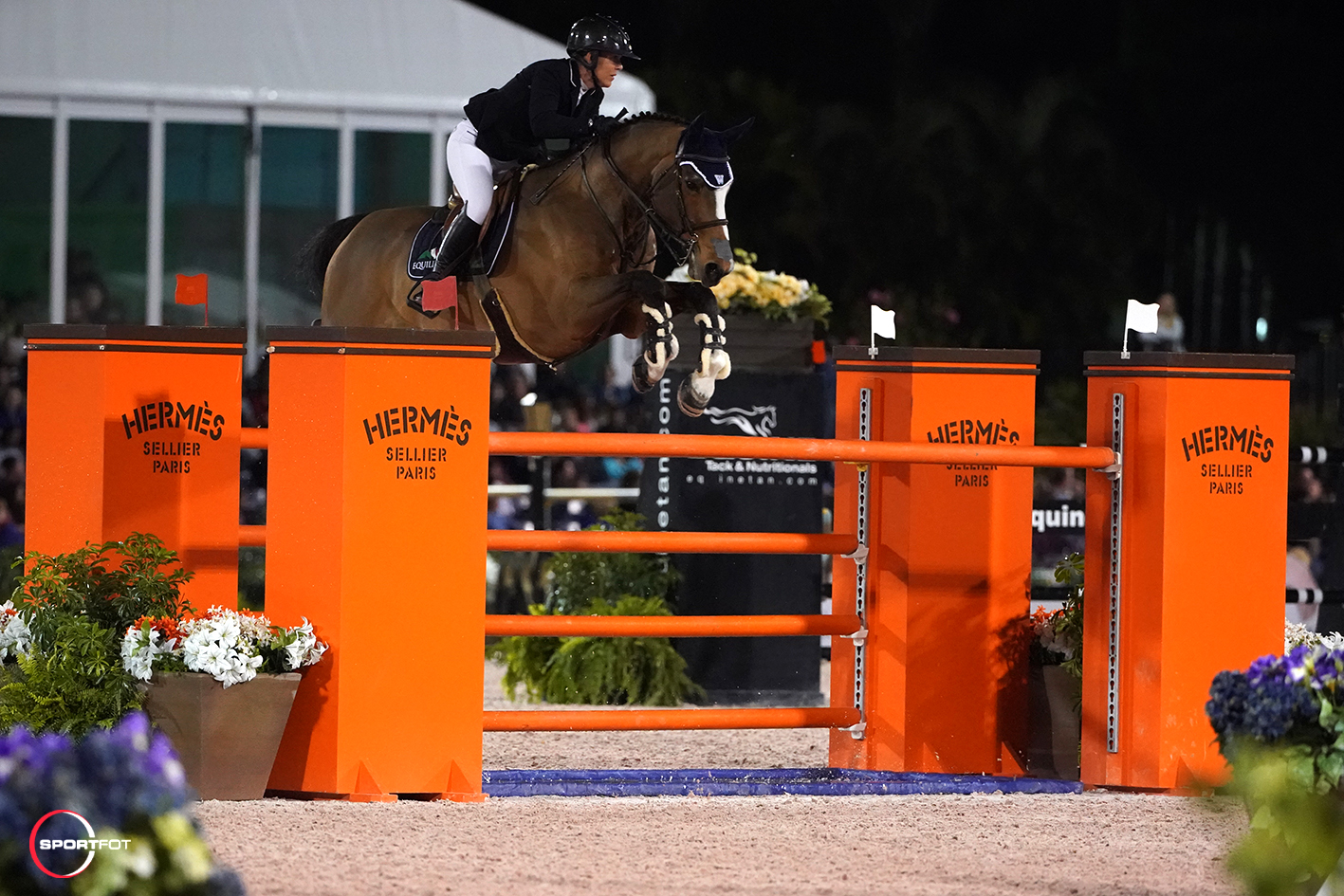 Lauren Hough and Valinski S. Photo © Sportfot
"As I left after my round in the jump-off, I knew I left the door open a touch," said Hough, who only got the ride on the 17-year-old KWPN gelding by Nijinski x Juliusthis winter."I slowed down quite a bit to the double. After going very fast the other day, I felt a touch on the flat side, so I didn't take every risk there. Mario had a super round. I couldn't be happier with [Valinski]."
Cournane and Armik won classes at the Bromont CSI 3* and Old Salem Farm Spring CSI 2* in 2018, but Armik "hasn't gone fast in a jump-off like that before," said Cournane. "I really want to teach him to do it nice and be quick to the jumps and with the nice, short turnbacks under the lights, so it was an education for him."
He added, "I'm really excited about him. He's owned by my mother and father-in-law, Bob and Christine Stiller. They've been great to me. They own most of my best horses."
"I just want to commend the course builder," said Hough. "He did a fantastic job all week. This is a really difficult week to build, and he got perfect numbers in both [the WEF Challenge Cup and grand prix] classes."
Going second to last, Deslauriers and Amsterdam 27, owned by Wishing Well Farm LLC, set the fastest clear round of the night in 36.59 seconds for victory.
"I wheeled back very close on the oxer, and then I had a very good [fence] number 15 across the middle," said Deslauriers of his jump-off ride. "I was quick to the double, and I stayed out for the last eight [strides] because I have a big step, so I didn't need to slow down. Everything kind of worked out perfectly in the jump-off. Usually when you hit everything right on, you have a quick time."
Deslauriers only started riding Amsterdam 27, a nine-year-old Holsteiner gelding by Catoki x Acord II, in May of 2018 and their first FEI competition together was in August. This was their first FEI win together.
"I think I'm looking for high results with that horse," said Deslauriers. "I like him a lot, and I think he's a super nice horse. I'm lucky right now to have two great horses. He's come along quite fast. As you saw tonight, he jumps very easily. He's got a great head. All summer he's learned a lot, but it's very easy for him. I think we have very big goals."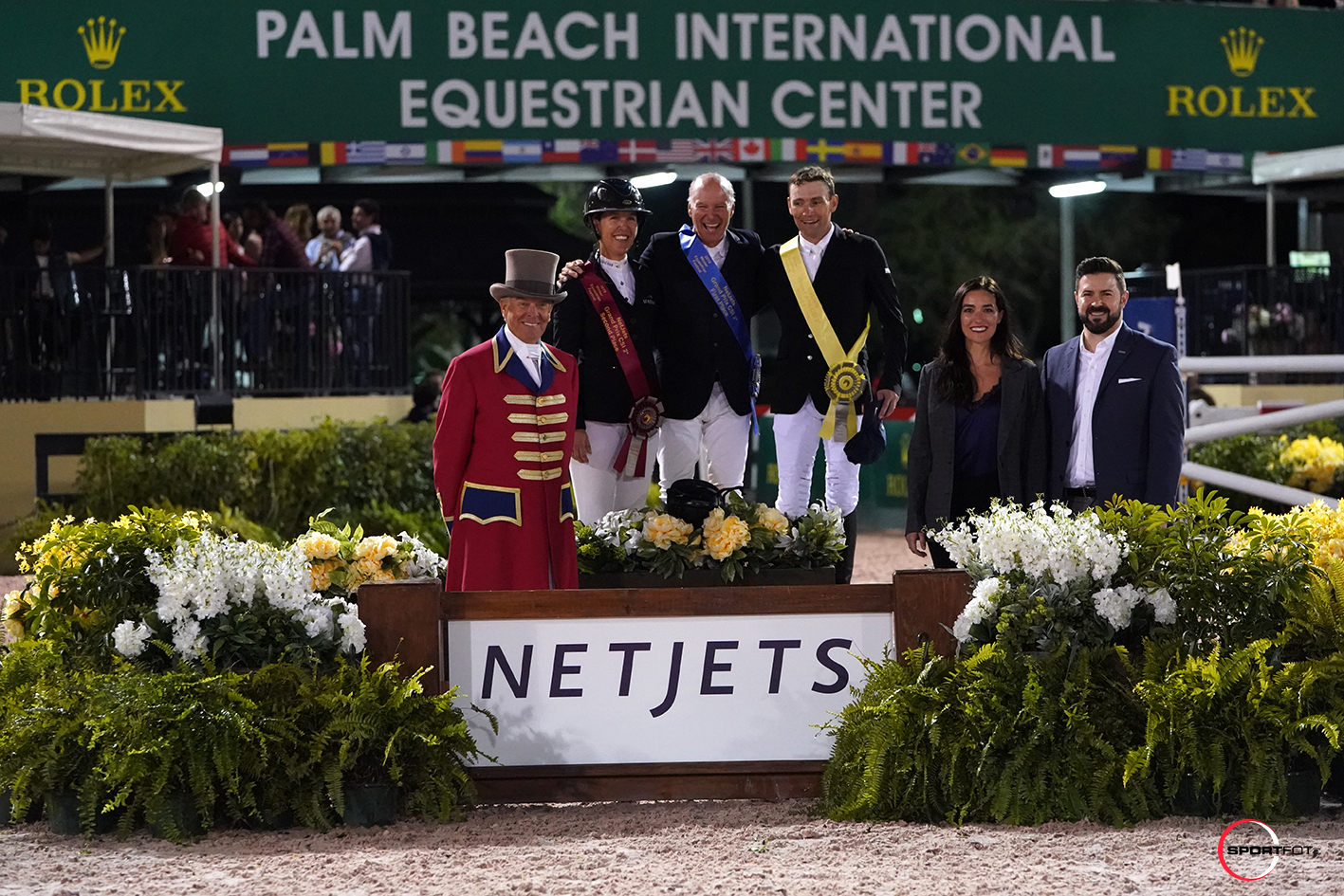 Ringmaster Steve Rector, Lauren Hough, Mario Deslauriers, Capt. Brian Cournane, Catherine Zazon, Head of Equestrian Marketing Partnerships for NetJets, and Nick Lindsay, NetJets Sales Executive. Photo © Sportfot.
Hough and Valinski S won Thursday's $36,000 Equinimity WEF Challenge Cup Round 2, and her consistency this week garnered her the Leading Lady Grand Prix Rider Award, presented by Martha Jolicoeur of Douglas Elliman in memory of Dale Lawler.
She noted, "Valinski was fantastic all week, and I'm so grateful to have the ride. He's a wonderful horse, and he's been wonderful with so many riders."
For their win in the grand prix, Wishing Well Farm LLC, as the owner of the winning horse, Amsterdam 27, will also receive a one-night stay at the Brazilian Court Hotel in Palm Beach, and a bottle of Banfi Principessa Gavi courtesy of Banfi Vintners.
Final Results: $72,000 NetJets Grand Prix CSI 2*
1 AMSTERDAM 27: 2010 Holsteiner gelding by Catoki x Acord II
MARIO DESLAURIERS (CAN), Wishing Well Farm LLC: 0/0/36.59
2 VALINSKI S: 2002 KWPN gelding by Nijinski x Julius
LAUREN HOUGH (USA), Wyndmont: 0/0/37.28
3 ARMIK: 2009 Oldenburg gelding by Armitage x Justinian xx
CAPT. BRIAN COURNANE (IRL), Brian Cournane and M/M Bob Stiller: 0/0/38.48
4 MY WAY: 2010 Oldenburg stallion by Mylord Carthago x Cassini II
JUAN PABLO BETANCOURT (COL), Juan Pablo Betancourt: 0/0/38.72
5 DRAGONFLY DE LONGCHAMPS: 2009 SBS mare by Clinton x Toulon
ZOE CONTER (BEL), Stephex Stables: 0/0/39.93
6 TRADITION DE LA ROQUE: 2007 Selle Français mare by Kannan x Oberon du Moulin
MCLAIN WARD (USA), Kessler Show Stables Europe: 0/4/36.02
7 JUST A GAMBLE: 2009 BWP mare by Toulon x Corofino
ADRIENNE STERNLICHT (USA), Starlight Farms 1 LLC: 0/4/36.31
8 KIRSCHWASSER SCF: 2010 BWP stallion by Amaretto d'Arco x Nebab de Reve
SHANE SWEETNAM (IRL), Spy Coast Farm LLC: 0/4/36.30
9 CARLITO'S WAY 6: 2010 Holsteiner gelding by Casall x Lordanos
MARKUS BEERBAUM (GER), Michaels and Beerbaum GmbH: 1/76.04
10 HADJA VAN ORSHOF: 2007 Belgian Warmblood mare by Cabrio van de Heffinck
KELLI CRUCIOTTI (USA), Kelli Cruciotti: 1/78.32
11 ROULETTE BH: 2009 Irish Sport Horse gelding by Moschino x Michellino
AMANDA DERBYSHIRE (GBR), Gochman Sport Horse LLC: 1/78.43
12 AMICE Z: 2007 Zangersheide gelding by Air Jordan Z x Odermus R
CHARLIE JAYNE (USA), Charlie Jayne: 4/70.94
Brad Wolf Snags Amateur-Owner Hunter 3'3" 36+ Champion Title at WEF 2
Brad Wolf and 2018 USHJA International Hunter Derby Championship winner Private Practice took home the tricolor ribbon in the Palm Beach Equine Clinic Amateur-Owner Hunter 3'3" 36+ division during Week 2 of WEF.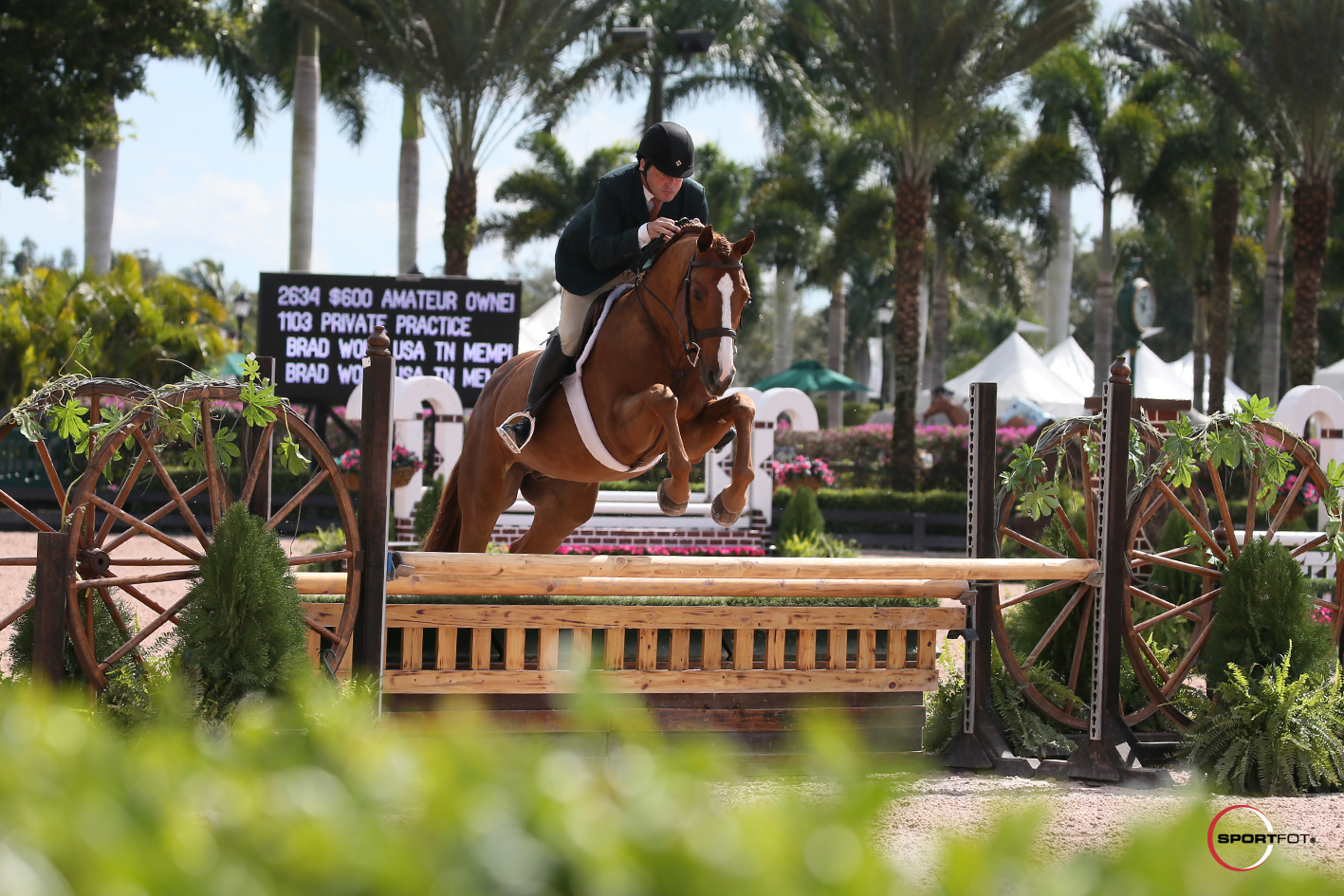 Private Practice and Brad Wolf. Photo © Sportfot
After ribboning two firsts, two seconds, a seventh and an eighth, the pair were asked to return for a "hack-off" with Becky Gochman and Mythical, with whom they were tied for champion. As both combinations took to the E.R. Mische Grand Hunter Field one last time, Private Practice once again displayed winning form as a hunter and sealed the victory for him and Wolf.
Gochman and the Gochman Sport Horses' 15-year-old Westphalian gelding (by Cornet Obolensky) took home the reserve championship. The duo earned placings of two firsts, two seconds, and an eighth.
While Wolf has owned the nine-year-old Holsteiner gelding by Lordanos for several years, the mount is entirely new to him to ride.
"Victoria Colvin had been showing him all of last year and I had never even ridden him until we came down to Florida a few months ago," Wolf explained. "I am so happy because this is our first time showing at the 3'3" height as well, and he was much easier than I expected him to be."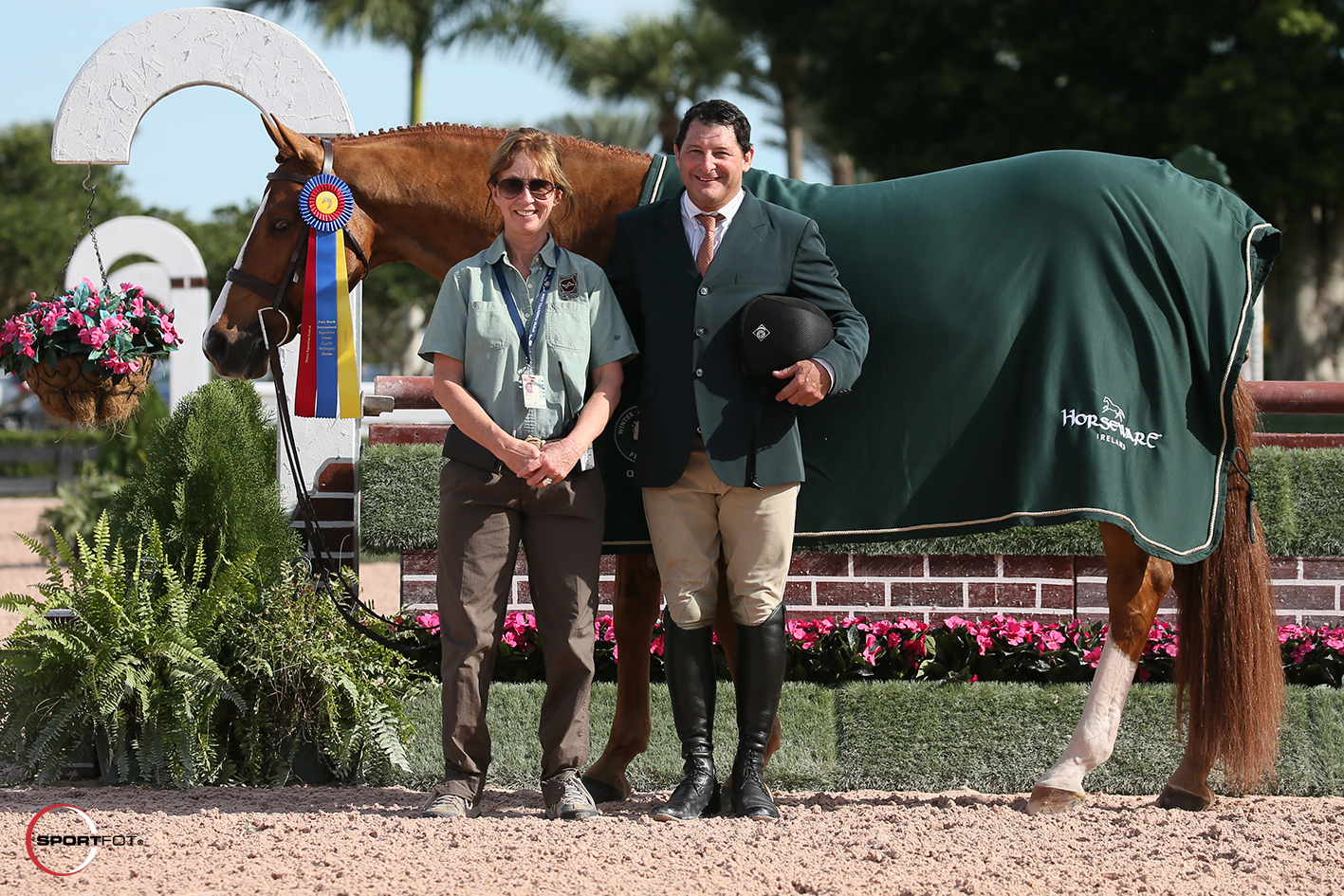 Dr. Hilary Clayton of Palm Beach Equine Clinic with Brad Wolf and Private Practice. Photo © Sportfot
Colvin bases out of her family-owned farm in Wellington for the winter months. Wolf looks forward to now being able to share the ride with Colvin throughout the rest of the season with a busy schedule ahead for Private Practice.
"Right now our plan is for me to show him during Week 5 in the Amateur-Owner Hunter 3'3" 36+. Tori will then take over the ride during WCHR Hunter Week and show him in the High Performance Hunters to try to qualify for the $100,000 WCHR Palm Beach Hunter Spectacular," stated Wolf, and added that he then plans to show the gelding himself the rest of the winter season.
The final day of Week 2 at WEF will kick off tomorrow with highlights in the International Arena including the $25,000 Hermes Under 25 Grand Prix and the $36,000 CaptiveOne 1.45m Classic. The E.R. Mische Grand Hunter Field will see the Adult Amateur Hunters.