Nota de prensa
Women Return to Dominance in $75,000 Battle of the Sexes, presented by Wellington Regional Medical Center
For Immediate Release
Jennifer Wood and Summer Grace for Jennifer Wood Media, Inc.
Wellington, FL – January 12, 2019 – The first week of the 2019 Winter Equestrian Festival (WEF) continued on Saturday, January 12, with a win for Adrienne Sternlicht in the $25,000 CaptiveOne Advisors Classic. The women's team was victorious in the $75,000 Battle of the Sexes, presented by Wellington Regional Medical Center. In the hunter ring, Maggie Hill and O'Ryan took home the Small Junior Hunter 16-17 championship.
WEF continues with 12 consecutive weeks of world-class competition through March 31, 2019. The first week of competition at WEF is sponsored by Wellington Regional Medical Center and concludes on Sunday with the $75,000 Rosenbaum PLLC Grand Prix at 2 p.m.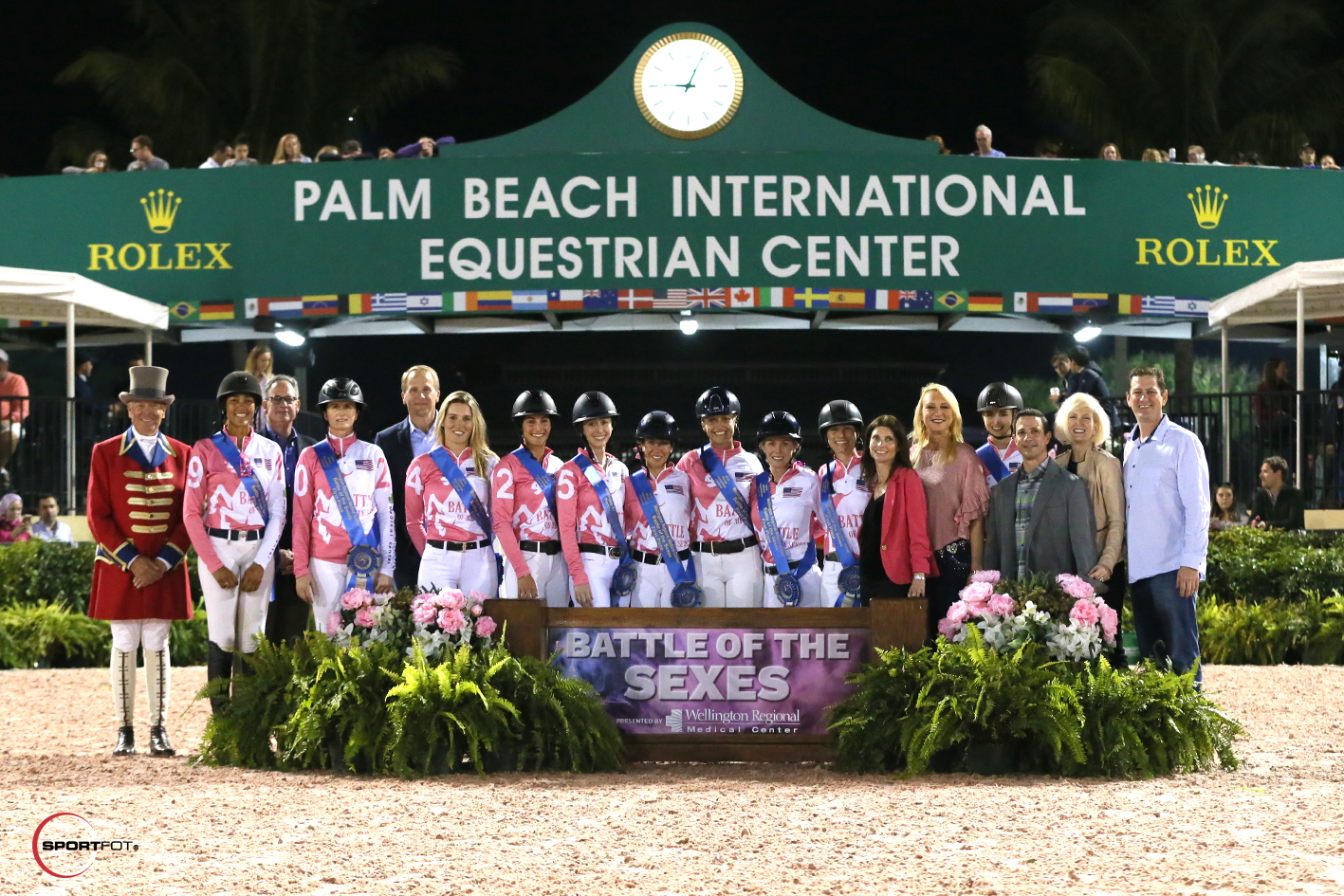 The winning women's team with ringmaster Steve Rector and Marvin Pember, Keith Alexander, Pam Tahan, Robbin Lee, Dr. Nicholas Sama, Jackie Leibowitz, and Dr. Adam Bromberg of Wellington Regional Medical Center. Photo © Sportfot.
After suffering their first loss in 10 years in 2018, the women's team stormed back to dominate the $75,000 Battle of the Sexes, presented by Wellington Regional Medical Center in 2019 by winning 29 points to the men's team's 11 total points. The competition ended after just five of the 10 match races completed when it was clear the men couldn't garner enough points to take victory.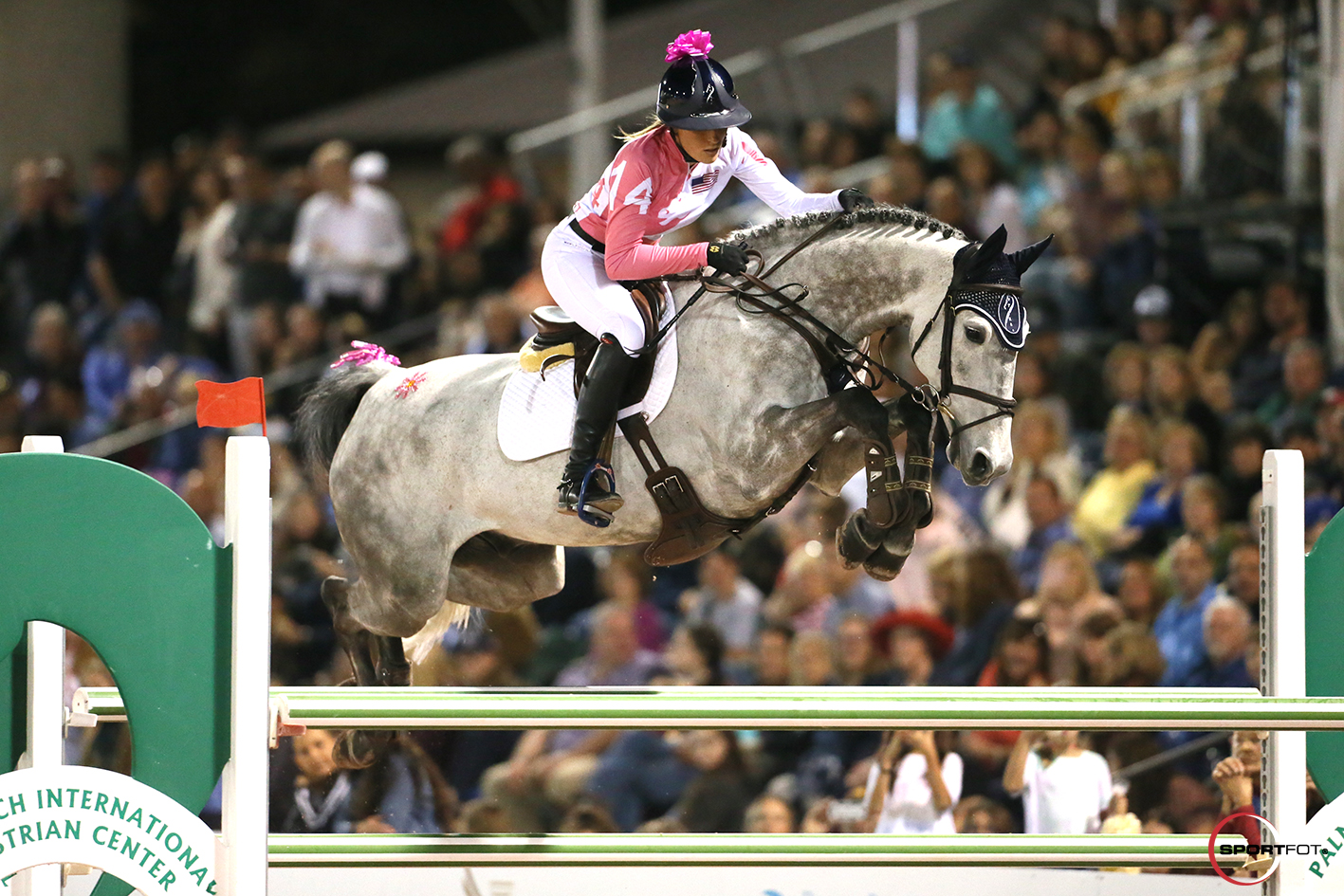 Jessica Mendoza had the fastest speed round of the first phase. Photo © Sportfot.
In the opening speed round, the women and men tied with five points each. The fastest speed round of the night went to Jessica Mendoza (GBR), who recorded a time of 51.258 seconds to win her round over Daniel Coyle (IRL).
This was Mendoza's second time competing in Battle of the Sexes. "It's very fun," she said. "I think we're very competitive and it's really cool. I just went as fast as I could!"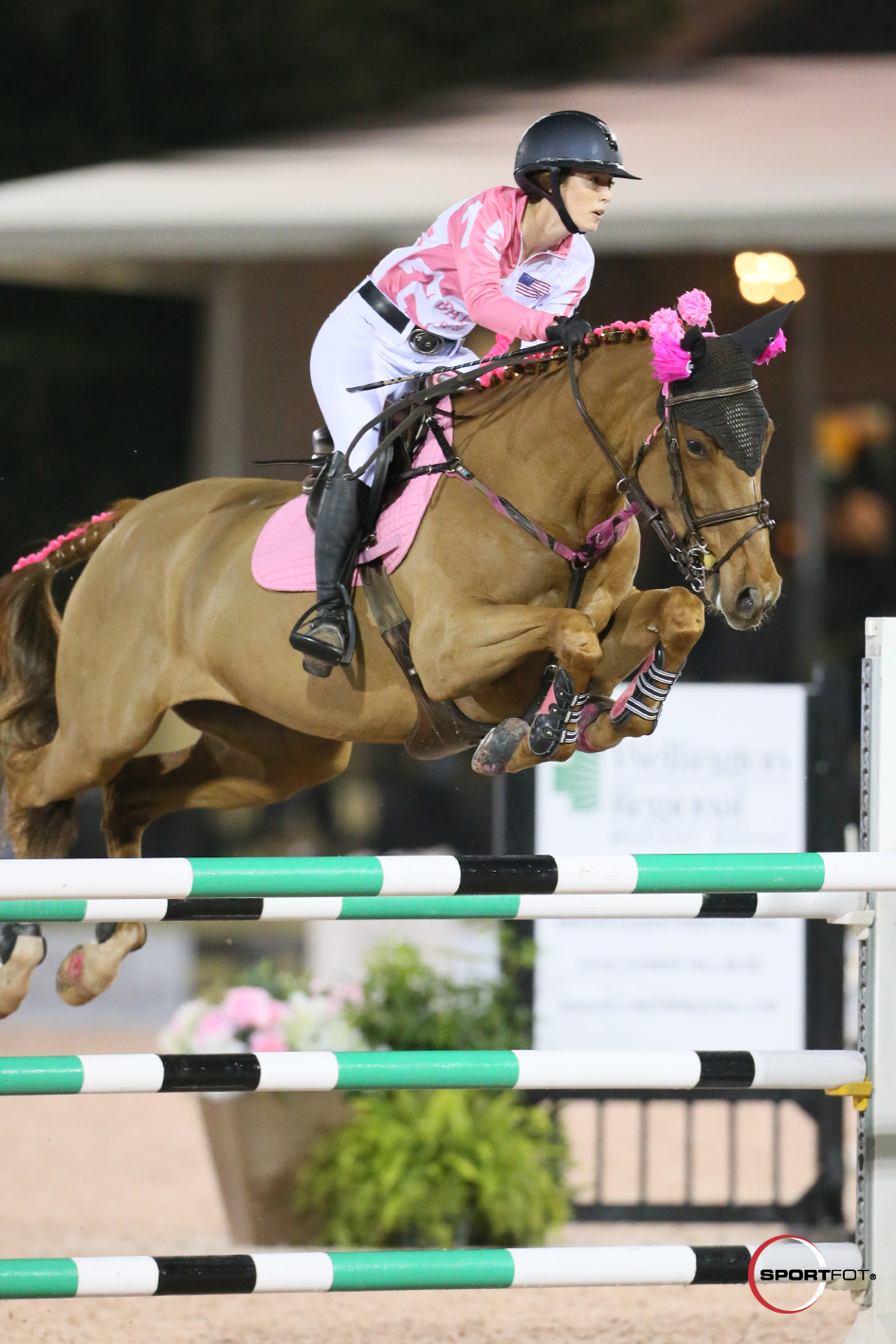 Women's team captain Nicole Bellissimo. Photo © Sportfot.
The women took over in the second phase, the relay. They won all three relays, picking up 15 points to increase their total to 20 points, while the men remained on five points. While the men showed an early glimmer by winning the first two match races with David Blake (IRL) and Andrew Bourns (IRL), three subsequent victories by Carly Anthony (USA), KC Van Aarem (USA), and Sydney Shulman (USA) sealed the overall win for the women.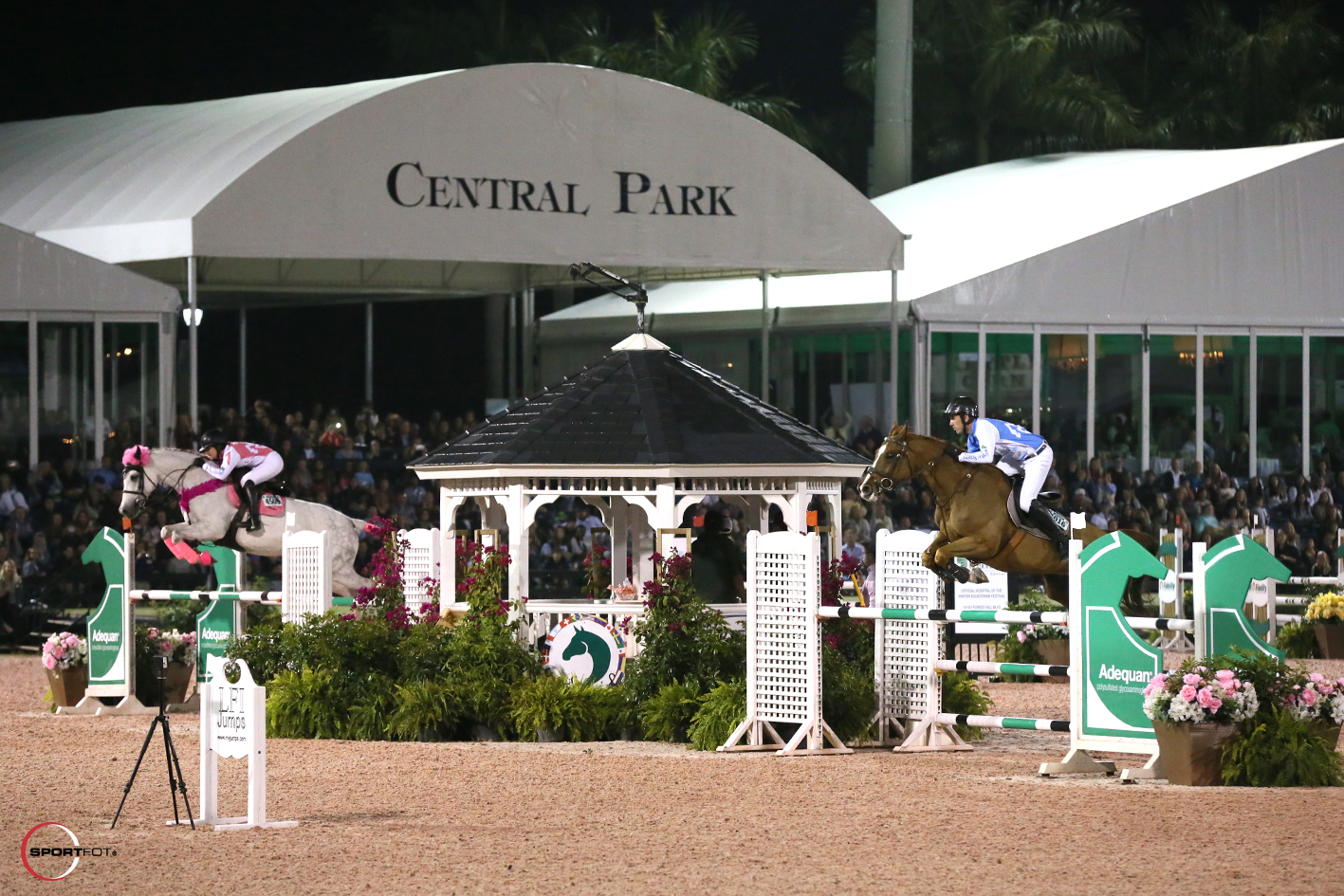 Team captain Nicole Bellissimo, participating in her seventh Battle of the Sexes and third as captain, was ecstatic with the win. She was joined by teammates Mendoza, Anthony, Van Aarem, Shulman, Abigail McArdle (USA), Taylor Land (USA), Amanda Derbyshire (GBR), Maggie Jayne (USA), and Kristen Vanderveen (USA). The men's team was captained by Charlie Jayne (USA) and included Coyle, Blake, Bourns, Alex Granato (USA), Darragh Kenny (IRL), Michael Tokaruk (USA), Andrew Welles (USA), Spencer Smith (USA), and Andy Kocher (USA).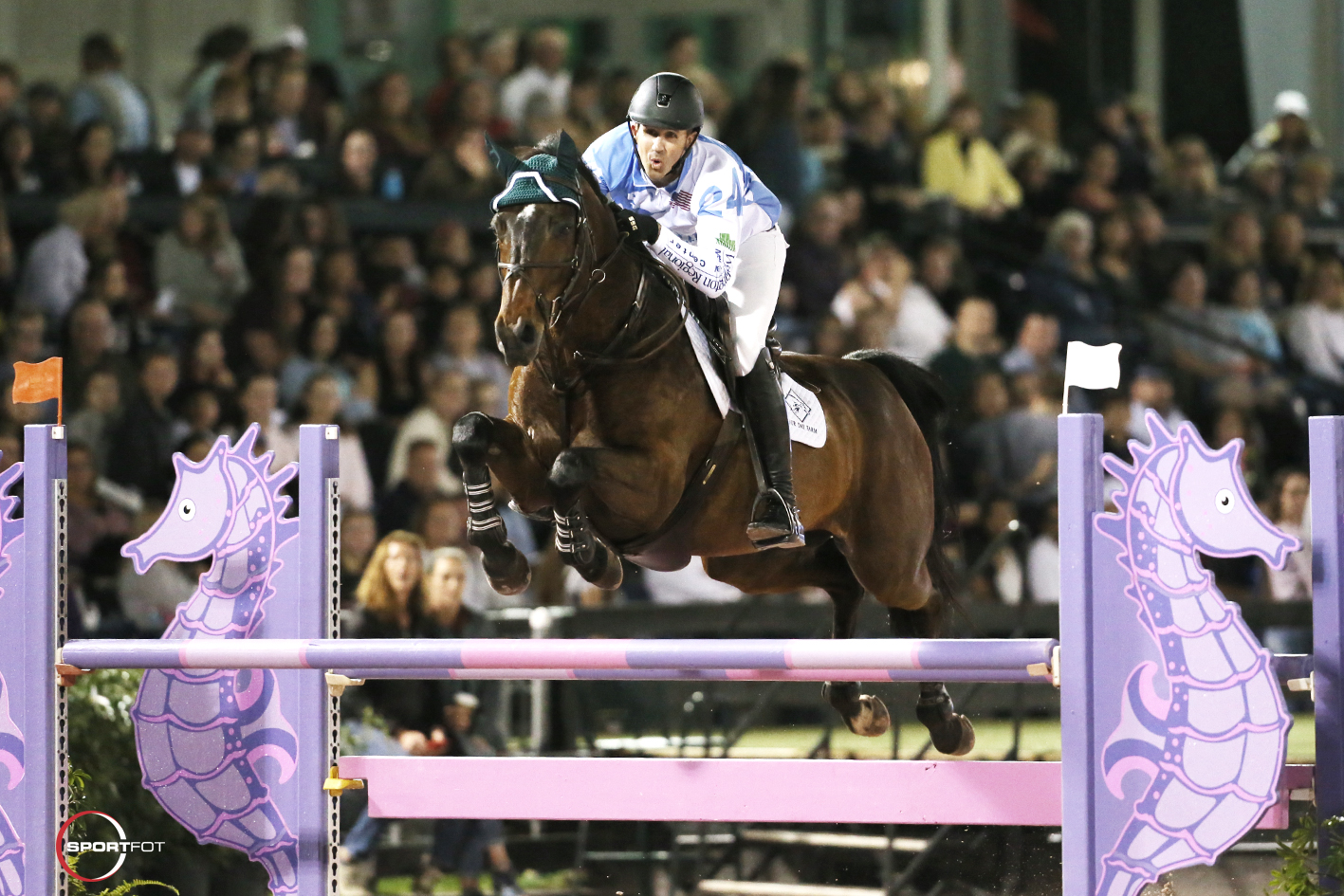 Men's team captain Charlie Jayne. Photo © Sportfot.
"It was really nice; a lot of us didn't have to jump again, so it was nice having it in the bag so early," said Bellissimo of the early finish to the match races. "I think the match race is so exciting and can change so quickly. It's really fun for the rider and the crowd."
Bellissimo believes that the Battle of the Sexes is the perfect way to kick off the "Saturday Night Lights" series and the Winter Equestrian Festival. "It's such a nice way to start off WEF," she said. "It gets everyone really pumped, and it's really fun. WEF gets very intense, very quickly, so it's a really fun way to remember why we're all doing this. We enjoy the crowd and enjoy our horses, and it's just a really fun night."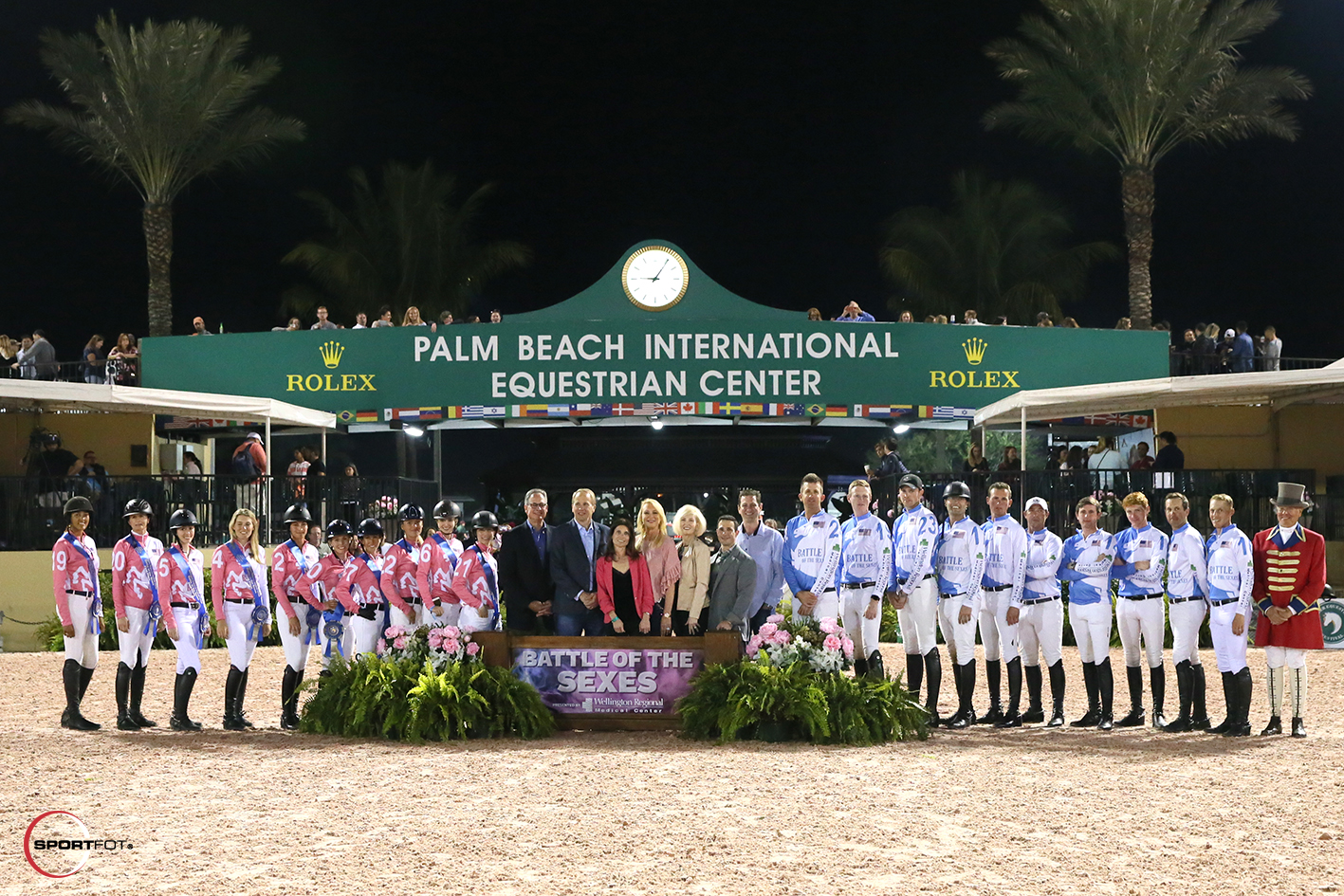 Adrienne Sternlicht Takes Top Prize in $25,000 CaptiveOne Advisors Classic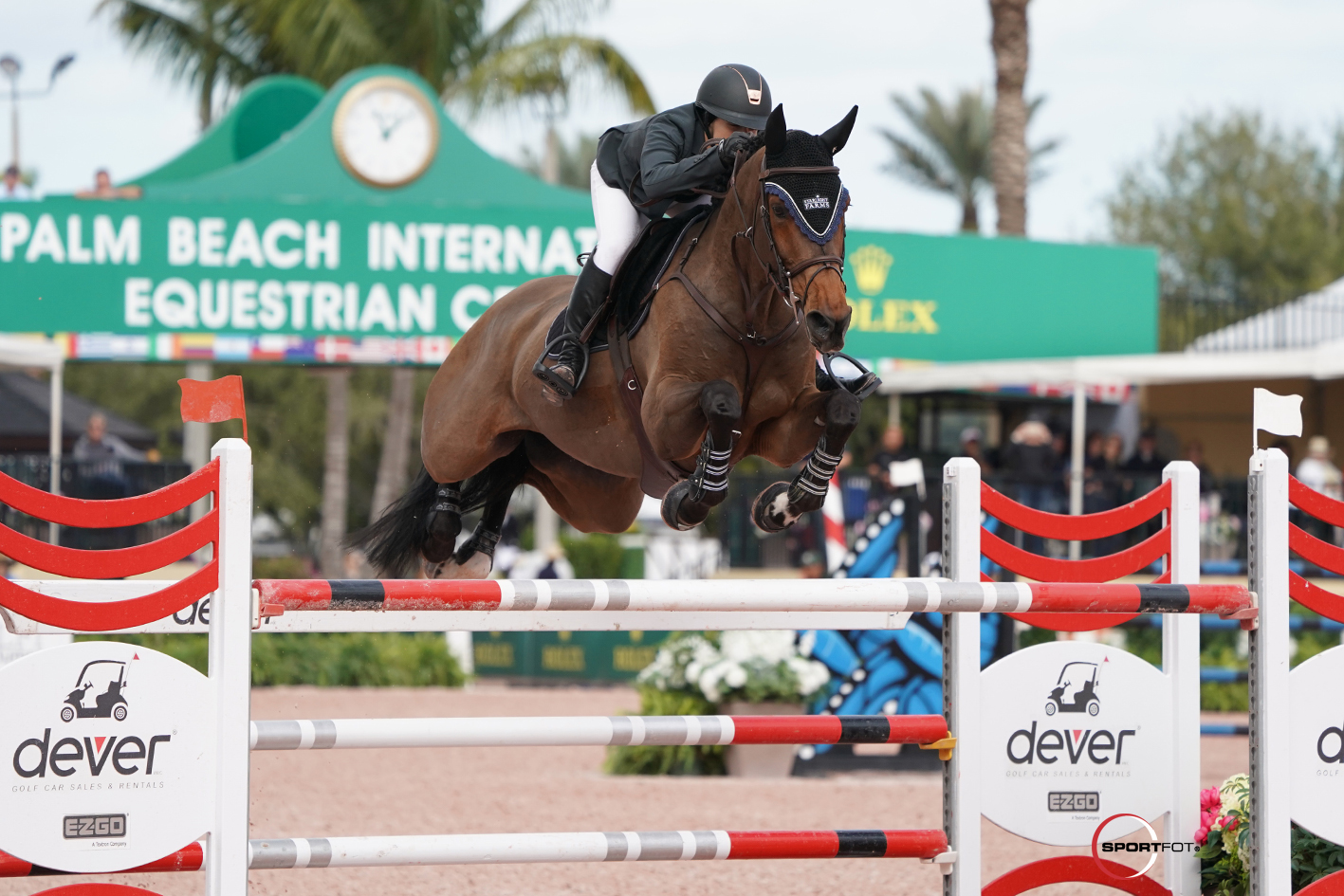 Adrienne Sternlicht and Just A Gamble. Photo © Sportfot.
Out of a field of 29 entries, Adrienne Sternlicht (USA) stood at the top after a fast jump-off round in 37.178 seconds riding Just A Gamble. Eleven advanced to the jump-off over a course set by Eric Hasbrouck of the United States. Coming in second place was Mario Deslauriers (CAN) on Amsterdam 27 in 37.202 seconds, while Jonathan McCrea (USA) and Aristoteles V took third place with a time of 37.748 seconds.
This was the first week of competition for Sternlicht and her new horse, Just A Gamble, who arrived in Florida in December, and they have since spent time getting to know each other.
"[It] was really not doing too much flatwork because she's super hot," said Sternlicht of the 10-year-old BWP mare by Toulon x Corofino. "We've put her on what we call the 'Rothchild Program', which is a lot of walk/trot work, a lot of trail riding, trying to get her to settle a bit. It's almost better if she's more unfit than fit. Even with her build and technique, she's a powerhouse behind, she has all the scope in the world. It's about keeping her mentally calm.
"She's a really amazing mare and has a really great brain," she continued. "I felt really comfortable on her. My plan for circuit is to still just take it week by week with her. She's also green at the highest level. Our plans fell nicely into place because her rider didn't veer off course."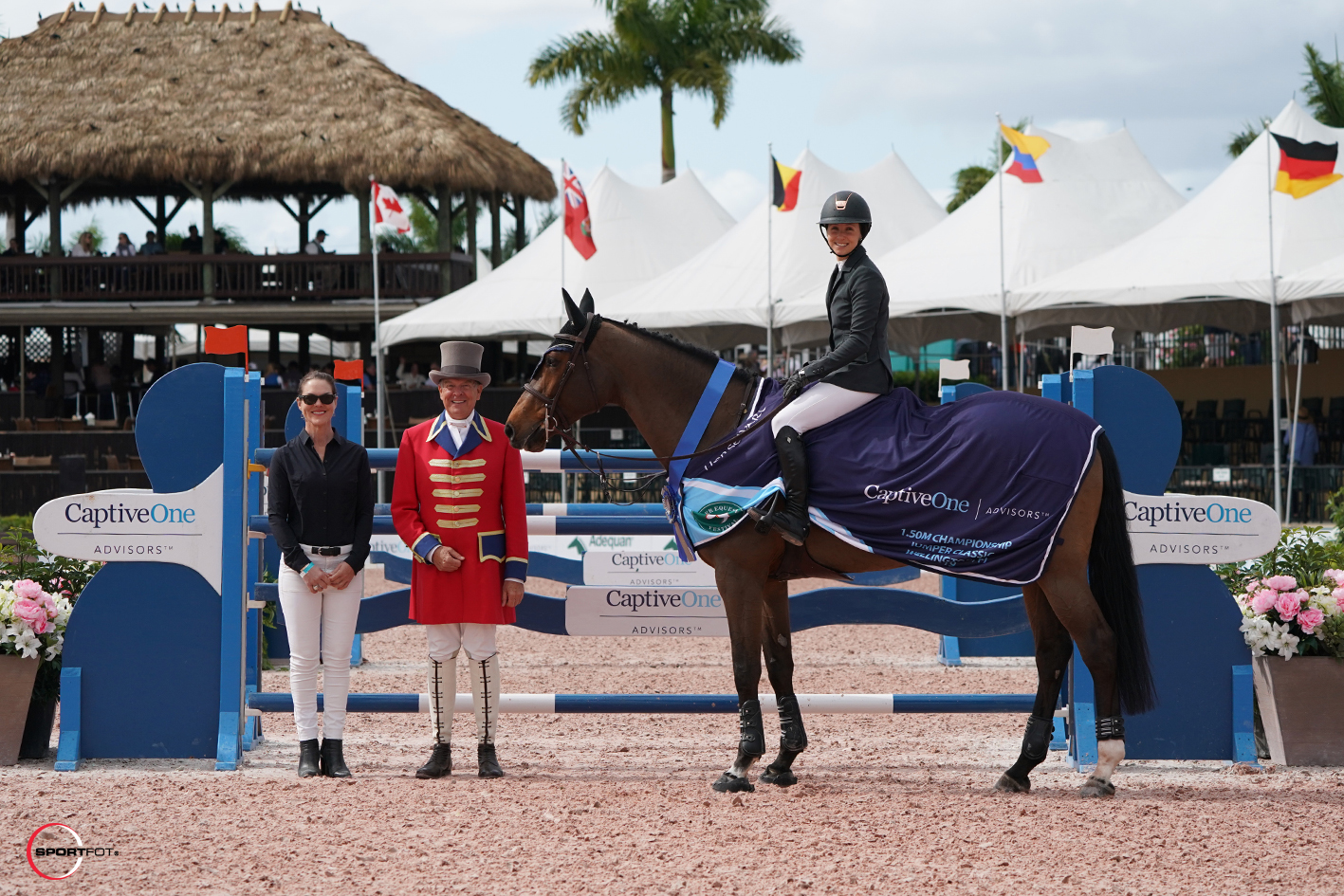 Adrienne Sternlicht and Just A Gamble in their winning presentation with Laura Southard, Brand Ambassador for CaptiveOne Advisors, and ringmaster Steve Rector. Photo © Sportfot.
This was the pair's first jump-off together, and they went third in the jump-off with plans to be neat and stick to the plan, which paid off with the victory.
"She's probably the naturally quickest horse I've ever had; I just have to think 'turn,'" said the 2018 FEI World Equestrian Games team gold medalist. "She's very quick across the ground; she doesn't spend a ton of time in the air. I'd say I followed the plan for the most part. It's my tendency to overcontrol or add as a rider, so it was nice to feel off the bat that comfort level of going with her. Around the turn to the third fence, I would have liked to be a bit smoother, but I think as I get to know her, we'll get to iron out the kinks."
Final Results: $25,000 CaptiveOne Advisors Classic
1 JUST A GAMBLE: 2009 BWP mare by Toulon x Corofino
ADRIENNE STERNLICHT (USA), Starlight Farms 1 LLC: 0/0/37.178
2 AMSTERDAM 27: 2010 Holsteiner gelding by Catoki x Acord II
MARIO DESLAURIERS (CAN), Wishing Well Farm LLC: 0/0/37.202
3 ARISTOTELES V: 2005 KWPN stallion by Padinus x Lux
JONATHAN MCCREA (USA), Candy Tribble: 0/0/37.748
4 ZORRAN: 2010 KWPN gelding by Zorro x Peter Pan
ERYNN BALLARD (CAN), Ilan Ferder: 0/0/38.467
5 VAN GOGH: 2008 Oldenburg gelding by Valentino x Caretano Z
WILHELM GENN (USA), Wilhelm & Patty Genn: 0/0/38.534
6 KONING BOUDEWIJN: 2010 BWP gelding by Gentleman x Robin des Bruyeres
ERYNN BALLARD (CAN), Ilan Ferder: 0/0/38.902
7 BARDOLINA 2: 2009 Holsteiner mare by Clarimo x Landos
MARIO DESLAURIERS (CAN), Wishing Well Farm LLC: 0/0/39.356
8 TEDDY DU BOSQUETIAU: 2003 Belgian Sport Horse gelding by Ogano Sitte x Albion du Chene Brule
KAREN SPARKS (CAN), Brookstreet Stables: 0/0/39.757
9 PALINA DE L'ESCAUT: 2009 Hanoverian mare by Perigueux x Gottard
SHANE SWEETNAM (IRL), Sweet Oak Farm, Spy Coast Farm, and Paul Tracy: 0/4/37.374
10 EMIR D: 2004 BWP gelding by Querlybet Hero x Forever
SHANNON HICKS (USA), Helen Gilbert: 0/4/38.085
11 CHRISTIAAN: 2007 KWPN gelding by Verdi x Ekstein
CALLIE SCHOTT (USA), Callie Schott: 0/4/39.185
12 RF CASABLANCA: 2010 Holsteiner mare by Cosido x Landos
MARILYN LITTLE (USA), Raylyn Farms, Inc.: 4/72.837
Maggie Hill and O'Ryan Sweep the Small Junior Hunters 3'6 16-17 to Win First Championship of WEF
The Small Junior Hunters 3'6 16-17 riders returned to Palm Beach International Equestrian Center on Saturday to contend for the championship title of Week 1. After two firsts, a second, and a fifth over fences along with another second under saddle, Maggie Hill of Jackson, WY, took home the tricolor ribbon. Hill piloted Stella Styslinger's O'Ryan, a 17-year-old bay Holsteiner gelding, to consistent top placings with two firsts, two seconds, and a fifth.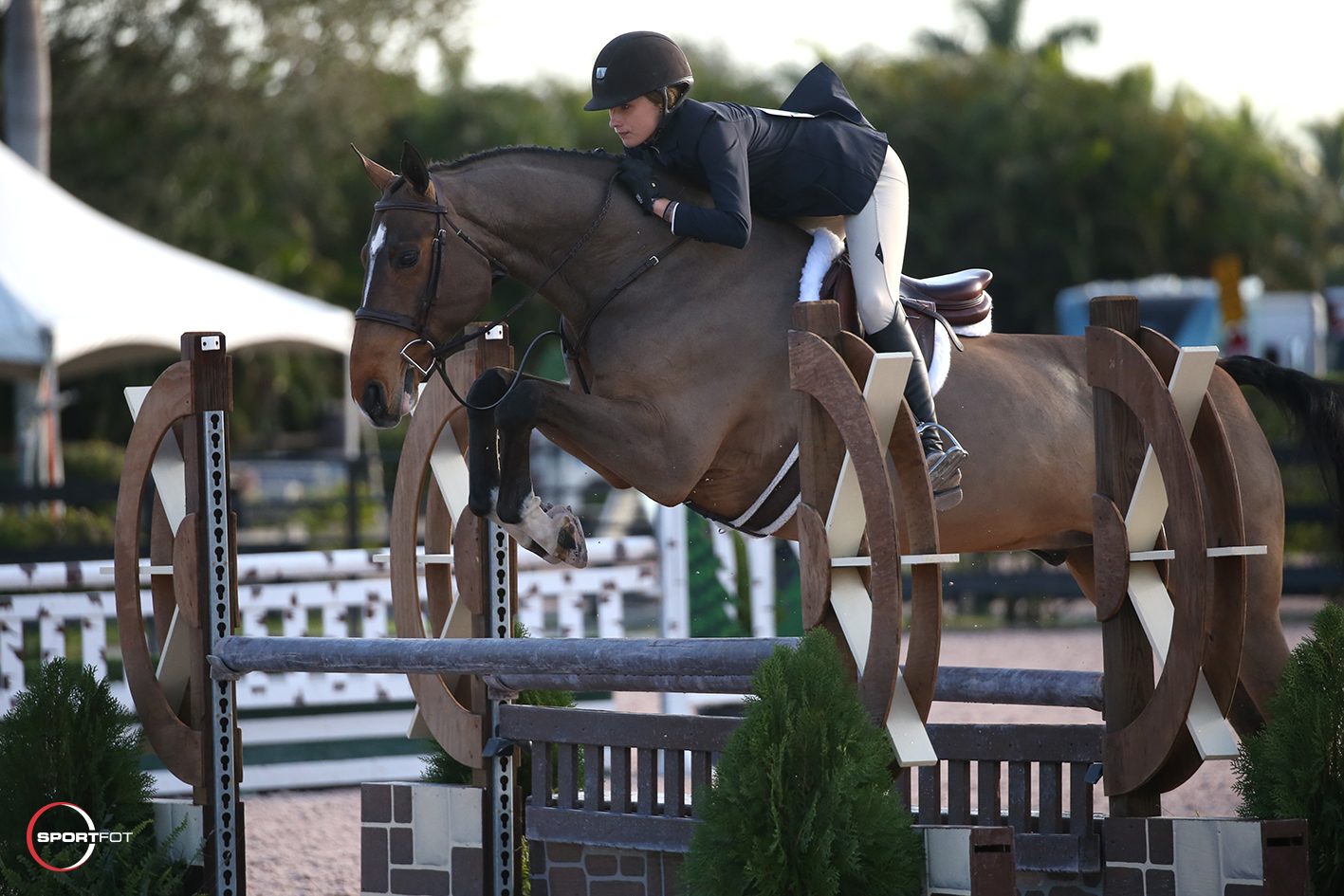 Maggie Hill and O'Ryan. Photo © Sportfot.
She and O'Ryan have been successful partners for the past two years under the careful tutelage of three-time USHJA International Hunter Derby Championship winner Liza Boyd. The pair have been successful with their junior hunter endeavors, but Hill hopes to compete the veteran hunter in several derbies throughout the rest of the season.
"We probably won't ask him to show in the juniors too much this year because he has already done so much for us," Hill commented. "Our plan is to show just enough to keep our points up and then hopefully pull him out to play in the hunter derbies."
Hill's success is a product of almost an entire lifetime in the saddle. She has been on horseback since the tender age of three years old and has dabbled in almost every discipline of equestrian sport. "From when I started riding up until I was eight years old, I rode western, then I switched to eventing, and after that I was riding dressage," Hill explained of her extensive background. "I began training with Liza Boyd about four years ago and now I compete in the hunters, jumpers, and equitation."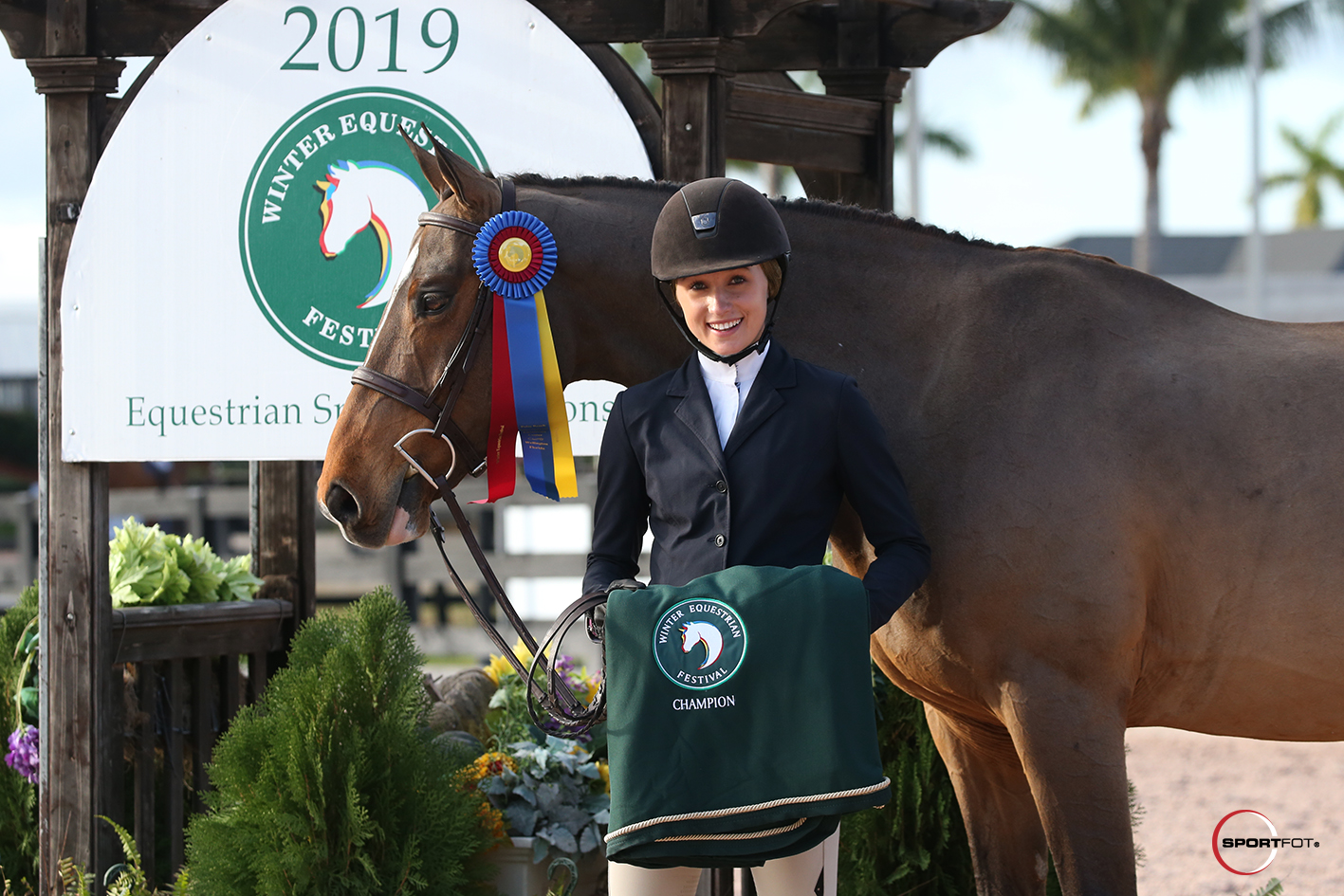 Maggie Hill and O'Ryan. Photo © Sportfot.
Jordan Allen of West Bloomfield, MI, captured the reserve champion title aboard Airplay. Airplay is an eight-year-old Belgian Sport Horse (Tin Tin De La Pomme x Flavie De Roloux)owned by Don Stewart.
The final day of competition during Week 1 of the Winter Equestrian Festival will kick off Sunday, January 13. The $75,000 Rosenbaum PLLC Grand Prix will take place in the International Arena at 2 p.m. while equitation riders can look forward to Maclay and USEF Hunter Seat Medal classes. For a full list of results, visit www.PBIEC.com.